The NOBULL Trainer is what I could consider a tried and true cross-training shoe that has stood the test of time. Since their debut in 2015, the NOBULL Trainer has remained relatively unchanged. For CrossFit athletes everywhere, this consistency is often seen as a really good thing because athletes then know exactly what they're getting with NOBULL Trainers.
Over the course of my lifting career, I've constantly rotated the NOBULL Trainer into my training. Personally, I love the NOBULL High-Top Trainer for lifting and daily wear, but the low-top model has been one of my go-to's for Crossfit-style training. Despite liking this shoe as a whole, there are a couple of cons that come with them which we'll discuss below.
In this NOBULL Trainer review, I'm going to cover all of the key details that you should know before investing in this model.
On the market for new cross-training shoes? Try out my TF2 Cross-Training Shoe Calculator. This calculator matches you with the best models for your needs that I've personally reviewed!
Who Should Invest In the NOBULL Trainer?
The NOBULL Trainer is a solid cross-training shoe for the athlete and lifter that regularly tackles CrossFit workouts and heavy lifting. This trainer's upper construction is durable so it's great at resisting abrasion from things like rope climbs and burpees. Additionally, the midsole is plenty stable and you can train plenty heavy in them without compression issues.
For additional context, I've used my NOBULL Trainers for a powerlifting competition and had no issue squatting 440 lbs in them. If you're looking for a consistent shoe that works well for CrossFit and heavy workouts, then the NOBULL Trainer is a good cross-training shoe to look into.
Best For
CrossFit-Style Training
Lifting
Daily Wear
Casual Classes and HIIT
Falls Short
For Running
For Plyometrics and Athletic Training
NOBULL Trainer Pros
The NOBULL Trainer has multiple pros and construction features working in its favor and below are some of my favorite aspects of this shoe.
Great for Heavy Lifting
Good Overall Durability for CrossFit
Aesthetic and Solid for Daily Wear
The first perk of the NOBULL Trainer is their overall stability. This shoe features a high-density foam midsole that is consistent throughout the forefoot, mid-foot, and heel. Whether you're squatting, deadlifting, snatching, whatever it may be, you can be assured that you'll have adequate stability in this model.
Must Read: NOBULL Trainer+ Review | Worth the Upgrade?
Must Read: 8 Best CrossFit Shoes | Picks for Flat Feet, Rope Climbs, and More!
I've used my NOBULL Trainer to compete in powerlifting in and they worked really well and I squatted 440 lbs and deadlifted 529 lbs at this competition. I also always like to make the joke about how World Record Holding Powerlifter Kevin Oak regularly squats 700+ lbs in his NOBULL Trainers, so for most, these trainers will be plenty stable for your needs.
Another perk of the NOBULL Trainer is their overall durability is pretty awesome. Their SuperFabric upper construction is lightweight but it doesn't compromise durability from abrasion on rope climbs, burpees, and other high-friction activities. Overall, I think most will find that their NOBULL Trainers will last a minimum of 8-months in the gym.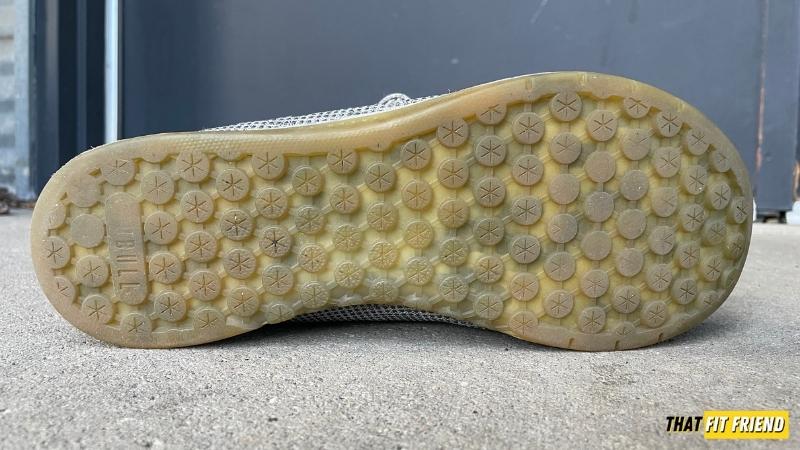 The full rubber outsole and medial and lateral outsole wraps also help to prolong this shoe's overall durability. This is a pro for anyone that wants their shoes for training in gyms, garages, and even tackling outdoor sessions here and there.
The last perk that I like about the NOBULL Trainer and this is fairly superficial is their overall appearance and how they look for daily wear. Personally, I like the simplistic look and nature of the NOBULL Trainer. Could I do without the lateral branding on the heel? Sure, but overall, I do think this is a fairly aesthetic model.
If you want a trainer for daily wear and rocking to the gym, then the NOBULL Trainer is definitely a good shoe to look into. Obviously, appearance is subjective, but the NOBULL Trainer gets my stamp of approval as a daily driver.
NOBULL Trainer Cons
There's no denying the NOBULL Trainer's consistency in the gym, but there are a few drawbacks that are worth noting about this model.
Not Great for Running
Uncomfortable for Athletic-Focused Training
They Can Run a Bit Hot At Times
The first drawback to the NOBULL Trainer is that this is not going to be the best cross-training shoe for tackling runs. If you're looking for a cross-trainer that works in the gym and for CrossFit workouts and that you can use for casual shorter runs, then I'd suggest looking into other models.
Must Read: 7 Best Cross-Training Shoes | Picks for CrossFit, Lifting, and More!
Must Read: Interested in NOBULL Shoes? Check out my NOBULL Shoes Guide!
The NOBULL Trainer's high-density foam midsole is plenty stable, but that comes at the cost of responsiveness especially for those tackling repetitive training where ground impact can be a factor like running. If you're planning to run in this model, then I'd suggest keeping your runs to 800-meters or less.
Another drawback to this model is that they're not the best for more athletic-focused training. If you plan to tackle speed, agility, and HIIT-style training, then you may also find the NOBULL Trainer to be fairly uncomfortable overall. I want to really like them for this context, but when compared to other cross-training shoes their comfort just doesn't compare.
The NOBULL Trainer has adequate grip and I do think they'll work for casual athletic-focused sessions, but for my serious lifters and athletes tackling athletic training sessions, then you may want to find a model with a bit more responsiveness. After multiple high-velocity movements like plyometrics, the stability of the NOBULL Trainer can add up.
Another minor drawback of the NOBULL Trainer is that they can run a bit hot at times due to their SuperFabric upper construction. If you're wearing thick socks and training in hot environments, then this could be something you notice, but for most this won't be an issue whatsoever. This occurrence happens more often in the NOBULL High-Top Trainer.
Performance
To break down the NOBULL Trainer's performance, I'm going to discuss how this shoe does in a variety of training settings including lifting, CrossFit, versatile training, daily wear, and runs. This can help you hopefully better contextualize if this shoe is worth it for your training needs.
Stability With Lifting and CrossFit
The NOBULL Trainer excels most in the settings of lifting and CrossFit especially when it comes to stability. This shoe has a 4mm heel-to-toe drop and has a consistently stable midsole and outsole construction. The flatter build of this shoe gives them a nice "grounded" feeling when catching the barbell in cleans or gripping the floor in more static strength work.
The full rubber lug-pattern outsole also provides a nice base with adequate traction to train on. I've had my pair for over a year and the outsole is still holding strong and the midsole doesn't have a ton of compression creases. These are both really good signs for this shoe's long-term durability in these settings.
Versatile Training
For my plyometrics, HIIT, and athletic-focused training, the NOBULL Trainer works overall. Personally, I think if you're tackling this style of training casually or if it's an addition to your CrossFit workouts, then this shoe will work for your needs. Their stability and outsole tread feed well into these styles of training.
The only drawback and caveat to the NOBULL Trainer for versatile training is that it may not be the best option for the serious athlete that plans to do longer sessions including sprints, jumps, and other high-velocity movements. In this context, the stability of this shoe can get a bit uncomfortable and they can feel clunky at times.
Again though, I think this is a niche population and for most this won't be a huge concern since the style of versatile training you'll be tackling in CrossFit workouts is mostly for conditioning or shorter circuit-style work.
Shorter Runs and Daily Wear
For runs, I'd suggest capping your distances to about 800-meters or less in the NOBULL Trainer. This shoe can get pretty uncomfortable pretty fast for longer runs and if you do have a heel strike bias, then this will be even more apparent during your running sessions in the NOBULL Trainer.
On a daily wear basis, I like the NOBULL Trainer. Despite being a more stable cross-training shoe, I do think they're fairly comfortable for all-day wear and they look aesthetic as well. This shoe looks pretty good with both gym clothes and more casual clothes which is a line a lot of cross-training shoes can't walk.
NOBULL Trainer Sizing
The NOBULL Trainer should fit true-to-size for most lifters and athletes. The length fits fairly true and there's adequate width throughout the midfoot and forefoot.
If you know for a fact that you have a wider or flatter foot and you typically run into length problems in shoes, then this would definitely be a model worth going up a .5 size in.
If you have additional NOBULL Trainer sizing questions, drop a comment below or reach out to me personally and I'll help accordingly.
Price Breakdown
For the NOBULL Trainer, you can expect to pay $129 USD. Compared to other cross-training shoes on the market, this is fairly consistent with other top models like the Reebok Nano X1 and Nike Metcon 7.
Personally, I think this price point is fair if you are a CrossFit athlete or someone investing in this model for heavy lifting. This will not be a great class or HIIT-focused shoe, so take that into account when assessing if the price is worth it for your training needs.
Best For
CrossFit-Style Training
Lifting
Daily Wear
Casual Classes and HIIT
Falls Short
For Running
For Plyometrics and Athletic Training
Construction Details
The construction of the NOBULL Trainer is pretty simplistic in nature and I think that helps contribute to this shoe's consistent performance in the gym. In the last few years, the core construction of the NOBULL Trainer has gone relatively unchanged which is pretty unheard of when you look at other trainers on the market that receive yearly updates.
I've listed some of the key construction callouts for the NOBULL Trainer below.
Heel-to-Toe Drop: 4mm
Weight: 10.7 oz (for my size 10 model)
Removable Insole: Yes
SuperFabric Upper Construction
Fully Rubber Lug Pattern Outsole
High-Density Foam Midsole
Reflective NOBULL Branding On Lateral Heel
Thin and Breathable Tongue
If you have additional NOBULL Trainer construction questions, drop a comment below or reach out to me personally.
Frequently Asked Questions (FAQ)
Q:
How do you clean NOBULL Shoes?
A:
To properly clean your NOBULL Shoes, grab a washcloth, some mild and colorless soap, and some lukewarm water. Put a little soap on the washcloth and get it a little damp, then spot clean areas that you want to be cleaned.
Q:
Can you run in NOBULL Shoes?
A:
If you have to tackle shorter runs in CrossFit workouts, then the NOBULL Trainer will work. However, this model's stable midsole and outsole are both uncomfortable for runs more than one mile in length. If you're putting in more miles, then opt for running shoes.
Q:
Where can I buy NOBULL Shoes?
A:
Generally, there are two consistent online retail stores that sell NOBULL Shoes. These two include Rogue Fitness and NOBULL's site. NOBULL also has one flagship store still open in Wynwood in Miami, Florida.
Takeaway Thoughts
Lifters and CrossFitters tend to have a love-hate relationship with NOBULL Trainers. Personally, I see the benefit of the NOBULL Trainer and do think they excel for a variety of niche styles of training and activity.
The NOBULL Trainer is not going to be the shoe with the most innovative construction details, but that could very well be one of this shoe's greatest assets for many.
If you have additional questions about the NOBULL Trainer and if it's a good pick for you, drop a comment or reach out to me via Instagram (@jake_boly)!
I personally test every product featured on That Fit Friend using a regimen of training tests that I've developed over years of testing training gear. I buy the gear I test and may earn commissions on sales made through links on my site.