As CrossFit continues to grow and evolve as a sport, so do the CrossFit shoes we use for tackling our toughest training sessions. With so many brands building great CrossFit shoes, it can be tough to find the perfect CrossFit shoe for your specific training needs.
In this article, I will discuss which CrossFit shoes are best for certain activities and contexts. It's important to note that this article will be hyper-specific for CrossFit shoes and not general cross-training shoes.
If you're on the market for a cross-training shoe for tackling workouts that are not only specific to CrossFit and their demands, I suggest checking out my best cross-training shoe round-up.
CrossFit shoes have certain characteristics that differentiate them from traditional cross-training shoes, such as additional upper durability and features for supporting movements like rope climbs, to name a couple. Below are some of the best CrossFit shoes I've tested and reviewed.
Best Overall CrossFit Shoe
The best CrossFit shoe overall is a high accolade. This means the selected models below are top of the top when it comes to being stable, versatile, and durable for tackling even the toughest CrossFit workouts.
If you're looking for that one shoe that doesn't disappoint when tackling heavy lifts, rope climbs, and every other demand that comes along with CrossFit workouts, then check out my two top picks below.
1. STR/KE MVMNT Haze Trainer
The STR/KE MVMNT Haze Trainer takes my top pick for CrossFit for a variety of reasons. To be honest, I think this is one of the most slept-on CrossFit shoes which is a shame because this model is fantastic across the board.
This model gives you a high level of foot articulation when lifting, jumping, and doing short runs, and they feel much more minimalist in nature if you like that in your CrossFit shoes. They're also a solid model for rope climbing. That being said, for CrossFit-specific workouts, it's hard to fault the Haze Trainer and its construction.
The Haze Trainer offers a medium-density Cush50™ midsole which provides stability in heavy sessions and a nice versatile feeling for plyometrics and more athletic-focused work. Thus far, I've trained up to 505 lbs in the Haze Trainer and have had no issues with the stability.
On top of the midsole, the Cross-Platform 2™ outsole provides a nice blend of traction and maneuverability, this model has one of the most maneuverable outsoles that I've tried with CrossFit shoes. The final two pros of this model are their durable upper construction and slightly wider anatomically-shaped toe box construction.
2. RAD ONE
The RAD ONE is a relatively new cross-training, and it has made a huge splash in the CrossFit scene. Honestly, the Haze Trainer and RAD ONE could both easily rotate in and out as my top pick overall pick for CrossFit shoes.
This model features RAD's proprietary Swell Foam construction, which gives this shoe a really good blend of stability and versatility. Whether I'm deadlifting 500 lbs in this shoe or wearing them for box jumps, they feel comfortable, stable, and responsive.
I also like that this shoe features a rubber/TPU wrap around the entirety of the outsole. This is great for prolonging this shoe's durability which helps your investment last longer and gives this model additional grip for rope climbs.
Another subtle perk of this shoe is that its materials are pretty responsibly sourced, which also adds to why this model is great across the board. If you're looking for a good all-around cross-training shoe for tackling CrossFit, then the RAD ONE is definitely worth looking into.
Best CrossFit Shoes for Women
When considering the best CrossFit shoe for women, I'm basing my picks on two aspects. First is the feedback that I receive from women athletes on my review content, videos, and from my girlfriend.
Second, I'm considering the last construction of different shoes and if they work well for the anatomy of the avid CrossFit-focused woman's foot.
1. Inov-8 F-Lite 260 V2
The Inov-8 F-Lite 260 V2 takes my top pick for women for a few key reasons. The first reason is their overall lightweight and breathable construction. This is one of the lighter pairs of CrossFit shoes on the market, and they feel like nothing on the feet even when wearing them for longer durations.
The second reason is their last construction and how it typically aligns well with women's feet (per my YouTube community's feedback!).
This model features a size "5" fit scale for Inov-8, which indicates that this model is slightly wider than some of their other cross-training shoes. If your concern is toe splay and gripping the floor for CrossFit workouts, then you shouldn't have to worry about that aspect in this model, especially if you have a narrow or neutral foot width.
The last reason is that this model has multiple characteristics that you'd want to see in a great CrossFit shoe. For example, they have features like Inov-8's midfoot ROPE-TEC for rope climb support and a sticky rubber outsole construction for additional traction.
2. Nike Metcon 7
The Nike Metcon 7 is earning the second pick for women. The Nike Metcon 7 has multiple construction features that feed really well into CrossFit workouts. This model has a built-in Hyperlift insert in the heel for stability purposes and lifting support.
Additionally, this model also features Nike React Foam throughout the midsole, which is different than prior Nike Metcon models. This React Foam provides the Metcon 7 with a much more responsive fit and feeling, and it's a slightly better model for shorter runs and longer plyometric sessions compared to something like the Nike Metcon 6 and 5.
In the context of CrossFit workouts, I also like that this model features additional rubber midfoot overlays for rope climbing support. The Nike Metcon 7 is one of the best cross-training shoes for tackling rope climbs.
The toe box also features a synthetic overlay for durability purposes in exercises like burpees and other toe-dragging movements. If you want an athletic fitting shoe that works really well for CrossFit, some HIIT, and lifting, then the Metcon 7 is worth exploring.
Best CrossFit Shoes for Men
There are a couple of key aspects that I look for in CrossFit shoes for the men that love tackling tough CrossFit workouts. First, the shoe needs to be exceptionally durable across the board.
Second, the shoe needs to be wide enough to accommodate the slightly wider width of most men's feet.
1. STR/KE MVMNT Haze Trainer
The STR/KE MVMNT Haze Trainer is making another debut for a top spot in this CrossFit shoe round-up. There are three key construction details that I like about this model for men specifically. First is the wider anatomically-shaped toe box.
The Haze Trainer's toe box should give you a bit more width compared to other CrossFit shoes on the market. Plus, they break in really well, so after about 1-2 weeks, their toe box starts to fit the foot even better.
For context, the width of this model's toe box is similar to the Altra Escalante, which is known for being a slightly wider running shoe. Second I like this model's ability to be dynamic in nearly every CrossFit-style training setting. For my diehard CrossFit friends or casual trainees, this model should work well for the tasks you throw at them.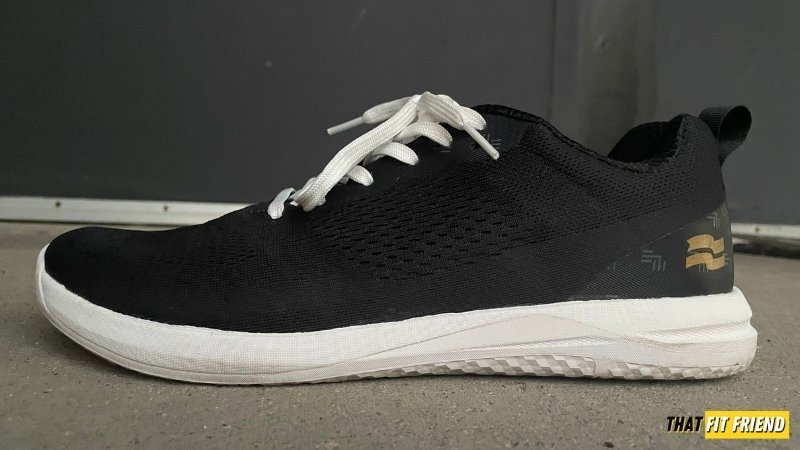 The third and final reason is the 3D knit jacquard upper construction. This model doesn't have exposed stitching, and the woven knit upper does a good job of resisting abrasion from rope climbs and the floor.
2. NOBULL Trainer+
The NOBULL Trainer+ is taking my second pick for being a great CrossFit-focused shoe for men. This model is built slightly differently than the traditional NOBULL Trainer, and it has a few key pros that make it awesome for CrossFit and men.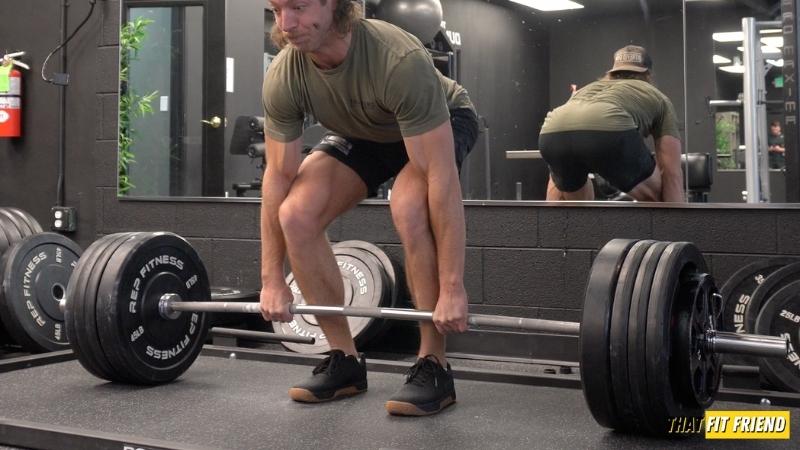 First, this model is built to be slightly wider than the traditional NOBULL Trainer, which is great for accommodating a wide range of foot anatomies and works for wide and flat feet. If you have a wider foot, then you should find that you have ample room in the NOBULL Trainer+.
Second, this shoe received a reworked midsole and outsole construction. The midsole in the NOBULL Trainer+ provides you with a bit more responsiveness than the original NOBULL Trainer. The outsole's herringbone lug pattern gives a nice grip on different surfaces.
Whether you're training heavy or tackling a cardio-focused metcon, the NOBULL Trainer+ should provide you with a solid performance and will be a stronger performer in this context than other NOBULL models like the NOBULL Trainer.
Best Lifting Shoes for CrossFit Athletes
All of the CrossFit shoes on this list will work for lifting and that's one of my pre-requisites when considering shoes for this round-up. So, to add variety and depth to this article, I wanted to include two weightlifting shoes that I think are great for CrossFit athletes.
Basically, different workouts and different exercises call for different demands and needs. When hitting the gym, I bring a pair of CrossFit shoes and weightlifting shoes for this reason. If you want an elevated heel to train with for some exercises, then below are two of my favorite weightlifting shoes for CrossFit athletes for different reasons.
1. Reebok Legacy Lifter II
The Reebok Legacy Lifter II is a solid weightlifting shoe for the CrossFit athlete that loves using weightlifting shoes for tackling movements like snatches, clean & jerks, squats, and other exercises where a heel wedge is desired.
The Reebok Legacy Lifter II has a fairly durable upper construction and its forefoot breaks in pretty fast which is a nice pro compared to the original Reebok Legacy Lifter.
This model features a 22m (.86″) heel elevation, and the heel is made with a tough TPU which is great for both stability and long-term durability. The mid-foot strap also provides a nice level of security when training hard.
2. Nike Savaleos
The Nike Savaleos is an interesting weightlifting shoe, and they're included in this round-up for one key reason, and that's their versatile construction focus. In the context of CrossFit-style training, I do think the Nike Savaleos could be useful for that athlete that wants one pair of weightlifting shoes to wear for their sessions.
While I don't recommend wearing weightlifting shoes for full CrossFit workouts, the Nike Savaleos model is one of the few lifting shoes that I think could work if you wish to wear them for full sessions.
I know some athletes don't mind wearing them for everything, but personally and in my coaching opinion, I'm not the biggest fan of having athletes rock their lifting shoes for compound movements, then keep them on for exercises like box jumps and other movements you'll see in CrossFit workouts.
That all being said, Nike Savaleos features a 15mm (.6″) heel elevation and has an insole that provides a bit more responsiveness compared to other weightlifting shoes. The lower heel height and more responsive construction is why I think this model could work for CrossFit-style training for athletes who want to wear weightlifting shoes for their full workout.
Best CrossFit Shoes for Running
Generally, CrossFit shoes are not going to be your best shoe option for running. However, if you plan to tack on some weekly miles, then the two options below are good CrossFit shoes for running.
1. Reebok Nano X2
The Reebok Nano X2 is a good model for anyone who wants to tackle CrossFit workouts and shorter runs on a weekly basis. In my testing, this model works decently well at providing a fairly cushioned ride for runs up to about 3 miles.
This shoe features Reebok's Floatride Energy Foam throughout its midsole, and as a whole, I like this material for shorter runs. It's a bit more responsive than the high-density foam midsole that was featured in the Reebok Nano X.
If you like a more "responsive" fit and feel with your CrossFit shoes and their midsole construction, then the Reebok Nano X2 can be a good option to explore. This shoe will work best for the much more casual CrossFit-focused athlete.
One thing to note about the Reebok Nano X2 and its performance for CrossFit is that its outsole durability can fall short for rope climbing. More specifically, if you J-wrap rope climbs, then you may experience a faster breakdown in this shoe, so I'd suggest keeping an eye on your shoe's medial outsole if you use this climbing strategy with the Nano X2.
2. Inov-8 F-Lite 235 V3
Another good model for shorter runs is the Inov-8 F-Lite 235 V3. For this model, I'd say cap your running sessions to about three miles to ensure they don't get overly uncomfortable because they're not exactly designed for longer distances.
When it comes to running sessions in this model, there are three aspects that I like about the Inov-8 F-Lite 235 V3. The first aspect is their overall lightweight construction and breathability. This model feels almost like a sock on the feet, and if you love having a more "minimalist" style of shoe for your shorter runs, then I think you'll like this model.
The second aspect is their POWERFLOW+ midsole which does a fairly good job at providing a responsive ride for multiple styles of training, especially shorter runs. If you're doing 0-3 miles, then I think you'll enjoy the energy return you get with this shoe.
The third and final aspect of this shoe and its running performance is its Dynamic Fascia Band construction which provides a highly maneuverable fit and feeling when running.
Best CrossFit Shoes for Arch Support
If you're in need of CrossFit shoes that are great for flat feet or provide adequate arch support, check out the options below.
I've provided one option that has a fair amount of built-in arch support and another option that is great for inserting your own custom orthotics.
1. Inov-8 F-Lite G 300
The Inov-8 F-Lite G 300 is one of the few true CrossFit shoes that have adequate arch support built-in. This model has a fit scale rating of "5" for Inov-8, which indicates that this model is purposefully made to have a wider fit, too.
If you need arch support built into your CrossFit shoes, then I'd suggest looking into the Inov-8 F-Lite G 300. This shoe's medial and lateral sidewalls do a great job of giving you additional arch support when training.
In regard to also supporting CrossFit workouts, this shoe does a great job across the board. This model features a graphene construction which is utilized with the intent of increasing this shoe's long-term durability.
Additionally, this model has a TPU cage around the mid-foot for additional midfoot support from things like rope climbs. Since this model features a bootie construction, I personally love this for providing a locked-down feeling and securing the foot during workouts.
2. NOBULL Trainer (and NOBULL Trainer+)
For those with wider and flatter feet, the NOBULL Trainer and NOBULL Trainer+ (mentioned above) can both be viable options for those who need arch support and use custom orthotics when training.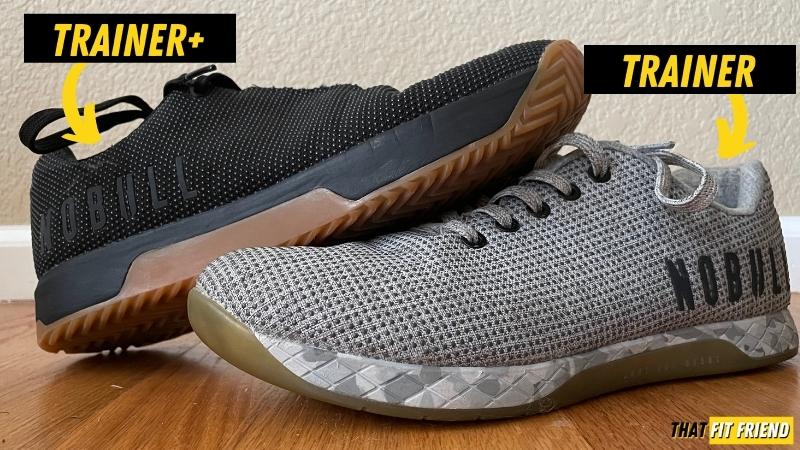 For starters, the NOBULL Trainer and NOBULL Trainer+ are both fairly wide throughout the entirety of the shoe. The forefoot and midfoot come with plenty of width for anyone with slightly wider feet, and the NOBULL Trainer's last is a bit deeper in regard to its volume.
With their wider builds and deeper last constructions, these models are good picks for anyone with their own custom orthotics. Unlike models like the Nike Metcon and some of the Inov-8 models, the NOBULL Trainer can accommodate thicker custom orthotics fairly well, so if you need a shoe for an arch-support-focused orthotic, then the NOBULL Trainer and NOBULL Trainer+ can be good options.
Outside of these aspects, these shoes deliver a durable upper construction featuring NOBULL's signature SuperFabric. For example, my friend and world-record-holding powerlifter Kevin Oak routinely squat 700+ lbs in his high-top NOBULL Trainers, so for most lifters and athletes, stability won't be a problem with this model in CrossFit workouts.
Best CrossFit Shoes for Flat Feet
When considering the best CrossFit shoes for flat feet, I'm mostly concerned with a shoe's ability to accommodate the anatomical asks that typically come along with flat feet.
The models below have a good width to them and they do a good job at providing additional support or working with custom flat-feet-focused orthotics.
1. UA TriBase Reign 4
The UA TriBase Reign 4 is a good CrossFit-focused shoe to look into for flat feet. This model's width was increased from prior models, and if you need a fair amount of forefoot width and a little midfoot support, then you should find that this model does a good job on this front.
I think the TriBase Reign 4 will work best for athletes that have flat feet and a neutral or slightly wider foot width. Across the board, this shoe is a strong performer for CrossFit workouts.
In the context of performance, the TriBase Reign 4 features Under Armour's signature Micro G Foam midsole construction, and this midsole provides a nice blend of stability and versatility for CrossFit-style workouts.
You can train heavily in this model or tackle athletic workouts with relative ease. The TriBase tech on the outsole also helps contribute to this model's stability and how it can provide your foot with additional support in different training contexts.
2. Reebok Nano X2
The Reebok Nano X2 is another good option to explore if you need a good CrossFit shoe for flat feet. This model has a good amount of width and length to them, so for flat feet with neutral and wide widths, the Nano X2 should fit pretty well.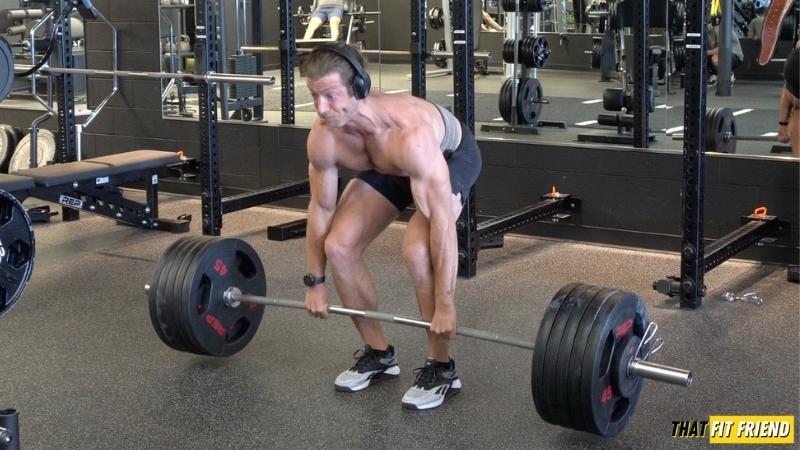 I also like that this model can be a good shoe for accommodating custom orthotics. There's a good amount of upper volume in this shoe, and if you have thin or thick custom insoles or orthotics, you shouldn't feel limited in this model.
For CrossFit-focused workouts, I mentioned this above, but I do like the Reebok Nano X2 for the most part, and it does a good job at tackling the HIIT-style work and lifting that you'll run into in most CrossFit workouts.
Once again, I would suggest being careful with this model when tackling J-wrap rope climbs because their outsole can start to peel and run into durability issues.
Best Barefoot CrossFit Shoes
More and more athletes are starting to turn to barefoot shoes for their CrossFit training. This push for functional fitness-focused barefoot shoes has also pushed companies to evolve their products to accommodate this style of training. Below are two of my favorite barefoot shoes for CrossFit.
1. Xero Shoes 360
The Xero Shoes 360 have been one of my favorite barefoot shoes for CrossFit. This model has multiple features that make it a solid option for the avid barefoot-focused CrossFit athlete.
For starters, the Xero Shoes 360 feature a durable upper construction that is designed to be abrasion-resistant for things like rope climbs and burpees.
To provide additional context about this shoe's upper construction, the forefoot of this model has a 3D rubber construction for rope climb support, and the toe has a suede overlay for abrasion resistance from toe dragging movements.
The sole of the Xero Shoes 360 on the lateral and medial side of the base of the toes wraps up the shoe further than other Xero Shoes training models to provide added grip and durability when moving laterally. This makes the Xero Shoes 360 a solid model for multi-directional activity, and the toe box is plenty wide for accommodating full toe splay.
2. Inov-8 Bare-XF 210 V3
My second pick for the barefoot-focused CrossFit athlete is the Inov-8 Bare-XF 210 V3. This model is coming in as my second pick because the toe box doesn't provide the same width as the Xero Shoes 360.
However, if that doesn't bother you, then this model is just as strong of a performer in the context of being a solid barefoot for CrossFit workouts. This model features Inov-8's signature ROPE-TEC for rope climbing support and has an upper construction that is fairly durable for abrasion resistance.
Compared to other barefoot shoes, this model definitely has an edge due to its layered upper construction. In addition to its durable upper, this model also features a 3mm POWER FOOTBED that gives you a super "close-to-the-ground" feeling when training.
If you're nervous about limiting your shoe's stack height and fully feeling the ground, then you shouldn't have to worry about that with the Inov-8 Bare-XF 210 V3.
Best CrossFit Shoes for Rope Climbing
Nothing can tear down a shoe as rope climbs in CrossFit workouts. Nothing is more frustrating than coming off the rope after a successful CrossFit workout only to find your CrossFit shoe's upper construction completely destroyed from your climbs.
The perfect CrossFit shoe for rope climbing will provide both durability and construction aspects to boost your rope climbing performance.
1. Nike Metcon 7
The Nike Metcon 7 is an awesome option for the rope climbing-focused CrossFit athlete. This model features an extended outsole wrap on the medial and lateral sides of the shoe that promotes long-term durability.
On the medial side of the Nike Metcon 7, there's also a rubber overlay for additional durability support for all styles of rope climbing. This is a really unique feature, and it gives the Nike Metcon 7 a lot of bite when rope climbing.
On top of the outsole wraps and rubber medial guard, the Nike Metcon 7 also has a fairly durable upper construction through the midfoot. This model features a chain-link mesh and reinforced overlays over the toe box and heel for added durability.
I think if you're a CrossFit-focused athlete that is really working to improve their rope climbs, then the Nike Metcon 7 can be a good shoe to feed into the specificity of climbing.
2. Inov-8 F-Lite G 300
Another great CrossFit shoe for rope climbing is the Inov-8 F-Lite G 300. This shoe features Inov-8's signature ROPE-TEC construction throughout the midfoot.
The ROPE-TEC feature adds to this model's overall durability and provides grip for rope climbing with the feet. Outside of the ROPE-TEC, this shoe has an additional TPU midfoot cage for extra durability support.
Whether you're J-wrapping or S-wrapping your climbs, the Inov-8 F-Lite G 300 should give you a nice level of bite on the rope. The TPU cage also helps protect the upper construction from abrasion, and personally, I like how the cage fits and interacts with the foot.
Across the board, I think the Inov-8 F-Lite G 300 will be a good option for rope climbing for all types of CrossFit athletes. Plus, this shoe has a nice level of arch support, so it's this model's win-win if you prefer more arch support.
Best Budget CrossFit Shoes
When determining the best CrossFit shoes for budget-friendly shoppers, a shoe's price point is the main factor I'm considering. In many cases, niche strength sports shoes like CrossFit shoes can be a little more pricey.
However, there are some good budget-friendly training shoes on the market. Below are two of my favorite budget CrossFit shoes that perform pretty well and cost under $100 USD. They'll work best for beginners getting into CrossFit.
1. Reebok Nanoflex V2
The Reebok Nanoflex V2 is making my top pick as the best budget CrossFit shoe. This training shoe is interesting because the original Reebok Nanoflex TR wasn't a great CrossFit shoe. However, the V2 has some key updates for CrossFit settings.
For example, the RopePro feature on the Reebok Nanoflex V2 is pretty good, especially for recreational CrossFit athletes. I could see this model being best for beginners who are rope climbing here and there, but it doesn't make up the brunt of their training.
I would even take the RopePro in the Nanoflex V2 and its performance over its more premium peers, the Reebok Nano X2 and Nano X1. The midsole in this model also provides a nice blend of stability and versatility for different types of WODs.
I also enjoy the outsole on this model and the durability it provides. The Nanoflex V2 has an extended outsole wrap over the toe box, and this outsole provides a nice level of tread for jump rope, multi-directional exercises, and short runs.
2. PUMA Fuse
The PUMA Fuse is taking my second pick as a pretty solid budget CrossFit shoe to look into. This model is pretty good for CrossFit and lifting, especially when you consider its $90 USD price point.
This shoe has a nice level of stability and works well for heavier WODs. I've enjoyed training heavy in this shoe, and I think its stability will be good for most athletes and lifters.
I also like how this performs for most WODs regarding its versatility and overall durability. That's not to say the PUMA Fuse doesn't have its shortcomings. For example, the upper in this shoe for rope climbs needs a buff and can be a little hit or miss.
On that note, the PUMA Fuse 2.0 is set to release in the fall of 2022, so if you are interested in this model, it may be worth waiting a couple of months for the newer model, which is set to have a price of $100 USD.
What Are CrossFit Shoes?
For my CrossFit shoe review content, I'm looking for three key construction aspects that need to have to qualify them as great CrossFit shoes. First, they need to have an upper construction that has the avid CrossFit athlete in mind.
This means that they have overlays of material and heightened durability where CrossFitters need it most. Examples would be the overlays we see throughout the midfoot in the Nike Metcon line and the additional materials we see over shoe's toe boxes in virtually every CrossFit shoe.
These construction traits are specifically designed to resist some of the most common forms of abrasion we run into in CrossFit workouts.
The second aspect I look at is a shoe's midsole construction and the material a company uses to compose it. A great CrossFit shoe will utilize a midsole material that will provide a blend of responsiveness and stability. Basically, an awesome midsole for CrossFit will be a good option for things like box jumps and heavy lifting.
The last aspect I look for is a quality outsole construction. Generally, every CrossFit shoe will provide a full rubber outsole with different tread styles. This is to promote grip on different surfaces and to prevent slippage when doing something like a clean & jerk or snatch where a lifter can experience slippage if they're wearing the wrong style of shoe.
CrossFit Shoes Vs Cross-Training Shoes
There is a lot of crossover between cross-training shoes and CrossFit shoes. In fact, and bear with me here, every CrossFit shoe is technically a cross-training shoe, but not every "cross-training shoe" is a great CrossFit shoe. I like to bucket these shoes slightly differently to help others be more specific with their shoe selections.
As mentioned above, there are key construction aspects to look for in a great CrossFit shoe. Just because you can cross-train in a shoe and it's marketed as a cross-training shoe doesn't mean that it's a good choice for CrossFit workouts.
For example and for context here, a shoe like the On Cloud X is a cross-training shoe, but it's a terrible model for tackling CrossFit workouts due to its upper and midsole construction. In my opinion, any "review" site that says differently doesn't know what they're talking about or actually train in the shoes they're discussing for CrossFit workouts.
That being said, if you use the guide above to look for those three key construction traits in your shoes, then you'll be able to better identify which cross-training shoes are optimized and designed specifically for CrossFit training.
Whether you're wondering about running in your CrossFit shoes or how they should fit, I've provided some of the most commonly asked questions I receive on my CrossFit shoe review videos and content.
How should CrossFit shoes fit?
Generally, I recommend having roughly .2″-.6″ of space in the toe box of your CrossFit shoe. If you like having a snugger fit, then aim for the lower end of that range, and if you like having a bit more room or have a wider foot, then you may want to size accordingly to the larger side of the range.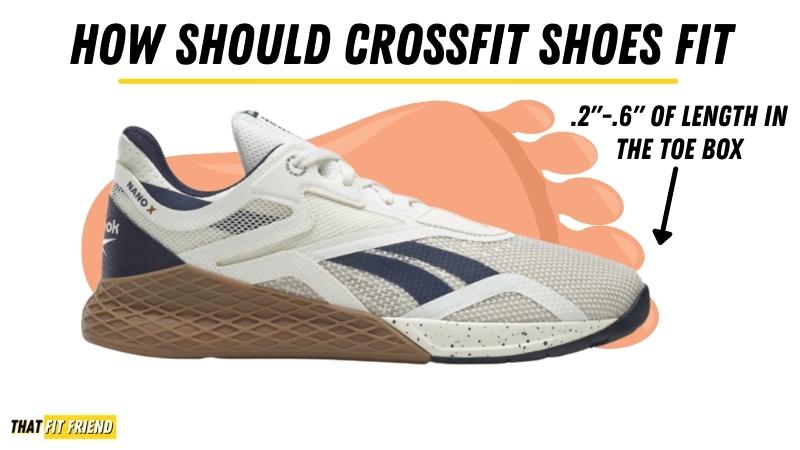 Why Wear CrossFit Shoes?
Put simply, you'll want to wear CrossFit shoes to support your CrossFit workouts. Unlike recreational lifting or casual group fitness classes, CrossFit workouts will come with specific training demands that shoes can assist with and play well into. If you want to optimize your CrossFit performance, then you'll want to look into a strong pair of CrossFit shoes.
How I Test the CrossFit Shoes I Review
When testing CrossFit and cross-training shoes, I have a standard battery of performance tests that I put every shoe through. For CrossFit shoes specifically, I'll use my standard cross-training shoe tests and add in CrossFit-specific tests.
Some of these tests include durability for rope climbing, comfort for things like jump rope and box jumps, and how well a shoe does at being a hybrid model for WODs that include lifting and running.
Outside of my construction tests, I'm also looking at a shoe's midsole, outsole, upper, and overall fit and feel. At this point in my career, I have personally tested hundreds of shoes so being able to recognize the context between different CrossFit shoes is really helpful.
Every shoe featured in this article has been personally tested by me. I don't have writers creating comparisons and round-ups when they haven't physically worn or trained in the shoes they're writing about and discussing.
If you ever have additional questions about how different models compare to one another, always feel free to reach out or visit my YouTube channel where I share countless CrossFit shoe reviews.
Takeaway Thoughts
There are a ton of different CrossFit shoes on the market and each model excels in different areas of performance for various reasons. My best piece of advice when searching for new CrossFit shoes is to focus on what exactly you need most from your shoes with your CrossFit workouts, then consider how you like your shoes to fit.
If you have any questions about the CrossFit shoes featured in this article, drop a comment below or reach out to me personally via Instagram (@jake_boly).