I personally test every product featured on That Fit Friend using a regimen of training tests that I've developed over years of testing training gear. I buy the gear I test and may earn commissions on sales made through links on my site.
If you're a guy that trains hard in the gym, then you're going to want to have the right gear to tackle your workouts. Personally, I don't want to have to worry about my workout shorts while training, so I'm constantly looking for the best pairs to perform in various contexts. If we can get the right pair of men's workout shorts for our needs, then we train hard without worries.
There are countless men's training shorts on the market, and it can be incredibly important to figure out how you plan to use your training shorts to get the most out of them.
Do you plan to tackle CrossFit workouts in your shorts, lift super heavy, or run? These are all important to consider. Plus, we could also break up shorts based on different anatomical wants and needs (big thighs, skinny legs, etc.).
In this best men's workout shorts round-up, I've broken my favorite pairs of shorts into different categories where I think they perform the best. This way, you as an active guy, can make the best buying decision based on the context of your training goals.
Also, are you looking for new cross-training shoes? Make sure you check out my TF2 Cross-Training Shoe Calculator to be matched with the best cross-training shoes for your needs.
Author's Note: Some of the sizing dimensions in the images below change slightly based on my training cycle. Typically, I'll have fluctuations in waist and thigh size depending on if I'm in hypertrophy or competition prep cycles.
Best Men's Workout Shorts for CrossFit
If you're looking for great CrossFit shorts, then you need to prioritize three key asks for your shorts based on their intent of use. These tasks include a short with adequate durability, versatility, and aesthetics.
Since CrossFit workouts are so diverse in nature, you'll want a pair of shorts that is mobile, and abrasion-resistant from barbell knurling and rope climbs, and if you're like me, then you'll also want your shorts to look good because you'll be wearing it a lot.
Top Choice: Ten Thousand Interval Short
The Ten Thousand Interval Short is my top pick for CrossFit for a few key reasons. For starters, this short is incredibly consistent and it works for a variety of training settings.
The 4-way stretch shell moves really well and if you're hitting deep squats or attacking frontal plane movements, this short will move with and never feel restrictive.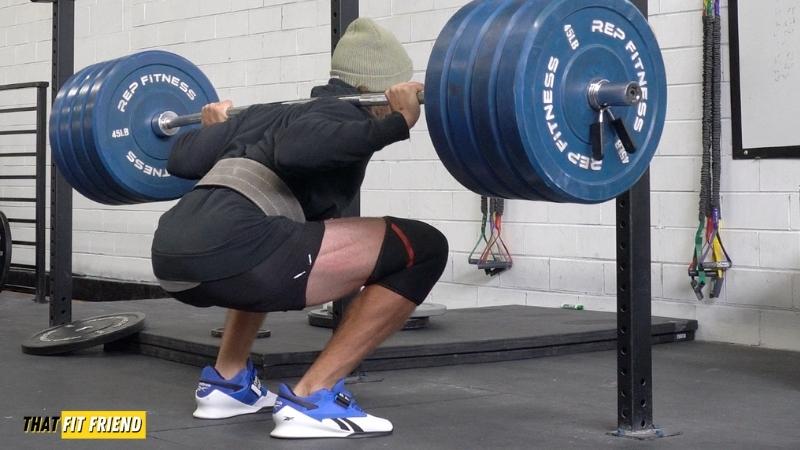 On top of this, the Interval Short is also durable across the board and they should last you quite some time before having to invest in new shorts.
I've had a pair of Interval Shorts last two years before investing in a new pair, and mind you, I was training fairly hard in them and used them to prep for multiple powerlifting competitions. The final perk of the Interval Short for lifting is how good it is at sweat-wicking and anti-odor.
Must Read: 10 Best CrossFit Shoes | Picks for Rope Climbs, Flat Feet, and More
I admit I do not wash my workout shorts after every single use (oh, don't you judge me!), and when I'm training in packed gyms I never want to be the smelly guy. The anti-odor tech in the Interval Short is solid and they dry fairly quickly.
Ten Thousand Interval Short
Best For
Shorter/Mid-Range Runs
Recreational Lifting
Agility Workouts
Classes
CrossFit
Best Men's Workout Shorts for Big Thighs
If you have thick glutes, quads, hamstrings, and adductors, basically if you have big thighs (in a good way!), then you likely know how frustrating it can be to find a solid pair of workout shorts that fit correctly.
I don't have the biggest and meatiest legs in the game by any means, but I'm constantly running into shorts that feel limiting due to a lack of short width and gusset construction.
Top Choice: HYLETE Verge III
The HYLETE Verge III short can be a good workout short to look into if you have big thighs. When training, I've noticed that the HYLETE Verge III Short does a good job at not riding up my legs even when tackling deep squats.
These shorts feature a gusseted construction which I think will accommodate most guys' big thighs pretty well. That's not to say this short will never ride up, but compared to other shorts on the market the gusset and material in the Verge III do a good job of not getting caught and stuck up on the thighs.
I also like this pair of shorts' waistband construction and a more casual look. Both of these features make this an easy model to wear out and about on a daily wear basis.
Note, this model does not come with an internal compression liner so you'll need to have or invest in a separate compression liner when training in these shorts.
Best For
Lifting and Cross-Training
Daily Wear
Short Runs
HIIT Workouts
Bigger Thighs
Falls Short
For Cost-Efficiency
For Long-Distance Runs
For Hiding Water and Sweat
Best Men's Workout Shorts for Lifting
Great workout shorts for lifting should have two key construction characteristics. First, they should be durable to withstand abrasion from knurling during deadlifts, clean & jerks, and other exercises.
Second, they should be mobile enough to accommodate the various range of motion you're going to train in the gym. When assessing workout shorts for lifting, these are the two aspects I'm constantly testing and looking for.
Top Choice: Legends Luka Short
The Legends Luka Short is taking my top pick as the best men's workout shorts for lifting. In the context of lifting performance, there's a lot to like with the Legends Luka Shorts and these have quickly become one of my go-to's for strength training.
The first thing to like about the Legends Luka Shorts is their lightweight shell construction. I enjoy the weight of these shorts' shell because it doesn't get hung up on the legs that much when squatting and they have a nice level of breathability.
In addition to their wispier shell weight, I also like the perforation on the back of these shorts and the split-curve hem. The combination of these gives the Luka Shorts a really nice feel for CrossFit and athletic-style training sessions where you're varying your exercises a lot.
Must Read: 9 Best Cross-Training Shoes | Picks for CrossFit, Lifting, and More
I think if you're wanting a training short for a little bit of everything, but you have a heavy bias towards lifting on a weekly basis, then you'll enjoy the Luka Shorts. Their durability tends to be good for weight training and they have a nice athletic feel to them.
Best For
CrossFit and Functional Fitness
Recreational Weight Lifting
Short Runs
Athletic-Style Training Sessions
Casual Wear
Falls Short
For Long-Distance Runs
For Long-Term Durability
Best Men's Workout Shorts With Liner
Personally, I love training with workout shorts that have compression liners built-in. It saves me the trouble of bringing additional apparel with me to the gym, and honestly, not every compression liner works with every pair of shorts' waistbands.
A great pair of gym shorts with a liner built-in will feel seamless and allow the shorts to move and breathe well without getting overly uncomfortable.
Top Choice: Chubbies Ultimate Training Short
The Chubbies Ultimate Training Short is taking my top pick as the best men's workout short with a liner built-in. Honestly, the compression liner is my favorite part about this short and one of the sole reasons to invest in them.
The compression liner in the Ultimate Training Short hugs the legs really well, so if you're interested in a liner that provides a nice high level of compression you'll enjoy these shorts. There's also a pocket on the liner for your phone which is a nice perk.
I also enjoy this short because it's somewhat of a jack-of-all-trades when it comes to training. I can lift in these, play pickleball in them, and even wear them for running and the liner keeps everything locked down and secure.
The deep seams of the Chubbies Ultimate Training Short are also a perk for promoting a nice level of mobility for deep squats and cleans. My only complaint with these shorts is their high price point, but I think if a good liner is your goal, then the price can be justified.
Chubbies Ultimate Training Short
Best For
Cross-Training and CrossFit
Athletic-Style Training Sessions
Comfort and Casual Wear
Light to Moderate Length Runs
Compression Liner Snugness
Best Men's Workout Shorts for Comfort
When I'm assessing a short's comfort, I'm mostly concerned with how a short's materials feel and fit in different settings. When I'm really going for comfort, I want my shorts to feel comfortable for doing pretty much everything and look casual.
Also, when it comes to comfortable workout shorts, I'm also assessing a short's pocket system. Do the shorts have deep enough pockets for daily wear and for keeping your valuables safe? Because more than likely you'll want to wear these outside of the gym.
Top Choice: Vuori Sunday Performance Short
The Vuori Sunday Performance Short is taking my top pick as the best men's workout short for comfort. It's funny when I first invested in the Sunday Performance Short I was a little apprehensive of their higher price, but I've since become a big fan of them.
More specifically, I like the Vuori Sunday Performance Short because outside of their comfort, they work pretty well in a wide range of contexts. You can wear them to run errands, casually, and in more relaxed settings and they fit the bill well.
Compared to other "gym-focused" shorts, the Sunday Performance Short has a much more casual vibe, which I like. The deeper pockets are great for carrying around your belongings and the knit material is soft on the skin.
These shorts are also great for rocking with or without underwear. If you like to wear shorts like this commando on a daily wear basis, then you shouldn't have issues with revealing too much as the material typically is heavy enough to keep things incognito.
Vuori Sunday Performance Short
Best For
Daily Wear
Lounging and Relaxing
Casual Workouts
Falls Short
For Serious Training
For Cost-Efficiency
Best Men's Workout Shorts for Running
A great workout short for running needs to be built in a means that is optimized for this style of activity. This short needs to be lightweight, breathable, and never cause chafing.
If you're tackling longer runs and want a short designed for excelling in long-distance runs, races, and your general running training, then check out the model below.
Top Choice: Ten Thousand FAR Short
The Ten Thousand FAR Short is a great model for the serious runner who's putting in a ton of mileage on a weekly basis. This short delivers all of the elements that you'll want from a running short and it's designed with sustainable materials.
Personally, that's what earns this short as my top pick for running. In the world of fast fashion, it's really cool to see models that utilize more environmentally-conscious materials while also performing at a high level.
Outside of the materials used in this short, I also love its light shell and its internal brief liner feels supportive but never restrictive. In some shorts, brief liners can ride up on me, but I never really have that issue in the FAR Short. The last aspect to like about the FAR Short is the posterior phone pocket.
This is one of the better phone pockets I've experienced in running shorts and it beats the internal waistband phone pocket that comes on the Ten Thousand Distance Short for security. If you run with your phone, then you'll like the FAR Short's phone pocket.
Best For
Mid-Range Runs
Long Distance Runs
Eco-Friendly Minded Athletes
Falls Short
For Cost-Efficiency
For Anything Other Than Running
Best Men's Workout Shorts for Skinny Legs
I write this section cautiously because I don't want the term "skinny legs" to come with any form of negative connotation. If you have smaller legs and you find it tough to find shorts, then this section is for you.
In this context, you're not going to want a pair of shorts that has large leg gussets that make you look like you're swimming in your shorts. Below, is my favorite short for skinny legs that fit pretty snugly.
Top Choice: Lululemon Pace Breaker Short
The Lululemon Pace Breaker Short is an awesome workout short for a variety of needs and they fit a bit more slimly than other competitors on the market. Their shell construction in both the liner and linerless options doesn't feel so huge that you're swimming in this short.
The compression liner in the lined shorts fits a bit more snugly around the legs so even if you have skinny legs, these shorts should provide adequate security for your training and daily wear.
Personally, I'll rock the Pace Breaker Short more for daily wear and for casual training sessions since they can be a bit more prone to riding up as the fit for them is slightly slimmer.
Outside of their fit, I also like the Pace Breaker's overall appearance and comfort. This is definitely a good short for a wide array of activities and if you have thinner legs, then if I had to guess this short will likely become one of your "all-in-one" style shorts.
Lululemon Pace Breaker Short
Best For
Outdoor Training
Lightweight Training
Agility Workouts
Class/HIIT Workouts
Falls Short
For Heavy Barbell Training
For Long-Term Liner Durability
Best Men's Workout Shorts On a Budget
A lot of the most popular workout shorts for men are far from cost-efficient. Who else remembers the days when our workout shorts only cost $30 max? While it makes sense that materials and construction have improved, paying $70+ USD for a pair of workout shorts is certainly not for everyone.
Below is my favorite pair of budget-friendly workout shorts for men. These are shorts that crack $50 USD and are a strong performer across the board in the gym.
Top Choice: Bearbottom Base Short
The Bearbottom Base Short is taking my top pick as the best pair of men's workout shorts on a budget. As opposed to the other shorts on this list, the Bearbottom Base Short comes in with a price point of $50 USD.
While $50 USD may not seem like the absolute most "budget-friendly" option, I wanted to include this option because this short's performance is pretty comparable to most of the short options on this list and it costs less than its peers.
I like the Bearbottom Base Short because it can be a strong performer for lifting, versatile training, short runs, and even daily wear. Despite costing a little less, the quality of these shorts doesn't feel cheap or "budget-friendly" which I also enjoy.
If you're looking for a workout short that is similar to more premium models without sacrificing quality, then the Base Short can be a viable option. Note, I do have some sizing thoughts about the Base Short for different leg anatomies, so I'd suggest checking out my review before investing in them.
Best For: Daily Wear, Classes, Casual Training, and Conditioning
Inseam Options: 5.5″ and 7″
Liner Options: Liner
Pockets: Yes
Price: $50 (lined)
Read My Review: Bearbottom Base Short Review
Best For
Recreational Lifting
Athletic-Style Training
Short Runs
Thinner Legs
Falls Short
For Thick Thighs
For CrossFit/Olympic Lifting
Best Men's Workout Shorts for Classes
If you're looking into shorts for primarily going to and tackling workout classes, then you'll want something lightweight with adequate mobility and anti-odor tech.
Since most classes are in packed settings, it's always nice to ensure your short is going to brand you as the smelly one in class.
Top Choice: Rhone Mako Short
The Rhone Mako Short has a lot going for them and I really enjoy this short for classes, HIIT workouts, and athletic-focused training. This short has a 4-way stretch shell that promotes seamless movement across multiple movement planes and the material overall is very lightweight.
On top of the stretch of the shell, this short has a solid pocket system for both daily wear and training sessions where you want to bring your phone and belongings with you.
The waistband provides adequate security and I never have issues with this short sliding around, so if you're jumping, sprinting, or doing lifters in class, then you should have no issues with this short's security.
If you go with the Mako Short with the compression liner, then you'll also get Rhone's GOLDFUSION tech. Of all the shorts on this list, I've found Rhone's anti-odor tech to be a consistently strong performer and I think most athletes and lifters will enjoy how these shorts do in this regard.
Best For: CrossFit, Recreational Lifting, All Day Wear
Inseam Options: 7″ and 9″
Liner Options: Liner and Non-Liner
Pockets: Yes
Price: $68 (liner and linerless)
Read My Review: Rhone Mako Short Review
Best For
Recreational Lifting
Lighter Runs
Class Workouts
HIIT Training
Falls Short
For Cost-Efficiency
For Maximal Waistband Security
Best Men's Workout Shorts for Outdoor Training
If you bias your training towards working out outside, hiking, and rucking, then you're going to need a short that features a bit more durability for your training asks.
When assessing workout shorts for outdoor sessions, I'm mostly concerned with versatility and the long-term durability of the short's shell and other elements that can run into abrasion during outdoor sessions.
Top Choice: Ten Thousand Tactical Short
The Ten Thousand Tactical Short is a solid model for outdoor sessions and it was designed in partnership with the United States Special Operations Forces. If you're into outdoor workouts, and more specifically hiking and rucking, then you'll enjoy this short.
This is one of my favorite shorts for tackling these tasks and that's for three key reasons. First, the Tactical Short comes with a ripstop shell which I think is fantastic for resisting abrasion and snags from things like branches and rocks.
Plus, this material is lightweight and dries fairly fast so this is also a great model for doing light swims if you have creeks, rivers, or lakes around. Second, the thicker waistband on this model provides a nice secure fit across the board and the internal drawstrings never tend to come undone during outdoor sessions.
Third and lastly, the zipper pockets in this model are pretty clutch when you bring your phone, wallet, and keys with you during these sessions as security is huge to ensure you don't lose your stuff when exploring and training.
Best For: CrossFit, Recreational Lifting, Rucking, Outdoor Workouts, Versatile Training
Inseam Options: 5″ and 7″
Liner Options: Liner and Non-Liner
Pockets: Yes (zip pockets on both sides)
Price: $72 (only comes with liner)
Read My Review: Ten Thousand Tactical Short Review
Runner-Up Option: HYLETE Verge III Short Review
Ten Thousand Tactical Short
Best For
Outdoor Training
Barbell Training
Rucking and Hiking
Compression Liner Vs Non-Liner
If you're wondering whether you should go for a short with a compress liner or if you should go linerless, then it's a good idea to consider two things. First, do you like bringing less with you to the gym? Personally, I love having compression liners built into my shorts because it helps me worry about fewer articles of clothing when I'm packing my gym bag.
Plus, I never have to worry about losing compression liners in the wash or my other clothes. Additionally, not every compression liner waistband works with different shorts, so this helps take the thought out of planning gym outfits. If you've ever run into this, then you know how annoying it can be to constantly adjust your shorts while training.
If you want to hedge your bets for your shorts fitting well and being a minimalist with apparel, then I'd suggest going with a liner if you can. The only caveat to shorts with liners built-in is that they're often not the most comfortable for daily wear as the liner can feel a bit restrictive.
Second, do you prefer a compression liner for a specific reason? A lot of times when I talk to lifters and athletes that prefer having their own compression liner it's for a specific reason. This may be an internal phone pocket on the leg, a preferred fit, or another reason. If this sounds like you, then a linerless short will likely be your best call.
Should I go 5″, 7″ or 9″ Inseam?
When looking into different inseam options there are two aspects to consider. The first is obviously your preference and what you like with your shorts. The second is how the inseam can support or hinder performance.
An example here would be a long inseam short used for long-distance running. In this context, the short could hinder performance due to chafing and feeling heavy after longer sessions. This is also why you never see marathoners running in long shorts.
In the image above, I'm wearing a 7″ inseam and in all of my individual men's workout shorts reviews, I discuss sizing to give you an idea of how certain shorts will look.
Below are the most popular inseam options and some of my thoughts on each in regard to workout performance.
5″ Inseam

Pros: Great for running, mobility, and being a breathable, minimalist option.
Cons: Not always the best for strength work including deadlifts, cleans, and snatches.

7″ Inseam

Pros: Best of all worlds type of short and long enough to be versatile, but short enough for cardiovascular training.
Cons: It may also be too short for some tall lifters doing things like deadlifts and cleans.

9″ Inseam

Pros: Best for protecting the thighs from friction.
Cons: Not the lightest or most versatile option compared to 5″ and 7″.
If you want to get an idea of the inseam in a new pair of shorts that you're thinking about investing in, then do the following.
Take a pair of your current shorts and lay them on the ground. Grab a measuring tape and measure from the crotch to the end of the short. This is your current inseam and now you can mentally take or add inches accordingly.
How I Test Men's Workout Shorts
With reviewing and testing training shoes and apparel, I have similar means of assessing different products. For men's workout shorts specifically, I consider how a short is intended to be used, then I train in them — a lot.
With my training, I'm constantly shifting gears between cross-training workouts, heavier strength work, running, and athletic-style training. This is due to the breadth of shoe reviews I do, but also because I train as a hybrid athlete.
In my training sessions where I'm specifically assessing shorts, I'm considering three key performance and construction components which include:
Mobility: How much does a short stretch when training? Is it limiting for certain workouts or activities? Will it be restrictive for certain anatomies?
Durability: How does the short do in settings where it's intended to perform well? For example, if a short is designed to be abrasion-resistant for lifting, then does it actually hold its own for this ask? What construction elements could cause a short to perform poorly?
Versatility: How well does the short perform for different activities? If it's a more pricey short, can it hold its own for different means of training or is it hyper-specific and should it be limited to only certain training settings?
These are the main components of many others that I'm constantly trying to assess when reviewing men's workout shorts. Most shorts will work well for the recreationally active guy, so I try to be a bit more granular in my assessments.
Frequently Asked Questions (FAQ)
Q:
What is a short's compression liner made out of?
A:
Generally, compression liners in men's workout shorts will be made out of blends of polyester, spandex, and other elastic materials.
Q:
What inseam is best for lifting?
A:
If you're tackling barbell-focused workouts or recreational training, then you'll likely want to go with a 7 or 9-inch inseam as these will protect the thighs most from knurling. If you want to show off your quads, then go with a 5-inch inseam.
Q:
Why do runner's use short inseams?
A:
Runners will typically reach for shorts with 3 to 5-inch inseams because they'll be the best options for preventing chafing, and they'll be the lightest in weight which can be a big deal for runners tackling long-distance runs.
Takeaway Thoughts
There are a lot of great men's workout shorts on the market and it can be overwhelming sifting through all of the options. These are some of my favorite training shorts to date and every model included in this list I've personally trained in and thoroughly enjoy.
If you have any questions about the shorts above or have additional questions on sizing, drop a comment below or reach out to me personally via Instagram (@jake_boly or @that_fit_friend).