Barefoot shoes come with a fairly wide range of benefits depending on the context in which you plan to use them. There are a lot of different shoes on the market and it can be overwhelming to find the best barefoot shoes for your needs.
After countless tests and barefoot shoe reviews, I've built this list to reflect my top picks in a variety of performance categories. For example and like many, I wear barefoot shoes for daily wear, working out, and running.
Whether you're new to barefoot shoes or you're looking for a new pair for working out or commuting, this list should provide you with a nice range of barefoot shoe options.
Author's Note: This article was updated in October 2023. This update reflects new shoes that I've reviewed that have been added to my CrossFit, walking, and lifting categories.
Best for Lifting
When looking for barefoot shoes for lifting, I'm considering two things. First, I want to get as close to the ground as possible when training heavily. Second, I want the toe box to have ample room for toe splay so I can truly grip the floor and equipment with ease.
Top Pick: Tolos Archetype 1.0
The Tolos Archetype 1.0 is my top pick for being a well-rounded barefoot shoe for lifting. To be honest, I regularly rotate between my Vivobarefoot Primus Lite III and Tolos Archetype 1.0 for lifting as they're both strong performers.
The perks of the Tolos Archetype 1.0 for lifting revolve around its low-profile and athletic fit and how well it articulates. For heavy deadlifts and squats on rubber gym floors and wooden platforms, the Archetype of 1.0 grips the floor well.
I also like how well the Tolos Archetype 1.0 can articulate with exercises like lunges and active foot exercises where you're getting a lot of flexion through the toes and midfoot. These also feel better as you break them in more.
I think the only drawback that some lifters may have with the Tolos Archetype 1.0 is that its toe box isn't as boxy as models like the Primus Lite III. If you have a foot that tends to work best with barefoot shoes that have a boxier toe box, then you'll want to consider this.
Top Pick for CrossFit
Until recently, there hasn't been a ton of barefoot shoes designed for CrossFit. Barefoot shoes for CrossFit need two characteristics which include a durable upper construction and outsoles that provide grip for multi-directional activity. Durability is key here.
Top Pick: Vivobarefoot Motus Strength
The Vivobarefoot Motus Strength performs exceptionally well for CrossFit and it's been one of my favorite models for WODs to date. Compared to other barefoot shoes, the Motus Strength has a little more structure with its upper and outsole.
For example, TPU overlays cover the toe box protecting this shoe from exercises like burpees. Plus, the sole wraps over the medial and lateral midfoot which is great for durability and rope climbing support.
Compared to other Vivobarefoot shoes designed for lifting like the Primus Lite III, the Motus Strength also has more aggressive lugs which is great for things like heavy deadlifts, catching cleans, and gripping turf, rubber gym floors, and wooden platforms.
Outside of CrossFit, the Motus Strength also performs exceptionally well so if you're on the fence about this shoe's price I think you'll get a wide range of versatility with this model which can make it more worth it.
Best Barefoot Shoes for Running
Since barefoot shoes have thin soles you want to find pairs that have enough tread for traction and long-term scuff support. Please note, that I am by no means someone who is running marathons in barefoot shoes, but I'll use them for short to mid-range runs (4-5 miles).
Top Pick: Xero Shoes Zelen
My favorite barefoot shoe for running is the Xero Shoes Zelen for a couple of reasons. This shoe delivers a strong performance for hybrid training sessions where you want to blend running with lifting.
I like that the Xero Shoes Zelen utilizes a tire-like tread on the sole. This feature gives you a nice bite on different surfaces and it feels grippy for faster sprint sessions and steady-state runs.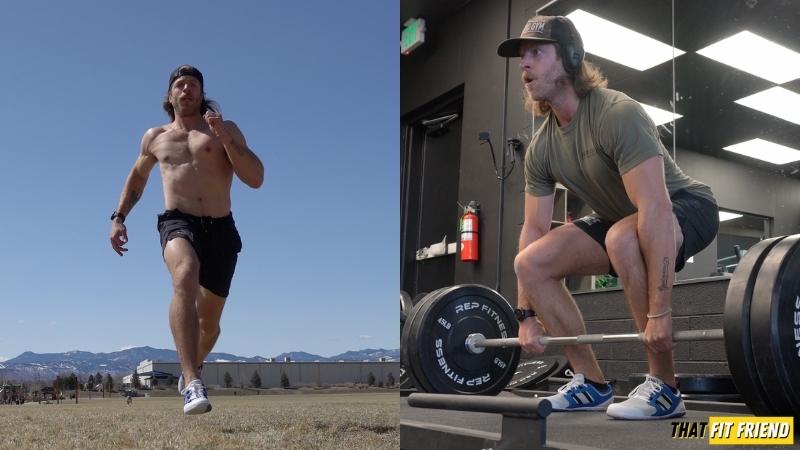 The upper in the Zelen is also a perk for running as it breathes super well. This can be a good model to wear with or without socks in warmer settings, so if you like to vary your sock use in barefoot shoes when running, you'll enjoy this feature.
More specifically, if you're looking for a barefoot shoe for running and lifting, the Zelen does a good job. Its flexibility, removable insole, and durability for both of these contexts are solid across the board.
Top Barefoot Shoes for Women
When it comes to barefoot shoes for women, I defer greatly to my YouTube community and the feedback they provide on reviews. The summation of the feedback I receive from women athletes is how I created the list below.
Top Pick: Vivobarefoot Primus Lite Knit
The Vivobarefoot Primus Lite Knit is an awesome barefoot shoe pick for women. There's a lot to like about the Vivobarefoot Primus Lite Knit from its appearance for daily wear and its performance in the gym.
The first thing to like about the Vivobarefoot Primus Lite Knit is its upper construction. The knit upper on this model breathes well for warmer weather use and it looks good from a daily wear appearance point of view.
Another perk of the Primus Lite Knit is the Active Sole used in this shoe. This Active Sole has a stack height and thickness of 4mm so you get a nice low-to-the-ground feeling with this model.
For working out, the Vivobarefoot Primus Lite Knit works well for lifting and most cross-training contexts. The upper could be a little more secure for advanced plyometrics, but for most general training sessions, the Primus Lite Knit works well.
Top Barefoot Shoes Pick for Men
When considering barefoot shoes for men, my first concern is the overall width of the shoe's midfoot and toe box. Since men generally have wider feet they'll want to ensure their barefoot shoes are plenty wide for their anatomical needs.
Top Pick: Vivobarefoot Primus Lite III
For guys, my top pick is the Vivobarefoot Primus Lite III for three key features that I think play well into what guys typically look for in their barefoot shoes. First, the width of this shoe's forefoot and mid-foot are really wide so there's never an issue with sizing and fit in this model.
Second, the overall durability of this model is pretty solid across the board. Whether you're lifting, running, or wearing them daily, the upper construction should last you a while.
Third and lastly, this model looks good for daily wear and has a clean aesthetic to it. I like this for giving this model more versatility concerning when it can be worn.
For a final bonus perk of this shoe, Vivobarefoot uses some recycled materials in different elements of this shoe so it is a decent model regarding responsible material sourcing. If you're looking for a singular barefoot shoe to do a little bit of everything in, then the Primus Lite III is a good bet.
Favorite Pick for Beginners
When discussing barefoot shoes for beginners, I'm constantly wondering, "What is the best barefoot shoe for someone's first pair?" Below are two of my favorite beginner-friendly barefoot shoes. These models are awesome due to their budget and overall functionality.
Top Pick: Xero Shoes Prio
It's tough to fault the Xero Shoes Prio as the first shoe for a barefoot shoe beginner. This model's price point of $89.99 is fair and it's a good model for tackling a little bit of everything.
You can lift in these shoes, wear them daily, run in them, and even tackle HIIT workouts with them. The sole is pretty good for everything and it has a nice level of durability.
I also like that the Xero Shoes Prio has a removable insole and finished internal construction. This is great because it gives you a variety of cushioning so you can experiment with what you prefer and need when starting out your barefoot shoe journey.
As a tried and true budget-friendly option, the Prio is a good pick. Plus, Xero Shoes come with a 5,000-mile sole warranty, so the long-term durability of this model's sole is also not a huge concern which is great for the first-time barefoot shoe wearer.
Best for Walking and Daily Wear
When it comes to testing barefoot shoes for daily wear and walking, I'm mostly concerned with a shoe's comfort, appearance, and long-term durability. Likely, you'll be wanting these barefoot shoes for commuting and wearing out and about that look casual.
Top Pick: Icarus Ascent Gen 2
The Icarus Ascent Gen 2 is my top pick for walking for a few reasons. First, it's a good option for walking in a wide range of contexts. For example, I like wearing and walking in the Ascent Gen 2 for travel, running errands, and working.
This shoe has been one of my go-to barefoot shoes for contexts where I want to dress up a little more. Whether I'm going to a coffee meeting or going into a WeWork and want to dress up a little more I like the Ascent Gen 2.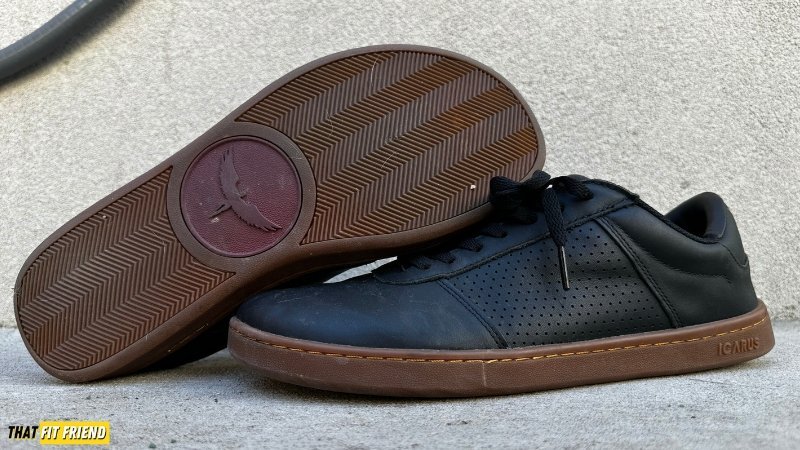 Second, this shoe can be a great option for a wide range of users because of its different insoles. This shoe comes with three different insoles that all vary in thickness and cushion. It gives this shoe a nice edge for comfort in different walking settings.
Third and lastly, this shoe's herringbone tread pattern does a good job with durability and grip. Nothing is worse than commuting with barefoot shoes and sliding around on subway platforms or damp streets.
Best for Trail Running and Hiking
To assess barefoot shoes for trail running and hiking, I'm most concerned with three features of every barefoot trail shoe. First, I assess the outsole tread. Second, I assess upper durability. Third, I assess comfort and foot protection.
Top Pick: Vivobarefoot Primus Trail Knit FG
The Vivobafrefoot Primus Trail Knit FG is my top pick for hiking and trail runs for a few reasons. And on that note, this shoe is taking the win here by a fairly comfortable margin.
There's a lot to like about the Vivobarefoot Primus Trail Knit FG and one of my favorite things about this shoe is its versatility. For example, this shoe works well for hiking, trail running, working out, and even daily wear.
The knit upper construction gives this shoe a comfortable and breathable fit while the thicker lugs do a good job of promoting traction on different surfaces. I like doing versatile training in the Primus Trail Knit FG over the Primus Lite Knit for this reason.
Outside of its upper and grippy outsole, I also like FG tech in this shoe and how it provides a bit more protection for trail use. It's not as minimalist feeling as the Merrell Vapor Glove 6, however, if you like a little more protection then you'll appreciate this.
Favorite Budget Barefoot Shoes
Barefoot shoes can vary pretty greatly in price, and not everyone wants to drop $100 plus on a pair of barefoot shoes, especially if you want them for more casual use or for experimenting with.
Top Pick: WHITIN Barefoot Sneakers
The WHITIN Barefoot Sneakers are taking my top pick by a comfortable margin. Not going to lie, I was skeptical of this shoe going into them based on their price point and the fact that WHITIN is Amazon-owned.
However, I'm happy to say that I've been subtly impressed with the WHITIN Barefoot Sneakers, especially for their price point. These shoes have a normal price of $59.99 but are often on sale and I bought my pair for $41.99.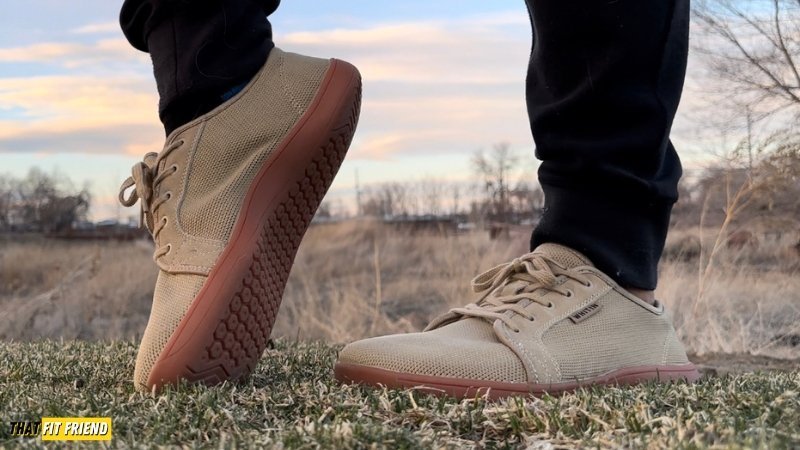 For beginners who are just getting into barefoot shoes, these can be a great low-cost option. Plus, these shoes do have a bit more thickness to them regarding their sole and stack height which is great for those transitioning into barefoot shoes.
This may be a knock for those who love super minimalist feeling shoes, but for beginners and from a general comfort standpoint I enjoyed this model for walking, standing, and daily wear. These are also decent all-season shoes for what they are.
Why Use Barefoot Shoes?
Barefoot shoes can be used for a variety of reasons and I think it's important that you define why you want to wear them if you're investing in a pair. Most commonly, barefoot shoes will be worn to support one's "natural movement".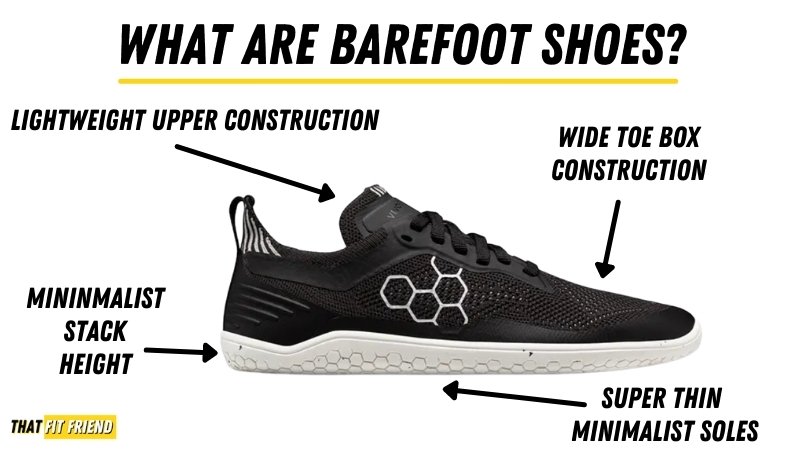 Basically, when we wear shoes we'll alter our movement mechanics slightly and barefoot shoes will be utilized to limit this and provide a barefoot approach for regular movement. This can then influence our lower body mechanics when walking, running, and lifting because our feet will have a 0mm heel-to-toe drop and be a lot closer to the ground.
Another reason why folks will utilize barefoot shoes is to build up their foot musculature. There are 29 muscles associated with the foot and ankle. (1)
When we're constantly wearing shoes, especially pairs with thicker midsole and outsole constructions, we can lose out on potentially building up the musculature of the feet and ankles.
By using barefoot shoes, we'll be exposing the foot to a more variable environment so we can slowly build the intrinsic muscles of the foot.
In layman's terms, barefoot shoes will help our feet rapidly change their positioning when moving due to them fully feeling the ground below them which can result in us using some of the smaller muscles in the foot.
Barefoot Shoes Benefits
Barefoot shoe benefits can vary pretty greatly depending on who you ask. For diehard barefoot shoe lovers, some of the benefits can be a bit grandiose.
To remain objective with my coaching point of view, below are some of the benefits that are pretty consistent across the board with barefoot shoes.
1. Increase Proprioception With the Ground
Since most barefoot shoes provide you with soles that are 6mm or less, you'll have a much better means of "feeling" the ground below the feet. This can help your body better sense the surfaces you're working on.
Proprioception is our body's ability to sense the world around it, provide feedback to the brain, then calculate movement patterns that are conducive to the feedback it's receiving.
Imagine stepping on a rock barefoot, your brain is going to rapidly process that sensation, then create a movement pattern to strategically move around it and keep you moving.
This is an example of the feedback loop we enter when our body is utilizing proprioception to help direct us to move efficiently and with strategy.
Improved balance can also be an aspect that comes along with better proprioception. More contact with the ground means more feedback to the brain. (2)
2. Improve Foot Musculature
As mentioned above, there are 29 muscles associated with the foot and ankle. Within the foot, there are smaller intrinsic muscles that help provide our foot with its shape. The foot has three major arches including the lateral longitudinal arch, medial longitudinal arch, and anterior transverse arch. (1)
These arches are made up of muscles and multiple tissues that can be trained and strengthened through both direct and indirect work. Direct work would mean doing active foot exercises and drills and indirect work would be doing something like wearing barefoot shoes.
By simply wearing barefoot shoes, we can better train some of the smaller muscles of the foot that may be neglected when wearing thicker training, running, and normal shoes.
3. Promote Full Contact With the Ground
In a training context, barefoot shoes can also be useful for promoting how much contact the foot is making with the ground. For example, in movements like deadlifts and Romanian deadlifts, we ideally want the foot to be in full contact with the ground in what we often refer to as a tripod foot positioning.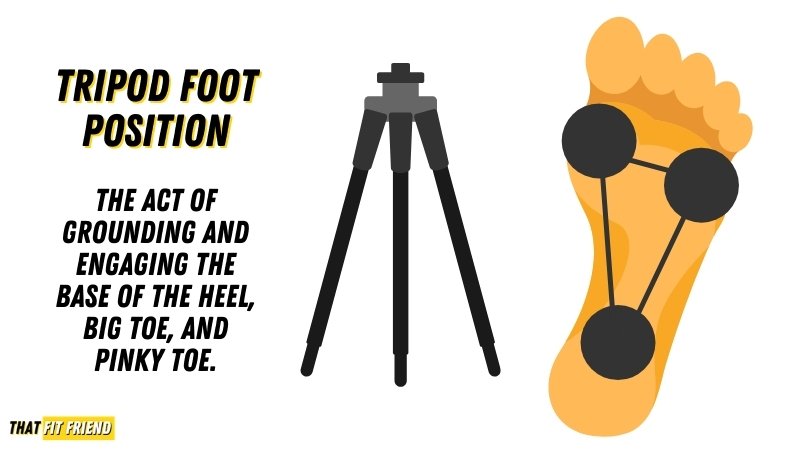 This entails grounding and gripping the floor with the base of the heel, big toe, and pinky toe, and I also like to coach grounding the big toe as well. With a barefoot shoe's wide toe box and minimal sole, you'll be able to easily feel the ground under the feet and promote stability from the ground up.
How Should Barefoot Shoes Fit
Ideally, to have your barefoot shoes fit properly you'll want to have between .3″ to .6″ of clearance in the toe box of your barefoot shoes.
This is generally enough room to ensure your toes are NOY crammed at the end of the shoes, but also not too loose to where they're sliding off.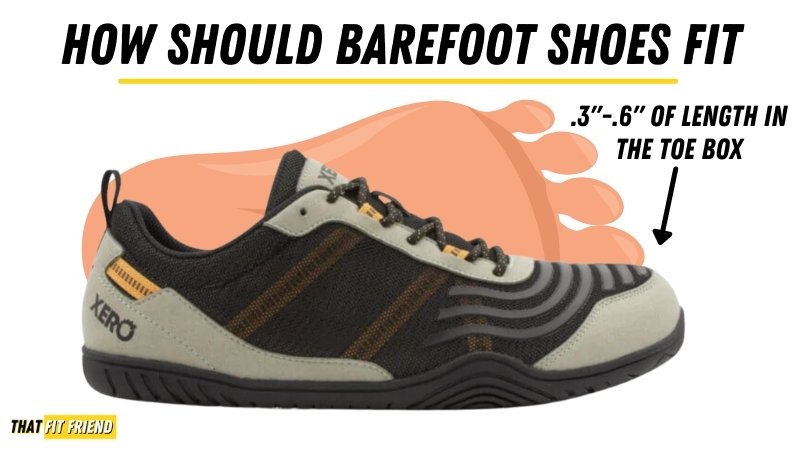 If you have a wider foot, then I'd suggest going with the larger end of the scale, and if you have narrow or neutral foot anatomy, then air on the smaller side.
Why Trust That Fit Friend Barefoot Shoe Reviews
I've been formally reviewing shoes for over 6 years. My educational background is in Exercise Science, so when I review shoes like barefoot shoes I blend my science and review brain together to assess how a shoe can influence things like biomechanics.
Every pair of barefoot shoes featured in this article has been purchased by me, reviewed independently, and included in this list based on how a shoe performs compared to its peers.
My barefoot shoe tests revolve around pushing a shoe's sole in the context of durability, assessing how much grip a shoe has, and I'll assess construction features like the upper's comfort and durability, and how flexible the shoe's sole is. Read more here.
Takeaway Thoughts
There are more barefoot shoes on the market than ever and they continue to innovate based on the activity they're designed to tackle. Whether you're looking for barefoot shoes for running or CrossFit, there's more than likely an option out that will fit your needs best.
If you have any questions about the barefoot shoes featured in this round-up, drop a comment below or reach out to me personally via Instagram (@jake_boly).
Works Cited
1. Card, R., & Bordoni, B. (2021). Anatomy, Bony Pelvis and Lower Limb, Foot Muscles. Statpearls Publishing.
2. Cudejko, T., Gardiner, J., Akpan, A., & D'Août, K. (2020). Minimal footwear improves stability and physical function in middle-aged and older people compared to conventional shoes. Clinical Biomechanics, 71, 139-145.