If you're regularly going to workout classes or doing HIIT (high-intensity interval training) workouts, then you're going to want a good pair of HIIT shoes. The right pair of HIIT shoes will not only help you perform well, but they'll be more tailored toward the demands of the HIIT workouts you're doing.
With my cross-training shoe reviews, I like to make sub-categories for models that excel in certain settings. That being said, in the context of the best HIIT shoes, it's important to note that all of the shoes below are technically defined as cross-training shoes.
However, these shoes perform exceptionally well for HIIT training and HIIT workouts, so I create a sub-category for them. Every shoe mentioned below has been tested and vetted by myself over the course of multiple HIIT workouts.
If you're looking for the best HIIT shoes, then check out my top picks for the market's best HIIT shoes below.
On the market for new cross-training shoes? Check out the TF2 Cross-Training Shoes Finder. This calculator pairs you with the best cross-training shoes that I've reviewed that match your needs best.
Best HIIT Shoes for Women
For women, I lean on my training network and my girlfriend to test models and provide me feedback. This helps to then cross-reference their feedback with my personal perceptions of models to see if they're similar or different.
Top Choice: Nike Free Metcon 4
The Nike Free Metcon 4 is an awesome option for classes, HIIT workouts, shorter runs, and light lifting. This shoe features Nike Free tech throughout the entirety of this shoe's sole, which I'm a big fan of for HIIT workouts. This feature gives this model a very maneuverable feel through the forefoot and midfoot.
This shoe also features a chainlink mesh upper construction which breaths fairly well. If you're in hotter classes or gym settings, I don't think the Nike Free Metcon 4 will give you any issues with your feet getting too hot.
This model is also nice because you can wear them in so many different settings. The general consensus with this model is that they're a fantastic daily driver that can excel for HIIT workouts, short runs, and some light lifting so they're a nice shoe to use when you don't feel like thinking about your shoes or bringing multiple models with you for the day.
Best For
HIIT Workouts
Classes
Light Lifting
Shorter Runs
Falls Short
For Heavy Training
For Fitting Wide Feet
Best HIIT Shoes for Men
When gauging the best HIIT shoes for guys, I like to try and take a big picture approach to assess shoes. Which shoes perform strongly across the board and match a wide range of needs that often come along with HIIT training.
Top Choice: Reebok Nano X2
The Reebok Nano X2 is a good shoe for tackling HIIT workouts and lifting sessions. This model is similar to the Reebok Nano X1 and is vastly different than the older Nano models like the Reebok Nano X which was something that was met with backlash in the CrossFit community.
I like the Reebok Nano X2 for men because this model is built slightly wider than other cross-training shoes. This makes them a good fit for most guy's foot anatomies and the widths that their forefoot typically requires for comfort and performance.
Must Read: 9 Best CrossFit Shoes | Picks for Flat Feet, Rope Climbs, and More
This model features Reebok's signature Floatride Energy Foam throughout its midsole and has a full rubber outsole with a lug patterning. For multi-directional training and responsiveness, I like the blend of these construction features.
The upper construction is breathable and lightweight and you can still lift pretty heavy in this model. I've lifted over 500 lbs in this shoe and have used them for HIIT training all in the same session and they were a solid model.
Best For
Recreational Lifting
Athletic-Focused Training
Casual CrossFit Sessions
Shorter Runs
Best HIIT Shoes for Classes
For class-focused HIIT shoes, I'm assessing how a shoe does for particular exercises that you regularly see in classes. Then, I account for the shoe's midsole and outsole and how they support these exercises in regard to versatility and ground feedback.
Top Choice: UA HOVR Rise 3
The UA HOVR Rise 3 is a really strong performing shoe for the class-focused individual. More specifically, I think this shoe works well for classes for three key reasons.
First, the UA HOVR midsole used in this model provides this shoe with a comfortable and responsive feel. You get a nice level of "pop" in this shoe when doing HIIT-style exercises, plyometrics, and agility work.
Second, the TriBase outsole gives this shoe a nice base to train on and does a good job at supporting balance when doing single-leg work. Third and lastly, this shoe breathes fairly well and is a good versatile model. Outside of HIIT classes, can use this shoe for casual lifting, short runs, and all-day wear.
Best For
HIIT Training
Class Workouts
Recreational Lifting
Short/Mid-Range Runs
Falls Short
For Rope Climbs
For Maximal Lifting
Best HIIT Shoes for Wide Feet
When testing HIIT shoes for wide feet I'm concerned about two primary shoe details. First, is the shoe wide enough for those that fall into the "wide" classification for most company's shoe widths? Second, does the shoe have ample toe box room and are they comfortable?
Top Choice: Altra Solstice XT 2
The Altra Solstice XT 2 is a seriously slept-on training shoe and it's a fantastic model for those with wider feet. Similar to other Altra training and running shoes, this model comes with Altra's signature Footshape™ build which features a shape that is designed to replicate the human foot.
Basically, the toe box doesn't have a sharp taper and has a much wider width than other training shoes. Additionally, this model features Altra's Balanced Cushioning and Innerflex grooves which are both features designed to promote a more "natural" foot positioning and movement.
The high-abrasion midsole in this model is reactive enough for plyometrics and stable enough to support squats up to 315 lbs. This model has been one of my go-to's when I want a HIIT-focused shoe that has more toe box width than my other models.
Best For
Recreational Lifting
HIIT Workouts
Classes
Wide Weet
Shorter Runs
Falls Short
For Heavy Lifting
For CrossFit
Best HIIT Shoes for High Arches
If you have higher arches, then you're going to likely want a shoe that has some natural arch support built-in. This will help this shoe feel better for your foot anatomy and not leave your feet feeling beat up after every single HIIT workout.
Top Choice: HYLETE Circuit II Echo
The HYLETE Circuit II Echo, and its predecessor the HYLETE Echo II, are both great options for HIIT training when you have high arches and want arch support. Both of these models come with different removable insoles which provide various degrees of arch support and you can swap them out per your preferences.
The HYLETE Circuit II Echo comes with a 4mm and 8mm insole and both models have adequate arch support built. These insoles also walk a good line between being versatile, comfortable, and fairly stable. This is a type of shoe that works well in a bunch of different settings for recreational lifters.
I also like this shoe's Vibram rubber outsole and medium-density midsole. Both of these give this shoe an athletic feel and the Vibram rubber outsole grips really well for multi-directional activities and exercises.
Best For
Cross-Training Workouts
Recreational Lifting
Classes and HIIT
Light and Short Runs
Outdoor Training
Falls Short
For Long Runs
For Serious CrossFit Workouts
Best Shoes for HIIT and Weight Training
To test the best shoes for HIIT and weight training, I'm splitting my sessions between high-intensity workouts and more recreational lifting. I'm basically working to assess and learn how a shoe handles different weights and what its capacity is.
Top Choice: Nike Metcon 7
The Nike Metcon 7 is a good shoe that can play in both HIIT and weight training worlds. This model features Nike React Foam through its midsole which gives it a much more responsive fit and feeling compared to prior Nike Metcon models that lacked this versatility.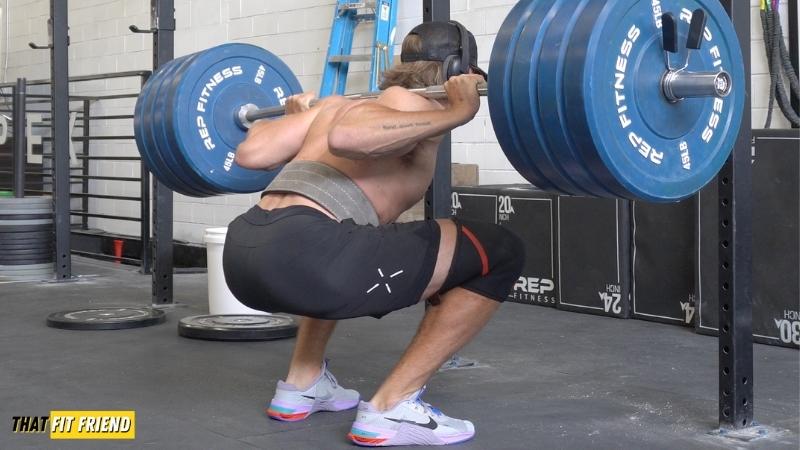 On top of its reworked midsole, this model also features forefoot grooves that give the toe box a much more maneuverable feeling compared to something like a Nike Metcon 6. The chainlink upper construction is breathable and is also pretty durable for general HIIT workouts and weight training.
I've deadlifted over 500 lbs and have squatted over 400 lbs in the Nike Metcon 7. That being said, there shouldn't be an issue with this model's stability for most folks who want to do HIIT workouts and weight train hard in this model. If you like to bias your training in a more 50/50 split between HIIT workouts and weight training, then the Nike Metcon 7 is a good model to explore.
Best For
Heavy Training
CrossFit Workouts
Rope Climbs
Plyos and Agility Workouts
Short Runs
Falls Short
For Long-Distance Runs
For Wider Feet
Best Shoes for HIIT and Running
If you're looking for a shoe for tackling HIIT workouts and runs on a weekly basis, then you'll want a shoe with a nice blend of responsiveness and stability for comfort in both styles of training.
Top Pick: On Cloud X
The On Cloud X is a strong cross-training shoe for HIIT workouts and some casual running. This model's CloudTec midsole is responsive and it provides a nice bounce when jumping and doing runs at various speeds.
The upper on this model also breathes well and is lightweight which feeds well into both of these activities. This model never feels overly hot on the feet and they can work well in both of these training settings and on a daily wear basis which adds to this shoe's functionality.
I think if you're someone who regularly does HIIT workouts on a weekly basis and wants a shoe for tackling shorter runs that range from 1-4 miles, then you'll like the On Cloud X's performance and construction. This is a good dual-functionality shoe for these performance contexts.
Best For
Plyometrics
Short/Mid-Range Runs
HIIT Training
Agility Workouts
Falls Short
For Cost-Efficiency
For Heavy Lifting
For Long-Term Durability
Best Budget HIIT Shoes
When testing and considering the best budget HIIT shoes, I consider one key aspect and that's price. Is the price point fair for the shoes and do they actually perform well for HIIT training sessions?
Top Choice: Nike MC Trainer
When it comes to performance for lifting and HIIT sessions, it's really hard to fault the $70 USD price point of the Nike MC Trainer. This shoe has steadily grown as one of my top budget-friendly training shoe picks.
Besides its price point, there are multiple characteristics to like about the Nike MC Trainer. For starters, this midsole in this model provides a nice blend of stability and versatility. You can train heavily in these shoes and use them for plyometrics and sprints without beating the feet up too much.
I also like the full rubber outsole for durability and multi-directional training. Unlike other budget-friendly training shoes that lack full rubber outsoles, this model's tread does an exceptional job on different surfaces and prolongs the lifespan of this shoe.
Best For
Recreational Lifting
Athletic-Style Training
Hybrid Workouts (Sprints:Lifting)
Agility Training
Falls Short
For Running
For Long Walks
For Long-Term Durability
For Wide Feet
Can You Do HIIT In Running Shoes?
You can definitely use running shoes for HIIT workouts, but I'd suggest paying attention to two key things. First, the types of HIIT workouts you're going to be doing. Second, the type of running shoe you'll be using. Some running shoes will perform better than others in the context of HIIT training.
In regard to the first point, if your HIIT workout includes things like bodyweight exercises and very light lifting, then you can get away with a wider range of running shoes. Since running shoes vary a lot in regard to their sole construction some shoes will naturally be better than others for HIIT workouts.
When a HIIT workout is a bit more casual in nature or it only includes bodyweight and very light exercises, then even thicker running shoes with rounded soles can technically work. They may not provide you with the most stability or assist with balance, but if your HIIT workout isn't too demanding, then you can get away with using them.
When talking about the second point, some running shoes will perform better than others based on their sole construction, the materials used in their midsoles, and how their outsoles are built. For example, if we look at two Adidas running shoes like Ultraboost 22 and Adizero Boston 10, both of these models have drastically different sole constructions.
The Adidas Ultraboost 22 has a slightly more traditional sole while the Adizero Boston 10 has a fairly large midsole and a pronounced lip on the heel to promote smooth strides. This lip and thick midsole will make the Adizero Boston 10 less of a strong performer than the Ultraboost 22 due to the lack of stability they'll have for different exercises.
That being said, if you're doing HIIT in running shoes, then I'd suggest trying to use pairs that have a bit more rubber tread on their outsole, midsoles that are thinner or moderately thick for stability and responsive reasons, and soles that provide a bit more surface areas and are void of harsh lips.
My advice for anyone thinking about using running shoes for HIIT is to invest in a good pair of HIIT-focused training shoes. It's like playing basketball with a pair of running shoes. Will they work? Technically, yeah, but they're not the best tool for optimizing your HIIT workout performance.
A good pair of HIIT shoes will be better tools for getting the job done and if you limit their wear for only your HIIT workouts and classes, then they should last you a while so your investment will go the distance.
How Should HIIT Shoes Fit?
I like to suggest sizing HIIT shoes similarly to cross-training and CrossFit shoes. That being said, opt for shoes that have anywhere from .2″-.6″ of space at the end of the toe box. This will usually be a good range for most athletes, lifters, and others interested in HIIT workouts.
Ideally, you want enough room in the toe box to not jam your toes when jumping, cutting, and doing other ballistic exercises, but not too much room to where you're sliding around and your heel is popping out leading to heel slip.
Everyone's preferred HIIT shoe size will be slightly different and this is due to personal preferences and the vast differences between everyone's foot anatomy. However, if you work within the suggested sizing range above, then you should be well on your way to finding HIIT shoes that fit really well.
How I Test HIIT Shoes
At That Fit Friend, I have a standard review process that I put all of the cross-training shoes that I review through. This entails countless training sessions where I'm using the shoes for a variety of different activities.
When it comes to cross-training shoes that excel for things like HIIT and athletic-focused training, I'll create a slight bias in my training with these shoes. Basically, I'll tackle my standard review processes, then tack on work that is tailored to what these shoes are designed to excel in.
For HIIT testing, I'll put together class-like workouts, plyometric sessions, and high-intensity full-body training sessions. This helps paint a really good idea for how the shoes perform in different contexts.
During these workouts when assessing a shoe's ability to perform in HIIT settings, I'm focused on three primary construction features with the following questions.
Outsole Traction: Is the shoe good for multi-directional activity? Does it provide adequate grip on different surfaces? Does the outsole help with propulsion in any direction?
Midsole Responsiveness: Is the midsole accommodating for jumping, lifting, bodyweight training, and running? Does it provide enough stability to promote balance but enough versatility to not leave you feeling beat up after sessions? Is it comfortable?
Upper Construction Performance: Does it breathe well? Is it comfortable? Does it break in relatively easily? Is there ripping or durability concern to have with HIIT training?
All of these questions and features are points of discussion during my HIIT shoe review process. This helps shape how I see certain models and how I rank them compared to one another.
Since I'm the ONLY ONE reviewing cross-training shoes on my site (this does not include running and trail running shoes), I have a really good idea for how certain shoes perform compared to one another. Doing this helps add layers of context to the shoes you find in these lists on That Fit Friend.
Frequently Asked Questions (FAQ)
Q:
Can you do HIIT in running shoes?
A:
You can technically do HIIT workouts in running shoes, but that may not always be the case. Ideally, if you want to do HIIT workouts in your running shoes, then you'll want a slightly more stable running as this type of shoe will give you more ground feedback when doing HIIT workouts.
Q:
What are HIIT class shoes?
A:
Shoes that excel in HIIT workouts and class settings are generally a sub-division of cross-training shoe. I like to categorize cross-training shoes as HIIT shoes when have highly responsive midsoles and lightweight uppers, which help them excel in class settings.
Q:
Is it OK to do HIIT barefoot?
A:
It's totally okay to do HIIT workouts barefoot. The only concern when doing HIIT workouts barefoot is that you're acclimated to this style of training. Since HIIT workouts generally come with high impact exercises, it's a good idea to ease into these workouts if you plan to do them barefoot to avoid getting overly sore.
Q:
How tight should HIIT shoes be?
A:
You'll want your HIIT shoes tight enough so there's no heel slippage, or occasions when your heel is coming out of the shoe when jumping, sprinting, and doing other high-intensity exercises.
Takeaway Thoughts
The right pair of shoes can make a big difference for classes and HIIT workouts. Since these activities are often fast-paced with high-impact exercises, you'll want a pair of shoes that don't leave you feeling beat up and sore after workouts.
The options above are all viable HIIT shoes for slightly different reasons and I've tested every single model for high-intensity exercise.
If you have any questions on the shoes above or if they're right for the context of your training needs, drop a comment below or reach out to me personally via Instagram (@jake_boly)!
That Fit Friend is a site that is supported by myself (Jake Boly) and its readers. If you purchase products through affiliates links on this site, then I may receive a small commission on the sale. These commissions help keep the lights on here at That Fit Friend so I can continue to create content and they help me purchase new models to review!