As training shoes and running shoes continue to evolve we're starting to see more companies dive into the world of hybrid shoes. Essentially, these are training shoes that walk the fine line between being good for lifting and running.
Now, it's worth noting that most hybrid training shoes will function on a performance spectrum. On one side, we have serious lifting and on the other, we have running. Hybrid training shoes are intended to land somewhere in the middle of this lifting and running spectrum.
They may not be the best at any one activity, but for tackling both, they can hold their own. That being said, when looking into hybrid training shoes I think it's really important to understand this to avoid letdowns or misaligned expectations.
In this article, I'm going to dive into some of my favorite hybrid training shoes that work really well for running and lifting. I've broken my favorite picks into different performance-focused sub-categories based on what you might be looking for.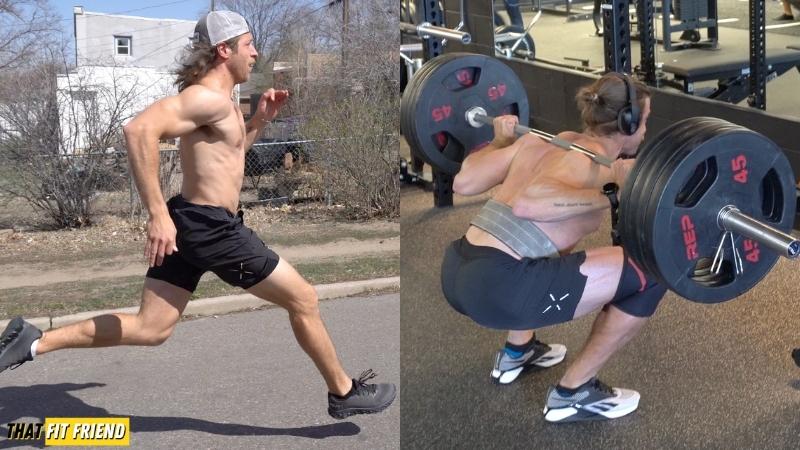 On the market for new cross-training shoes? Make sure you check out my TF2 Cross-Training Shoe Finder. This calculator matches you with shoes that I've reviewed that fit your training needs best.
Best Hybrid Training Shoes for Treadmill Running
When testing and assessing the best hybrid training shoes for treadmill running I'm most concerned with two performance features. The first aspect that I consider is the shoe's comfort with treadmill running and where its mileage threshold is.
The second performance aspect is focused on lifting and understanding a model's stability thresholds. Generally speaking, most training shoes that work well for treadmill running will lack higher levels of stability.
Top Pick: On Cloud X
The On Cloud X is my top hybrid training shoe for anyone that plans to use their model frequently for treadmill running. This could be the athlete and lifter that likes to tack on a few miles pre or post-workout or do entire treadmill-focused days.
The On Cloud X delivers a CloudTec midsole that provides a pretty comfortable ride, especially for short (<3 miles) and mid-range runs (3-5 miles). I also like this model's upper for running due to its lightweight and breathable nature.
When lifting, the On Cloud X's stability is okay and it will work for loads up to 275 lbs. Once you pass this threshold, you'll start to notice a little midsole compression due to the CloudTec lacking a more stable construction.
If you plan to primarily do HIIT workouts, classes, and light lifting with a fairly regular bias towards treadmill running, then the On Cloud X is a good shoe to look into. Two performance areas where the On Cloud X does fall a little short are maximal lifting and lateral explosive movements.
Best For
Plyometrics
Short/Mid-Range Runs
HIIT Training
Agility Workouts
Falls Short
For Cost-Efficiency
For Heavy Lifting
For Long-Term Durability
Best Hybrid Training Shoes for Outdoor Workouts
To assess hybrid training shoes for outdoor workouts, I'm looking at a shoe's comfort for running, its stability for lifting, and its outsole tread for providing grip on different surfaces.
Ideally, you want a shoe that can work well for road running, trail running, and even tackling outdoor lifting and training sessions, so you'll also want an increased level of durability with this shoe.
Top Pick: STR/KE MVMNT Vimana Hybrid Runner
My top hybrid training shoe pick for outdoor running is the STR/KE MVMNT Vimana Hybrid Runner. Compared to more popular and well-known models, I feel like the Vimana Hybrid Runner flies under the radar and doesn't receive the attention it deserves.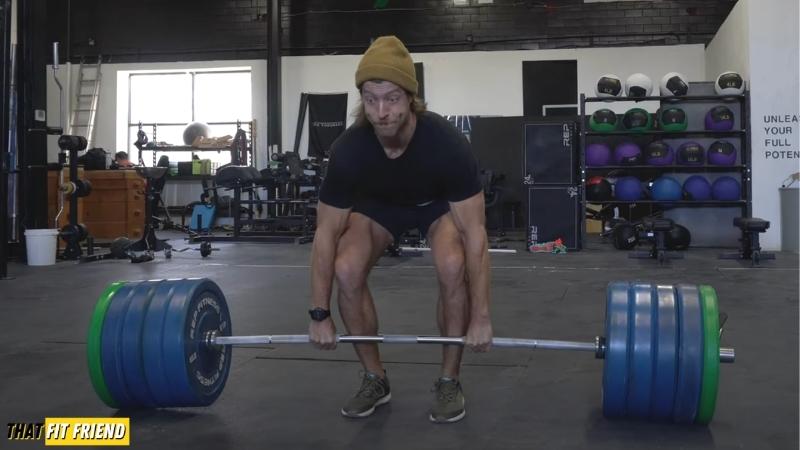 The Vimana Hybrid Runner does a really good job on trail runs and hikes, and it can even work well for some shorter road running and treadmill running. I also like the stability that you get from the Vimana Hybrid Runner and that its outsole doesn't compromise stability.
This model is built on an EVA/EPE midsole which gives this shoe's midsole a nice level of responsiveness and energy return. The Meta Platform Outsole has an omni-directional tread pattern that does a good job on dirt and rock trails.
I think if you're looking for a really strong minimalist feeling training shoe for trail running, hiking, and light road running mixed with good stability, then the Vimana Hybrid Runner is worth checking out. The two drawbacks of this model are its grip on loose gravel and its slightly higher price point.
STR/KE MVMNT Vimana Hybrid Runner
Best For
Trail Runs (Easy to Semi-Technical Terrain)
Short to Mid-Range Road Runs
Recreational Training
Outdoor Workouts
Falls Short
For Cost-Efficiency
For Highly Technical Trail Runs
Best Hybrid Training Shoes for Fast Runs and Sprints
When assessing the best hybrid training shoes for faster runs and sprints I'm keeping my eye on two key performance features. First, I'm looking at a shoe's energy return and how it feels when tackling more explosive movements.
Second, I'm assessing the shoe's overall comfort and responsiveness. For sprints and fast runs, you'll typically want a shoe that provides you with an athletic fit that gives you more "pop" when digging into your forefeet.
Top Pick: Inov-8 F-Lite Fly G 295
The Inov-8 F-Lite Fly G 295 is my top hybrid training shoe for short and mid-range runs mixed with sprints. This model is technically designed for running, but it can also work for bodyweight exercises and light functional fitness workouts.
When conceptualizing the Inov-8 F-Lite Fly G 295, I put them into the performance category of being a top performer for the person that loves going to the track to get in sprint work, put in some mileage, and tackle some bodyweight, dumbbell, or kettlebell work.
This shoe has Inov-8's proprietary Fly+ midsole and it does a really good job at providing a nice level of energy return when tackling different running workouts. I like the blend of the EVA foam and Graphene in the sole of this shoe and how they assist performance.
I also like that the Inov-8 F-Lite Fly G 295 can hold its own for longer slow-paced recovery runs. I've used this shoe for runs up to 6-miles and they were comfortable. The two drawbacks to this model are its higher price point and its performance when doing lateral explosive work on surfaces like turf.
Best For
Sprints and Fast-Paced Runs (<1 mile)
Short Mid-Range Runs (1-5 miles)
Circuit-Style/Hybird Training Sessions
Long Walks and Standing
Falls Short
For Runners That Want More Cushion
For Lateral Training On Turf and Grass
For Cost-Efficiency
Best Hybrid Training Shoes for Wide Feet
When looking into the best hybrid training shoes for wide feet, I'm concerned with how a shoe performs in the context of running and lifting, but mostly I'm looking at the shoe's width.
When tackling hybrid workouts, narrow shoes can start to get seriously uncomfortable for wide feet, so finding proper fitting models can be really important.
Top Pick: Altra Solstice XT 2
The Altra Solstice XT 2 is my top hybrid training shoe for wide feet. This model will work best for those that want a hybrid training shoe for some casual treadmill running and lifting.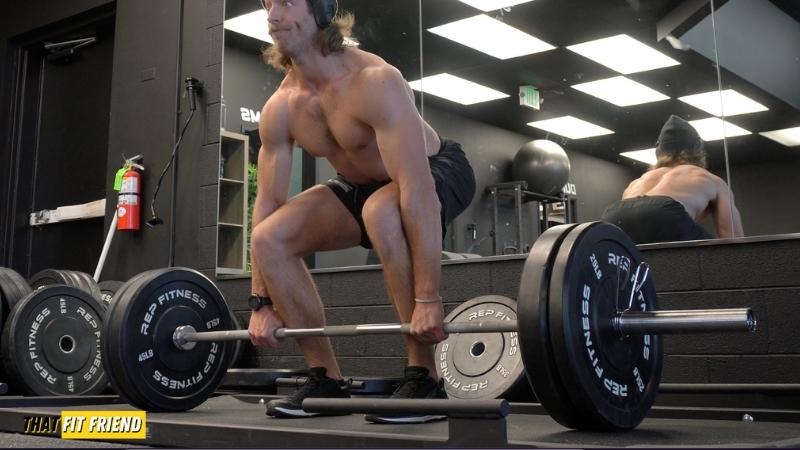 The Altra Solstice XT 2 has a good width to it and has an anatomical toe box that is void of the harsher tapers that you can from some training shoes. This model also features a 0mm heel-to-toe drop which could be a good thing for those who love minimalist drops.
The shoe's upper is lightweight and breathable and its foam midsole does a good job at being stable enough for some lifting, but also comfortable enough for shorter runs. That being said, I think this shoe will work best for those that plan to do shorter indoor runs.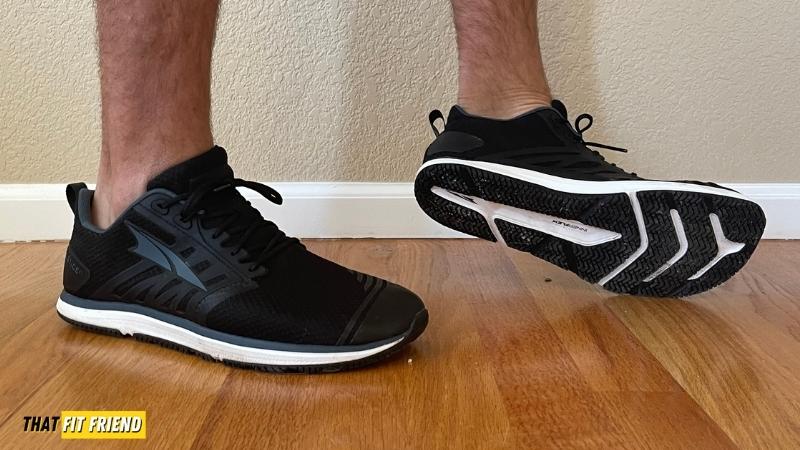 If you love zero drop training shoes and need a model for some training and tacking on some miles here and there pre and post-workout, then the Solstice XT 2 could be worth looking into. The two drawbacks to this model are its durability for outdoor runs and they're not the most aesthetic shoes.
Best For
Recreational Lifting
HIIT Workouts
Classes
Wide Weet
Shorter Runs
Falls Short
For Heavy Lifting
For CrossFit
Best Hybrid Training Shoes for Lifting
To assess the best hybrid training shoes for lifting, I'm keeping an eye on stability when training fairly heavy and if a model is comfortable for some running.
Essentially, if you want a shoe that does really well for a lifting bias, then you'll likely have to compromise some running performance. In this case, it's more of a question of what models you can train heavy with and get away with some light running in.
Top Pick: Reebok Nano X2
The Reebok Nano X2 is taking my top hybrid training shoe spot for lifting. You can train pretty heavy in the Reebok Nano X2 and they work decently well for shorter indoor and outdoor runs (<3 miles).
This shoe features Reebok's Floatride Energy Foam in its midsole and it has a full rubber outsole with a lug pattern. The blend of these two features helps give this shoe a nice responsive, yet fairly stable fit and feel.
I think the Reebok Nano X2 will work best for those that like to prioritize their lifting on a weekly basis, but also enjoy getting in some light warm-up and cooldown runs.
Another aspect that could be a benefit for some with the Reebok Nano X2 is that they have a fairly good width to them so they can work for wider feet as well. The drawbacks to the Reebok Nano X2 include that it's not a great model for CrossFit (unlike prior Nano models) and that it may not work for narrow feet.
Best For
Recreational Lifting
Athletic-Focused Training
Casual CrossFit Sessions
Shorter Runs
What Makes a Great Hybrid Training Shoe?
The best hybrid training shoes all have one thing in common. This commonality is that they can perform well in a range of lifting and running settings serving as a true hybrid training shoe.
The way I like to conceptualize training shoes, running shoes, and hybrid training shoes is by placing them on a performance spectrum. On one end, we have training shoes that excel for heavy and more serious lifting.
Then, on the other end, we have models that are designed for running and excelling at different mileages. Once I've identified where the shoe falls on the performance spectrum, I then start to assess the shoe's construction and how that correlates to versatility, stability, and comfort.
More specifically, I'm considering three major construction aspects. First, the midsole of the shoe and the materials used in it. A shoe's midsole will relate to its responsiveness when running and its stability when training heavy.
Must Read: 6 Best HIIT Shoes | Picks for Women, Wide Feet, and More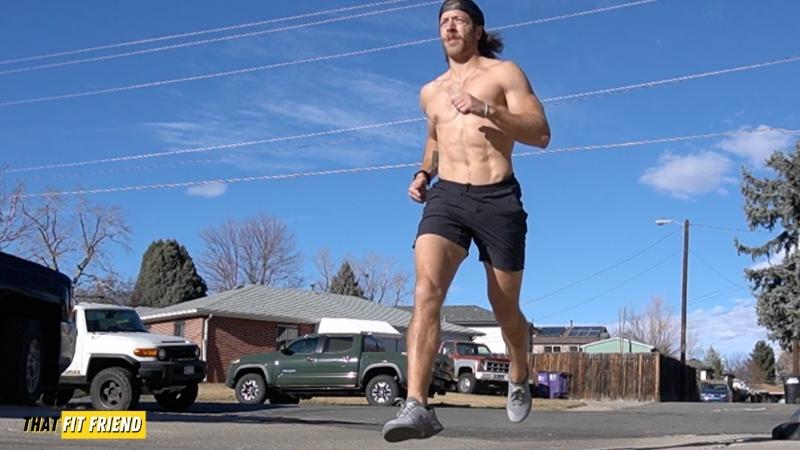 Second, I'm considering how the hybrid training shoe's midsole influences comfort. Factors that can influence comfort and feed into this include a shoe's stack height, heel-to-toe drop, and the compression you experience when training and running with the materials used.
Third and lastly, I'm assessing a shoe's durability and what settings this durability will feed into best. For example, if you're primarily tackling outdoor workouts, then you'll want a shoe with an outsole and upper that can withstand the demands of outdoor training.
Basically, I like to consider the three main construction buckets below when considering factors that can influence how well a hybrid training shoe performs.
Midsole Materials and Construction
Stack Height, Heel-to-Toe Drop, Comfort
Durability of the Outsole and Upper
These three construction buckets then help paint the picture as to the mileage and stability thresholds that hybrid shoes will be best for.
Benefits of Hybrid Training Shoes
When it comes to training shoes that are good for lifting and running, there are two main benefits that can come along with them. These benefits can ebb and flow based on the shoe in question and your performance needs.
1. Best of All Worlds
The first benefit is that hybrid training shoes can give you a "best of all worlds" type of feel. This means that your shoes can do pretty well when lifting, tackling HIIT workouts, and even doing shorter runs.
This can be useful for the athlete and lifter that isn't hyper-specific in any one training category. As you get more niche with your training, then you'll want something more specific, but if you're not specific with your goals, then a hybrid shoe can be a really good fit.
For niche examples, cross-training shoes that are super stable in nature will lack comfort when running and can leave your feet feeling fatigued. Conversely, running shoes can lack stability when training heavy and compromise performance.
2. Only Need One Pair of Shoes
Another benefit to hybrid training shoes is that you only need to bring one pair of shoes to most of your training sessions. This is great for contexts where you don't want to bring more than one pair of shoes with you to train or when you don't want to switch your shoes mid-workout.
This can be great for anyone who's commuting with limited space in their bag or someone that wants to limit their overall spending by investing in one pair of shoes versus specific shoes for every type of training.
Drawbacks of Hybrid Training Shoes
As you get more serious and specific with your training, a hybrid training shoe's benefits will start to fall off. I like to use my coaching background when discussing and conceptualizing the drawbacks of hybrid training shoes.
A good example here would be someone who's primarily doing CrossFit workouts and working to get better at the sport. For These athletes, they'll want a quality pair of CrossFit shoes to help them achieve their goals.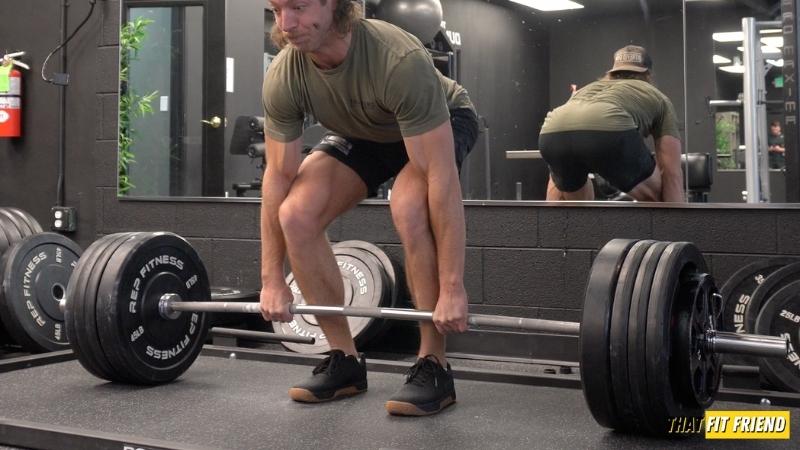 A good pair of CrossFit shoes will deliver construction features that specifically feed into this style of training whereas hybrid training shoes will be more general with their construction.
That being said, the main drawback to hybrid training shoes is that there will always be a threshold where their performance drops off and this could come in the form of running or lifting-focused goals.
How I Test and Review Hybrid Training Shoes
To test training shoes that excel for lifting and running, I have two main performance categories that I keep an eye on and these include running and lifting a shoe's thresholds for each.
When it comes to running, I assess the following:
The milage where a shoe starts to lose its comfort.
The settings in which you can run comfortably in the model.
The amount of energy return you get from the shoe.
When it comes to lifting, I review the following:
At what weight does the shoe's stability start to drop off.
What types of lifting settings does the shoe work best with (free weights, machines, bodyweight, etc.)
Once I've identified these thresholds, I then dive into the shoe's construction to better understand the materials used in the model. This can then suggest the shoe's durability which can relate to the two threshold categories above.
Frequently Asked Questions (FAQ)
Q:
What is a hybrid training shoe?
A:
A hybrid training shoe is a shoe purposely built to accommodate running and lifting. This shoe will have construction features that help it perform well for both styles of training.
Q:
Can you run in cross-training shoes?
A:
It depends. Some cross-training shoes are built to be more hybrid-focused shoes so they'll have midsoles designed for lifting and running. In hybrid-style training shoes, you can generally tackle short and mid-range runs fairly comfortably.
Takeaway Thoughts
There are certain training shoes on the market that are purposely designed for running and lifting. If you train like a hybrid athlete, then these models can be worth exploring especially if you're only wanting one shoe for your workouts.
As you get more specific with your training, you'll want to look into more specific training shoes. Hybrid training shoes can be great for those looking to spend less and bring fewer shoes with them to the gym.
If you have any questions on the hybrid training shoes featured in this article, drop a comment below or reach out to me personally via Instagram (@jake_boly).
That Fit Friend is a site that is supported by myself (Jake Boly) and its readers. If you purchase products through affiliates links on this site, then I may receive a small commission on the sale. These commissions help keep the lights on here at That Fit Friend so I can continue to create content and they help me purchase new models to review!