When considering the shoes you're going to use for CrossFit, you'll want to account for a few things to ensure you're getting the most out of your footwear regarding performance and durability.
Like the sport of weightlifting, it's important to look at the specificity of the sport of CrossFit when assessing which shoes you should wear for CrossFit. This is an aspect that many overlook when selecting their footwear for CrossFit and tough WODs.
Sure, you can technically wear your running shoes and more general training shoes for CrossFit, but you'll likely find that their performance and durability start to fall off as you get more serious with your CrossFit WODs.
In this article, I want to discuss what kind of shoes are good for CrossFit. I'll also help you identify what to look for regarding construction features in good shoes for CrossFit.
Exploring new cross-training shoes for CrossFit? Try my cross-training shoe finder. This calculator matches you with shoes that fit your needs best has a ton of great options for CrossFit.
What Kind of Shoes Are Good for CrossFit?
A quality pair of cross-training shoes will be your best type of shoe for CrossFit. You'll want to find cross-training shoes that are designed for CrossFit with purposely built construction features to boost a shoe's performance and durability during tough WODs.
Cross-training shoes like the R.A.D ONE, Nike Metcon 8, Under Armour TriBase Reign 5, Reebok Nano X3, and TYR CXT-1 Trainer are all great examples of cross-training shoes that are designed and optimized for CrossFit.
For CrossFit, versatility is the name of the game and you want a pair of training shoes that can hold their own in multiple training verticals. CrossFit WODs can vary greatly from their demands so you'll want shoes that can be stable for heavy training and responsive for short runs, double-unders, and box jumps.
Speaking of versatility, a misconception that I think some athletes have when it comes to finding great shoes for CrossFit is that a shoe is going to be the best at one thing. For example, a great CrossFit shoe should work well for heavier deadlifts, but it's not going to be the best shoe for deadlifts.
To add to this example, while you might be able to do short runs in your CrossFit shoes, they'll typically not be the best shoe for hybrid training and longer running. This is an important concept to understand to both assists you in your search for CrossFit shoes and to mitigate the expectations of your shoes.
CrossFit is a sport of mixed training modalities and if you want a shoe for hyper-specific performance, then you'll want to explore shoes designed for that specific thing.
A classic example of this that many CrossFit athletes regularly navigate is deciding whether they should or need to invest in weightlifting shoes, as they're a specific shoe that often costs a little more than your average cross-raining shoe.
In my coaching opinion, while most lifters especially beginners can get by with simply using their cross-training shoes for weightlifting if you want to really hone in on your performance in the snatch and clean & jerk and explore different shoes to assist your performance, then it may be worth investing in a pair of weightlifting shoes.
This is a good example of opting for shoes for specific training contexts. Think as though you're working on a project and your shoes are your tools. If the job is a CrossFit workout, then you'll want to use the tool that gets the job done the most productively and efficiently.
On the scale of training specificity, CrossFit is one of the few training styles that land directly in the middle with its performance needs. Good CrossFit shoes should be versatile and work for things like lifting, running, and jumping.
In summary, shoes are one of those things that get overlooked in most cases, but as we really start to peel back the layers behind how we can boost our performance for something like CrossFit, they can play a huge influence.
What to Look for In a CrossFit Shoe
Now that you have a baseline understanding of what shoes are good for CrossFit, it's a good idea to familiarize yourself with a few construction features to look into when exploring your next pair of CrossFit shoes.
The details are where I like to nerd out as a strength coach and shoe reviewer, and I know, the following can seem a little overwhelming at first. Below, I'm going to cover three key construction features that every CrossFit shoe should have.
I promise if you take a few minutes to gain a baseline understanding of what to look for in CrossFit shoes, then you'll be far better off with your investments and getting your money's worth in shoes.
1. Good Outsole Traction
The first construction feature to explore when finding your next good CrossFit shoe is the shoe's outsole. The outsole is the material that covers the bottom of the shoe. If you're wearing shoes at the moment, then it's that (likely rubber material on the bottom of your shoe.
Typically, you'll want to find cross-training shoes that have full or nearly full rubber outsoles. Essentially, shoes that have rubber cover the entirety of the bottom of the shoe with some form of a tread pattern.
Cross-training shoes that have outsoles with good traction are important for CrossFit because:
A good outsole can prolong your shoe's durability by protecting the midsole from running wear and tear during WODs with runs, rope climbs, and multi-directional exercises. Additionally, a strategically built outsole can play a role in rope climbing performance outside of durability.
Adequate outsole traction can also be important for WODs with things like heavy cleans, squats, thrusters, burpee box jump overs, and literally everything else. The last thing you want is slippage when going hard during a WOD.
The Takeaway: Explore cross-training shoes that have outsoles built with rubber and avoid training shoes with exposed foam throughout the forefoot, midfoot, and heel, as these shoes can lack traction and long-term durability for CrossFit.
2. Responsive and Stable Midsoles
The second and more nuanced construction feature is to look into the shoe's midsole construction. The midsole is the material that separates your foot from the outsole and floor. Midsoles in shoes can be built with things like foam, cork, and leather.
For CrossFit shoes and most training shoes, midsoles will be built with foam materials. A great midsole for CrossFit will walk the fine line between being responsive and stable to accommodate the different demands of WODs.
In a perfect world, you'll want to find a midsole that is dense enough to resist compression under different loads while being responsive or "bouncy" enough to be comfortable for WODs with things like double-unders, short runs, and box jumps.
A good midsole in a cross-training shoe built for CrossFit can boost your performance in WODs by:
Increasing your comfort during longer workouts, fast-paced WODs, and short runs. Essentially, you shouldn't be ending workouts feeling like your feet took a beating. A good midsole can play a huge role in comfort.
Improving your stability when training heavily. When tackling WODs with 1-3 RMs in things like deadlifts, cleans, and squats, you'll want shoes that help you plant your feet and feel stable or balanced. This is why you shouldn't use traditional running shoes in CrossFit WODs.
The Takeaway: While it's impossible to know how a midsole will feel for your comfort preferences in WODs, a good first step is purposely looking into shoes built for CrossFit. Most companies that build cross-training shoes for this training context will utilize their own proprietary midsole foams to deliver a strong performance.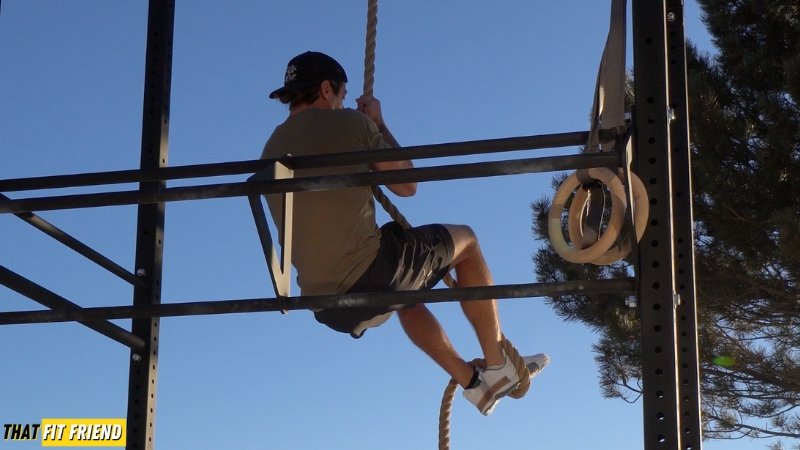 Good examples here are Reebok's Floatride Energy Foam midsole, Under Armour's Micro G Foam midsole, TYR's Surge NRG foam midsole, and STR/KE MVMNT's Cush50 midsole.
3. Reinforced and Durable Uppers
The third and also fairly nuanced construction feature to explore is a shoe's upper construction. The upper is the material that encloses the foot and is the "upper" portion of the shoe. Typically, uppers in training shoes will be built out of meshes, knits, and synthetic materials.
I say this feature is also nuanced because a shoe's upper can vary pretty greatly from company to company. Plus, uppers can play a large role in durability and how a shoe will fit, and in the context of our individual training and foot anatomy, how we interpret uppers can vary from one another.
For CrossFit shoes, you'll want to find uppers that are reinforced around the toe box, midfoot, and heel. Generally speaking, these are the three areas that will have the most havoc wreaked on them during WODs based on the exercises you're doing.
A high-quality or strategically built upper in a CrossFit shoe can boost performance because:
It will help protect problem areas from durability issues like the toe box from burpees, the heel from wall slide during handstand push-ups, and the midfoot from rope climbs.
It can promote comfort and foot security when training. For example, if you like a lower-profile upper because you have a flatter foot or narrow foot, then finding a shoe with an upper that aligns with your foot anatomy can play a big role in comfort. Conversely, if you wear orthotics, then you'll want to find CrossFit shoes with higher upper volumes.
The Takeaway: Most cross-training shoes built for CrossFit will have uppers designed to promote their performance and durability in this context. While it's impossible to try on every shoe, checking out reviews and comments on a product's page can be a great first step to figuring out how a shoe will fare for CrossFit and fit for you.
In my opinion, these are the three non-negotiable construction features that a great cross-training shoe built for CrossFit should have. Outside of these three features, there are also construction details that you may find more or less important based on your preferences.
For example, things like bootie-style constructions, different lacing systems, and types of insole, are all smaller details that can influence which shoes for CrossFit you'll resonate best with.
With countless options on the market, I'd suggest trying different models to see which you resonate best with. Every company's shoe will fit slightly differently and it's perfectly normal and productive to explore different options and not just opt for what's the most "popular".
Frequently Asked Questions (FAQ)
Q:
What Kind of Shoes Are Good for CrossFit?
A:
For CrossFit, you'll want to find a good pair of cross-training shoes that are built purposely for CrossFit. Since CrossFit entails multiple training modalities, you'll want shoes that are responsive, stable, and durable for tough WODs.
Q:
Can you use running shoes for CrossFit?
A:
The only context in which a running shoe can work for CrossFit is if you're doing a running-focused WOD that entails mostly running and bodyweight exercises. For most WODs, though, you'll want to avoid using running shoes.
Q:
Can you use Converse for CrossFit?
A:
While Converse can be great for lifting and general weight training, you'll likely want to avoid using them for CrossFit. Converse lack the versatility and upper durability needed for most WODs.
Takeaway Thoughts
The best shoes for CrossFit need to have a high level of versatility and should be designed with construction features to promote both performance and durability in the context of the high demands that CrossFit can put on shoes.
Unlike other training styles, CrossFit can wreck training shoes due to some of its high-abrasion and friction WODs, so it's important to equip yourself with gear that can last so you can get more out of your investment.
If you have additional questions about which kinds of shoes are best for CrossFit, drop a comment below or reach out to me personally via Instagram (@jake_boly or @that_fit_friend).