The process of finding the best gym shoes for your specific needs can be both overwhelming and exciting. Every gym shoe has its list of pros and cons regarding construction and performance.
As a strength coach and someone who's reviewed literally hundreds of gym shoes, this list reflects my favorite gym shoes for a wide range of categories. I follow a hybrid training style so I'm constantly pushing shoes in a wide range of workout settings.
Author's Note: Make sure you also try out my TF2 Cross-Training Shoe Finder. I built this calculator to match you with shoes that fit your performance needs best.
Best Overall Gym Shoes for Lifting
When testing and reviewing well-rounded shoes for lifting I'm constantly trying to assess what shoes are best in certain contexts. Truthfully, there are a lot of great shoes for lifting and each model will resonate differently with lifters based on how they train.
Top Pick: Adidas Dropset Trainer 2
The Adidas Dropset Trainer 2 is a really strong shoe for lifting and this model has been an awesome upgrade compared to its predecessor. For lifting specifically, the dual-density midsole and "flatter" feeling sole are both hits in this shoe.
The forefoot's midsole of this shoe has a little more responsiveness and the heel runs more firm. This is great because it gives this shoe a nice blend of versatility without compromising stability under heavy weight.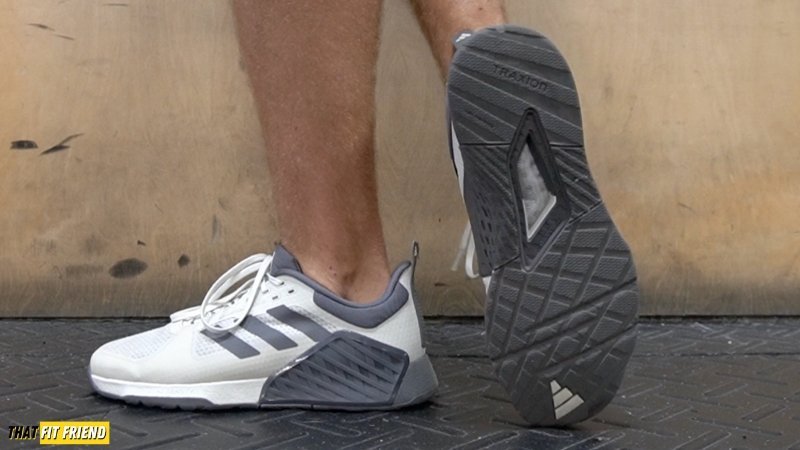 I also like that there isn't a ton of toe spring in this shoe and that the heel has a flatter and more stable feel. For things like heavy deadlifts, lunges, and machine work this is a nice perk of this shoe.
The final aspect to like about this model is that it has a good range to it outside of lifting. I love to blend lifting with jumping, sprinting, and cross-training into single sessions and if you're similar but want a shoe that's stellar for lifting, I think you'll like the Dropset Trainer 2.
Best Gym Shoes for Women
When testing and reviewing the best shoes for women I constantly refer to my YouTube community and girlfriend for their thoughts on particular gym shoes.
Top Pick: Nike Metcon 9
The Nike Metcon 9 is earning the top pick for women. This model is a really strong well-rounded gym shoe for gym-goers who like to lift, do class workouts here and there, and do athletic-style training.
Compared to the Nike Metcon 8, the Metcon 9 has received a few updates that give it a little more versatility in the gym. For example, this shoe still features a TPU plate in the heel but it's been reworked to feel better for a wider range of versatile training contexts.
The outsole has a good level of traction when training on different surfaces and the medial and lateral midfoot outsole wraps help this shoe's durability for CrossFit contexts where you'll be having more abrasion on the top of the shoe. This shoe's wider toe box is also a perk.
It's important to note that the TPU insert does take away from the Metcon 9's running performance, so if you want a training shoe for lifting and running, I'd look at the second and third picks below.
Best Gym Shoes for Men
To review and assess the shoes for men, I utilize a process that assesses a gym shoe's overall construction and looks at how that influences the gym shoe's performance and durability.
Top Pick: UA TriBase Reign 5
The Under Armour TriBase Reign 5 is a solid option for guys. This shoe is a nice follow-up to the strong-performing UA TriBase Reign 4 and both models will work well for the active guy, so I'd suggest looking at both if you're interested in the Reign training shoes.
I'm taking the UA TriBase Reign 5 as my top pick for this section for three key reasons. First, they're a really good well-rounded gym shoe for lifting, CrossFit, athletic-style training, HIIT workouts, and even sprints or short tempo runs (100-400-meter bouts).
Second, I like the overall width of this shoe. This model's width was increased slightly from the UA TriBase Reign 3 which ran fairly narrow for most guys. The width increase in this model I think does a better job of feeding into the anatomical needs of men's feet.
Third and lastly, I like the TriBase tech in this shoe's outsole, Micro G foam midsole, and 2mm heel-to-toe drop. The blend of the midsole and outsole give this shoe a nice stable, yet versatile feeling and this can be a good model for gym-goers who like lower heel-to-toe drops.
Best Gym Shoes for Flat Feet
When testing shoes for flat feet I'm mostly concerned with a shoe's comfort for those with compressed arches and flatter feet. Flat feet can vary pretty greatly and better comfort in gym shoes can lead to better performance.
Top Pick: Born Primitive Savage 1
The Born Primitive Savage 1 can be a great option for flat feet. This shoe is built with a wider toe box and midfoot that doesn't have a super aggressive taper so it can be great for flatter arches and feet.
In the gym, the Born Primitive Savage 1 delivers a well-rounded performance. This model has excelled for my CrossFit WODs, heavier leg days, and athletic-focused sessions.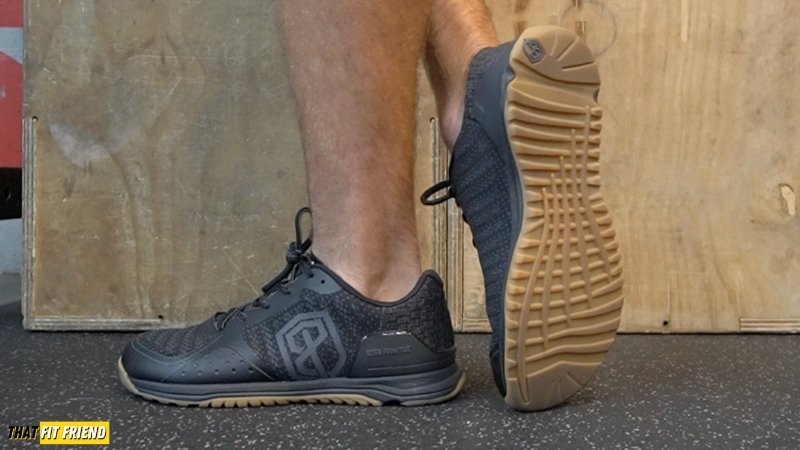 The dual-density midsole in the Savage 1 has supported my 500 lb deadlifts with no compression issues and the upper on this shoe has held up well to things like rope climbs and burpees. This shoe also has a lower stack height which is great for more ground feel.
I think if you have flatter feet and enjoy shoes in the gym that feel more "minimalist" and prioritize needing stability and durability with your workout sessions, then the Born Primitive Savage 1 will be a good pick for you.
Best for HIIT
When testing workout shoes for HIIT I assess two key performance variables. First, I look at a shoe's midsole and assess how responsive it is for jumping and multi-directional work. Second, I assess a shoe's upper construction and how it locks down the foot during HIIT.
Top Pick: Nike Free Metcon 5
The Nike Free Metcon 5 can be an awesome pick for HIIT workouts. This shoe has been one of my favorite options for workouts where I'm jumping a lot, doing explosive work, and doing light to moderate strength training.
The Nike Free midsole in this shoe gives this model a nice blend of versatility and comfort. It moves and articulates well and it feels "bouncy" when doing things like jump rope, box jumps, and skater strides.
I also like that this shoe gives you enough stability to add in light to moderate strength work. For example, when deadlifting between 225-275 lbs in this shoe it was stable enough to accommodate these tasks.
Outside of its bouncy midsole, the upper on the Nike Free Metcon 5 also does a good job with security. I never had spillover issues in this model and I appreciate that Nike gave this shoe a more spacious upper compared to the Free Metcon 4.
Best for Wide Feet
To test, review, and assess the best shoes for wide feet I'm primarily concerned with the shoe's width through the forefoot and midfoot and how it accommodates different foot anatomies.
Top Pick: Reebok Nano 2
The Reebok Nano 2 is my top pick for wide feet. In the world of CrossFit, the Reebok Nano 2.0 is often considered one of the most legendary models in the Reebok Nano cross-training shoe line.
This model delivers a wide anatomical toe box which gives it more width than some of the more modern Reebok Nanos like the Nano X3. On that note, the Born Primitive Savage 1 also works exceptionally well in this context for wide feet.
The Nano 2 has a dense midsole for heavy lifting and it does a good job with durability for CrossFit and cross-training workouts. I think if you like more simplistic training shoes then you'll resonate with the Nano 2.0's construction.
Whether you need a shoe for 500 lb deadlifts and heavy squats or you want a model for cross-training and CrossFit WODs, the Reebok Nano 2.0 delivers a strong performance across the board.
Best for High Arches
When testing and reviewing the best shoes for high arches, I'm focused primarily on two key performance areas. First, I want to know how much arch support a shoe provides. Second, I'm reviewing how well a shoe does in different performance settings.
Top Pick: Inov-8 F-Lite G 300
The Inov-8 F-Lite G 300 is my favorite gym shoe for high arches. This is a cross-trainer that can excel well in a lot of different contexts and is a good well-rounded gym shoe for high arches.
For example, you can lift heavy in this shoe, use them for CrossFit, and even for HIIT workouts and light runs (<3 miles or less) and they're an exceptional performer across the board.
They also have a fairly wide forefoot which is great for those with high arches and wider feet in need of a shoe to accommodate these anatomical asks. The Graphene construction on the outsole also adds a nice layer of durability to this shoe.
I think if you need a shoe for doing a little bit of everything that provides a nice level of stability, then the Inov-8 F-Lite G 300 is a good pick for you. If you're not a fan of bootie-style constructions on gym shoes, I've also included a few runner-up picks for high arches below.
Best Gym Shoes for Walking
When it comes to reviewing the best shoes for walking I'm constantly trying to assess how comfortable a model is for day-to-day wear and longer walks on things like treadmills.
Top Pick: On Cloud X 3
The On Cloud X 3 is earning my top pick for walking. This model has a high level of comfort and in the context of walking long distances both on the treadmill and outdoors, they're exceptional shoes.
The On CloudTec midsole is what gives the Cloud X 3 its high level of comfort and this midsole maneuvers pretty well. These shoes never feel overly stiff so if you like a more plush and cushioned ride, then you'll enjoy the On Cloud X for walking.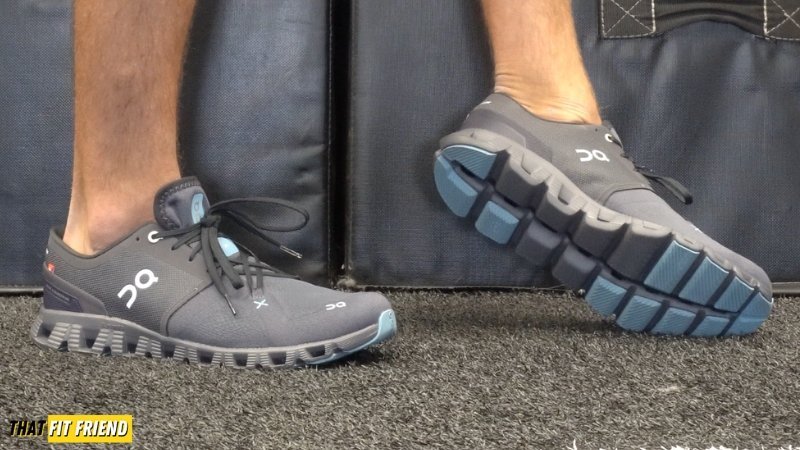 Outside of walking, the On Cloud X 3 is also a good gym shoe for light to moderate lifting (cap loading to about 315 lbs), HIIT workouts, classes, daily wear, and short to moderate runs (1-6ish miles).
This model will work best for the gym-goer who prioritizes versatility and comfort over stability when training. For example, this shoe will not be the best for heavy lifting, but it will do a good job in versatile training contexts.
How Should Gym Shoes Fit?
As opposed to running shoes that have a fairly formulaic method for sizing, gym shoes can be a little different. Sizing discrepancies in gym shoes can vary for three key reasons.
Different forms of training will require different types of fit. For example, if you're doing explosive training, then you'll generally want shoes that hug the feet fairly well to prevent sliding around or feeling unstable.
Different foot anatomies will require different spaces in the toe box. For example, if you have wide feet, then you'll typically want a little more room at the end of your toe box for both comfort and performance reasons.
Different preferences can shift how we want our shoes to fit. Some like their shoes to fit a little looser while others like their shoes a little snugger.
That said, I typically recommend a range for sizing gym shoes. The range that I recommend is having anywhere from .2-.6 inches of room at the end of your shoe's toe box. If you have wide feet or like more room in your shoe's toe box, then go with a thumb's width.
As a rule of thumb, if you have so much room at the end of your toe box that you're experiencing heel slip when training, then you'll want to size down and aim for the lower end of the range mentioned above.
When it c sizing, there's really no "one-size-fits-all" answer (pun intended). Explore different models and find shoes with the last constructions that align with your feet best and allow you to perform your best.
Gym Shoes Versus Running Shoes
There are countless differences between gym shoes and running shoes. Plus, within each shoe category, there are endless variations of running shoes and gym shoes designed for different individuals' performance wants, needs, and preferences.
For the sake of brevity and to not overwhelm you, I'm going to discuss a few key differences that differentiate gym shoes from running shoes. These differences can heavily influence each type of shoe's performance as you get more specific with your training.
Difference 1: Gym Shoes Are Typically Flatter
Gym shoes will typically have midsoles and outsoles that are more firm and flatter in nature. This is to promote stability when lifting weights and doing other forms of versatile training where balance is important.
Difference 2: Gym Shoes Have More Durable Uppers
Additionally, the upper construction of gym shoes is often heavier than what's used in running shoes. This is to promote durability from abrasion and stress rips that can come from multi-directional training.
Difference 3: Running Shoes Have Thicker Stac Heights and Lighter Uppers
Running shoes will have midsoles often thicker and biased towards running, AKA forward movement so they'll be less flat and will lack the same amount of stability as gym shoes when lifting and working out. This is also why I don't recommend lifting in running shoes.
In addition, the upper materials used in running shoes are often less heavy and layered compared to gym shoes and have a larger bias towards breathability. This is to limit the shoe's overall weight for running.
Outside of these core differences, there are additional construction subtleties that can further differentiate gym shoes from running shoes. For example, we could discuss how different heel-to-toe drops used in both styles of footwear can influence biomechanics in the gym and when running.
Should You Use Running Shoes for the Gym?
While you can technically use running shoes for light and mod workouts, I'd suggest not doing this and instead investing in two separate pairs of gym shoes and running shoes.
By using the right shoes for the job you'll not only be able to perform to your best ability, but you'll also prolong the lifespan of your shoes. For example, heavy lifting can compress a running shoe's midsole and limit your performance and stability.
Conversely, a gym shoe is more stable and biased towards lifting and may not be comfortable for longer runs or endurance sessions, thus making it a sub-optimal choice for the task at hand.
When in doubt, reach for the right shoes for the context of your training. As you get more specific and serious with your training gear selection becomes more important as task demands increase.
4 Tips to Make Gym Shoes Last Longer
I'm a big proponent of getting the most out of your money and investment when it comes to gym shoes. As someone who reviews gym shoes for a living, I'm constantly trying to get the most out of the shoes I enjoy and review.
If you want to make your gym shoes last longer, then there are a few key steps you can take to add months to their lifespan. Below, are my four favorite tips to get the most out of your gym shoes.
Tip 1: Spot Clean, Do NOT Use Washing Machines and Dryers
When cleaning your shoes use a washcloth, lukewarm water, and soft soap and handwash areas that need attention. To dry your shoes, take the insoles out and set them in a dry area in your home.
Tip 2: Take Your Shoes Out of Your Gym Bag
Gym bags can be humid after training sessions due to sweat buildup on gear. Always try to take your gym shoes out of your gym bag after training sessions to ensure humidity doesn't wreak havoc on their materials.
Tip 3: Wear Them Only for Training
If you're buying gym shoes specifically for training and not walking or daily wear, then try to limit only wearing your gym shoes for your training sessions.
Tip 4: Lace and Unlace Your Shoes When Putting Them On
I admit I can be lazy and jam my feet into my gym shoes which can cause the boot to break down pretty fast. Always lace and unlace your shoes to prevent this.
These are four simple steps that you can use to add months to your gym shoes and get the most out of your investment. It's always cool to see how these little things can add up to get the most out of your money.
Why Trust That Fit Friend Shoe Reviews
I've been reviewing workout shoes for years. At That Fit Friend, I buy every shoe featured on this site and I don't partake in the typical pay-for-play reviews most review sites indulge in. I want to be a consumer like you, not a reviewer constantly gifted gear.
Additionally, I've been a personal trainer for over a decade, and my educational background is in Exercise Science. I test every shoe independently and have a curated protocol of tests to assess a shoe's performance and durability.
When reviewing gym shoes, I'm reviewing a shoe's overall performance and noting where it excels and falls short. I'm asking questions like:
Takeaway Thoughts
When looking into the best gym shoes, I'd suggest exploring your training goals, needs, and wants. If you can nail down the specific training asks that you have from your shoes, then you can make the best investment for your individual goals.
Whether you plan to lift heavy, do HIIT workouts, or take classes here and there, there's a gym shoe that accommodates your foot's anatomy and training needs.
If you have additional questions on any of the shoes featured in this article, drop a comment below or reach out to me personally via Instagram (@jake_boly or @that_fit_friend).