If you're active on social media, then more than likely you've seen ads for the Vuori Kore Short. The Vuori Kore Short is always popping up on various platforms and is marketed as an "all-in-one" style training short for a variety of sports and workout needs, so I was curious, is it really?
Thus far, I've enjoyed training in my Vuori Kore Shorts, but I wouldn't call them a "short for every sport" (per Vuori's website). As a whole, the Vuori Kore Short performs well in more casual settings and it's comfortable for daily wear. However, this short is not my go-to for barbell training and CrossFit and I'll explain why below.
In this Vuori Kore Short review, I'm going to cover a variety of performance topics to help you decide if the Kore Short is good short for the context of your needs and wants.
If you're interested in other high-performing training shorts, then make sure you check out my 10 Best Men's Workout Shorts article to be matched with your perfect shorts.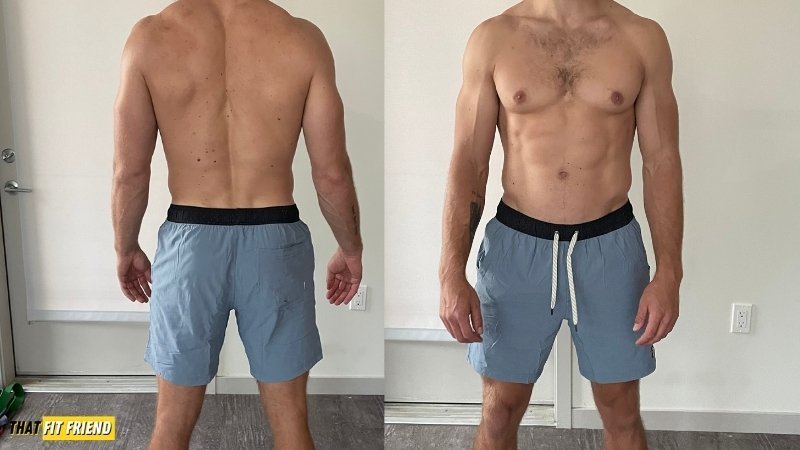 Who Should Buy the Vuori Kore Short?
The Vuori Kore Short is a great pair of shorts for the more casual training enthusiast that also wants a pair of shorts for daily wear. I thought this model was fantastic for casual wear due to its comfortable construction, but it fell slightly short for more serious training due to its shell weight and lighter compression liner.
For guys looking for a pair of training shorts to rock daily and to the gym for casual sessions, I think you'll really like this model. It's super comfortable and form fits the body really well.
Best For
Casual Training
Day-to-Day Wear
Recreational Lifting
All Day Comfort
Falls Short
For Maximal Durability
For Sprints and Plyometrics
Vuori Kore Short Pros
The Vuori Kore Short comes with a few key pros that I think are worth mentioning and could help you decide if this is the right pair of shorts for your needs.
Overall Comfort
Breathable Boxer Liner
Durable Shell Construction
The first thing that I really like about the Vuori Kore Short is this pair's overall comfort. This model features a soft ultra-stretch fabric that feels lightweight and moves well with you. I honestly love wearing these shorts for day-to-day activities and errands because they're that comfortable.
Another pro is the boxer/compression liner in this model. From a day-to-day and casual training point of view, I really like the breathability and lightweight nature that comes along with the boxer liner in this pair of shorts. It's super breathable and doesn't feel like it's choking the quads at all, especially if you have beefier legs.
The last aspect that I like about this short is the overall shell durability. I think from a recreational and daily wear point of view, this short's shell will last a while. It has reinforced stitching and doesn't feel so wispy that it will break down soon with these activities. However, context matters here and I'll explain more on this in the cons.
Vuori Kore Short Cons
Despite liking the Vuori Kore Short for some activities, I do think it falls short in a few areas.
Boxer Liner Rides Up
Not the Best for Serious Training
The first con and slightly annoying thing I noticed with these shorts is that the boxer liner somewhat rides up. Again, I personally like the boxer liner for casual wear, but when squatting and doing exercises with deep hip flexion I noticed that the liner was constantly riding up on me.
Note, this could be due to having quads and the fact that my adductors are slightly over-developed from years of powerlifting.
The final con is that this model might not be the best for those doing serious lifting and training. The boxer liner could be a bit more biased towards providing compression and the outer shell doesn't feel as resistant to abrasion as other training shorts I've worn. For anyone that really puts their shorts through the wringer, this could be something to consider before buying.
Vuori Kore Short Performance
I think if you get this pair of training shorts understanding where they excel the most, then you'll be pleasantly happy with their performance as a whole.
Lifting
In the gym, the Kore Short does a fairly good job for more recreational training. The ultra-stretch material of the shell moves well with the body and it's fairly good for sweat-wicking for anyone training in hot commercial gyms. Plus, the pockets are deep enough to keep your belongings secure.
The only drawbacks to this pair of shorts with lifting are the compression liner riding up during exercises with deep hip flexion (squats) and the fact that the drawstring on the outside. Personally, I prefer having the drawstring on the inside so there's no chance of friction causing them to come undone.
Agility and Plyometrics
For fast-paced workouts and bounding exercises, this pair of shorts falls in the middle of the road. They're lightweight and breathable which is a huge perk, but do have some limitations. The boxer liner could be a tad tighter, however, that's more of a matter of personal preference in this context.
I thought this model did a fairly good job with sweat-wicking and drying quickly I think this could be a good pair for the guy who likes to train outside more casually. For example, this could be a good pair of shorts for jogging and casual athletic training.
Day-to-Day and Running
On a day-to-day basis, I really like the Kore Short. It's actually one of my go-to's for running errands, walking the dogs, and working outside. In this context, the lighter boxer liner is perfect for keeping the goods secure and also allowing some breathability.
For running, I would recommend limiting this short to more casual jogs. They may not be the best for long distances and all-out sprints where a tighter compression liner is typically desired.
Vuori Kore Short Sizing
In the Vuori Kore Short, I wear a size Medium. Overall, I thought this short fit fairly true to size and had enough room in the shell to place things in my pockets without them protruding a lot.
My Sizing Dimensions
Waist: 33″
Hip Width: 38″
Mid-Thigh: 23.5″
Height: 6′ 0″
In the image below, I'm wearing a medium Vuori Kore Short!
Hopefully, my sizing dimensions can provide you with an idea of how these shorts fit and help you with your buying decision.
Pockets
The Vuori Kore Short has two slash pockets on each side which are fairly deep and a back pocket. You can easily store your wallet and phone in them without them slipping out when walking or bringing the leg upwards into hip flexion.
I personally would have liked to see a zip pocket on at least one side, but when we're talking about casual wear, this pocket system works perfectly fine.
Price
For the Vuori Kore Short, you can expect to pay $68 USD. Compared to other training shorts, this is pretty in line with what you can expect when buying shorts from brands like Lululemon and Ten Thousand.
Construction
The construction details of the Vuori Kore Short are fairly simple in nature and I think that's one of the perks of this short. It's consistent and has a fairly reliable construction across the board regarding the material Vuori uses.
Materials: 46% Recycled Polyester, 44% Polyester, 10% Elastane
Sweat-Wicking
Anti-Odor Tech
Elastic Waistband
Front Drawstring
Inseam 7.5″
If you're someone focused on training at a very high level, then this short's construction may not be the best for your needs.
Best For
Casual Training
Day-to-Day Wear
Recreational Lifting
All Day Comfort
Falls Short
For Maximal Durability
For Sprints and Plyometrics
Wrapping Up
Overall, I like the Vuori Kore Short for a few specific reasons. I don't think it's the best short for every sport, but it's good for more recreational training and casual sports.
If you have questions about this pair of shorts, drop a comment below or reach out to me via Instagram!