In 2014, NOBULL was founded and at this time they debuted their first-ever NOBULL Trainer. This model was marketed to and designed for the CrossFit and functional fitness community.
Since the first NOBULL Trainer that was launched in 2015, NOBULL's cross-training shoes have remained fairly consistent. However, they have added more products to their inventory like the NOBULL Trainer+ and NOBULL Court Trainer, to name a few.
I'm constantly being asked questions about the NOBULL shoes I review on my YouTube channel and on my written review content here. Since NOBULL shoes have slightly higher price tags, it's totally fair to want the full picture for certain models before investing. After all, the last thing you want is to invest $130+ USD into NOBULL shoes only to find out they don't work for your training needs.
In this NOBULL shoes guide, I'm going to break down all of the key details that you need to know about NOBULL shoes. I'll talk sizing, how to clean NOBULL shoes, and cover countless comparisons between NOBULL trainers and NOBULL running shoes.
What Are NOBULL Shoes?
Since their inception into the CrossFit market in 2015, NOBULL has continued to produce different shoes for a variety of product categories. Their main product is the NOBULL Trainer and this is the shoe that arguably put NOBULL on the map especially in the worlds of CrossFit, functional fitness, and lifting.
All of NOBULL's shoes come with the same ideology that NOBULL founded the company on. Basically, they market their shoes and products as having no fluff and only the essentials that you need to perform your best.
Must Read: See where NOBULL lands against other top models on my Best Cross-Training Shoes round-up!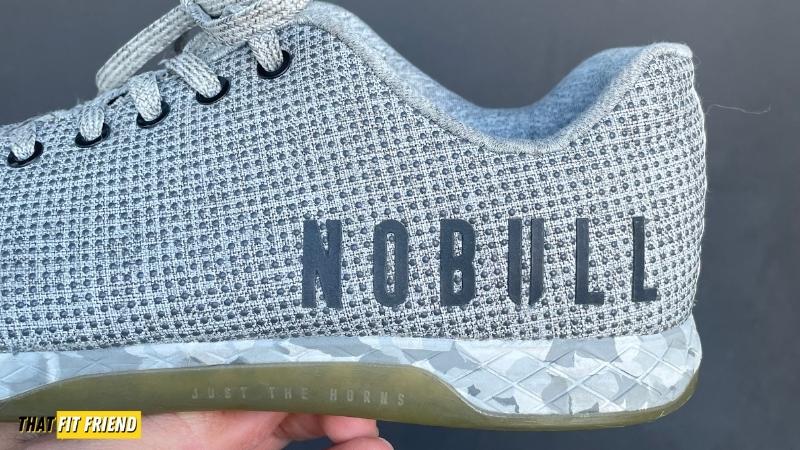 Currently, there are multiple NOBULL shoe categories that you can look into and these include:
Cross-Training Shoes
Running Shoes
Weightlifting Shoes
Cycling Shoes
Golf Shoes
Dress Shoes (yes…seriously)
Slides
As you can see, the question of "What are NOBULL shoes?" has expanded tenfold since 2014. What started as only cross-training shoes has grown into multiple shoe categories.
Suggested Read: Need NOBULL Trainers for CrossFit? Here are the best CrossFit shoes in 2021!
Where to Buy NOBULL Shoes?
NOBULL is fairly strategic when it comes to the retail outlets that offer their products. Currently, if you look around online there are two key online retail outlets that sell NOBULL gear. The first is NOBULL's site and the second is Rogue Fitness.
Essentially, if you're wondering, where to buy NOBULL shoes, then you're going to want to look at NOBULL's site and Rogue Fitness as these are the only two online retail outlets that have stock for NOBULL's shoes fairly consistently.
There are other online retail outlets as well that have NOBULL shoes on them like Amazon. However, oftentimes you'll only find random sizes or lightly used NOBULL shoes on these platforms. Hence why I don't really acknowledge them as being a reliable and consistent place to buy NOBULL shoes.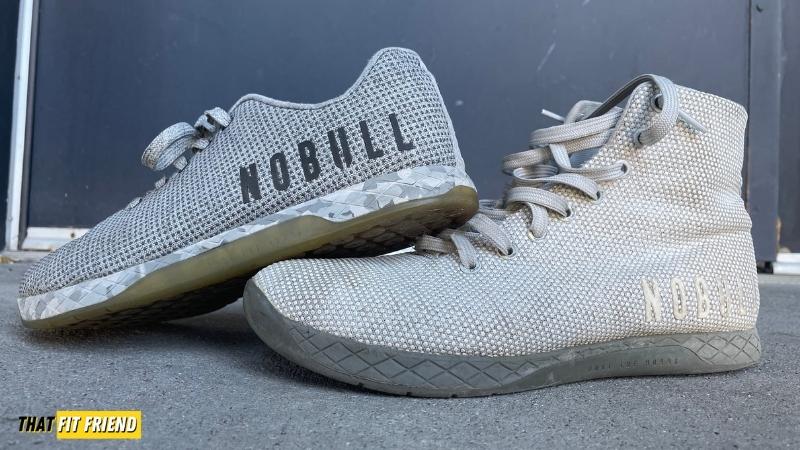 What Stores Sell NOBULL Shoes
Currently, the only physical stores in which you can NOBULL shoes are NOBULL's own signature flagship stores. As of right now, there is only one physical NOBULL store at the moment.
NOBULL SoHo: Closed
NOBULL Boston: Closed
NOBULL Miami (Wynwood): Open
Outside of the locations above, there are no larger retail outlets that you can try on and buy NOBULL shoes at.
Best For
Recreational Lifting
CrossFit
Long-Term Durability
Falls Short
For HIIT and Agility
For Running
How Do NOBULL Shoes Fit?
For most NOBULL shoes, they'll size true-to-size.
However, with NOBULL offering so many different types of shoes now, I'd strongly suggest checking out their product details page and looking at other user-feedback reviews to get a better scope of how certain shoes are fitting for others.
NOBULL Shoes Sizing Thoughts
In regard to NOBULL Trainers, I've worn and trained in the low-top, Canvas Trainer, Trainer+, Court Trainer, and High-Top Trainer and I'd suggest going true-to-size for pretty much all of these models. There are a few specific sizing differences between these shoes and I'll discuss them below.
I've also worn some of the NOBULL running shoes which also vary in sizing and I have multiple thoughts on how to size them, which I've also included below.
NOBULL Trainer Sizing (Low-Top): Go true-to-size. If you have a wide foot, then you may also want to go up a half size in this model.
NOBULL Trainer+: Go true-to-size. This shoe is a bit wider than the normal NOBULL Trainer and has a higher forefoot and midfoot volume so it may be a better option for anyone with custom insole/orthotics.
NOBULL Court Trainer: Go true to size. This shoe's overall fit is identical to the Trainer+ so please refer to the above sizing notes.
NOBULL Trainer Sizing (High-Top): Most should go true-to-size. If you have a notoriously wider foot or thicker ankles, then going up a half-size can be a good and safe call.
NOBULL Canvas Trainer (Low-Top): This model's toe box and midfoot volume are pretty limited. Some athletes can get away going true-to-size in this model, but for many, especially those who wear thicker socks you may want to go up a .5 size.
NOBULL Ripstop Runner: Go true-to-size. If you have a wider foot, then you may not like this model's forefoot and midfoot width so you may want to explore different options.
NOBULL Mesh Runner: Go true-to-size. The upper moves well and breaks in fairly easily.
If you have additional NOBULL sizing questions, drop a comment below or reach out to me personally and we can compare what you're currently wearing to the NOBULL shoe you're looking into so you can make the right sizing call.
How to Clean NOBULL Shoes
To properly clean and wash your NOBULL shoes, despite the model that you're using, I'd suggest doing the following three steps.
Grab a clean washcloth.
Apply some mild clear soap on the washcloth and dampen it with lukewarm water.
Spot clean and wash areas by hand where you see dirt built up.
If you do these three steps, then you will make your shoes last much longer and add months to their lives. Far too often, I think lifters and athletes default to throwing their shoes in the washer and dryer or using harsh soaps on them.
Harsh soaps and waterlogging shoes in wash machines, then aggressively drying them in a dryer can deteriorate the different types of materials used in shoes. More specifically, the glues and polyurethanes used in midsoles and uppers are typically the first areas to run into durability issues when not cleaning shoes properly.
From my experience, too, NOBULL trainers specifically can be prone to having their midsoles change densities slightly when excessively waterlogged. That being said, spot cleaning as mentioned above will take longer, but your shoes will also last longer. Thus, making your investment last much longer.
NOBULL Trainer Vs NOBULL Trainer+
The NOBULL Trainer and NOBULL Trainer+ have similarities in regard to their construction and a few major differences worth noting. Both models perform well in the context of lifting and CrossFit and below are three of the bigger differences between these shoes.
1. Different Midsole Constructions and Stack Heights
The first major difference between the NOBULL Trainer and NOBULL Trainer+ is their midsole construction and their stack heights. The NOBULL Trainer+ has a reworked EVA foam midsole that delivers a thicker construction compared to the NOBULL Trainer.
This midsole doesn't really impact this shoe's stability, but it does change this shoe's stack height and toe spring. The stack height in the Trainer+ is higher than the NOBULL Trainer and it has a bit more toe spring due to its thicker nature.
I think the thicker midsole and extended outsole wrap are what cause the toe spring to be a little more dramatic in the Trainer+. It doesn't really impact performance, but it does make it slightly harder to ground the toes during some exercises.
2. Different Outsole Constructions
Another core difference is the outsole constructions on each model. The NOBULL Trainer+ has an updated herringbone lug patterned outsole that extends the length of the shoe. This outsole also wraps over the toe and extended up the lateral and medial midfoot for additional rope climb support.
Personally, I like this new outsole tread and think it gives this model a bit more traction on different surfaces. When training outdoors and on turf, this outsole gripped the ground really well in a variety of training scenarios and when performing multi-directional activities.
3. Reworked Lacing System and More Width
One of the final core differences is that the Trainer+ now features an internal lacing system as opposed to the traditional lacing system used in the NOBULL Trainer. This lacing system is designed to provide the foot with an even greater locked-down feeling when training and doing multi-directional exercises.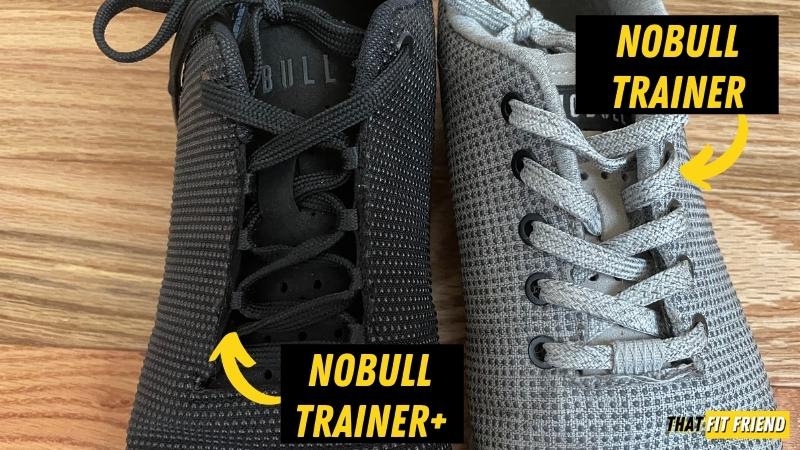 In addition to the reworked lacing system, the Trainer+ is also a slightly wider shoe with greater volume throughout the midfoot and forefoot. I think if you have a wider foot or use custom orthotics, then this helps make the NOBULL Trainer+ a better fit for your foot anatomy and training needs.
Best For
Cross-Training Style Workouts
CrossFit
Recreational Lifting
Falls Short
For Versatile Training
For Cost-Efficiency
NOBULL Trainer+ Vs NOBULL Court Trainer
Another popular NOBULL comparison that I've been receiving a lot of questions about regards the NOBULL Trainer+ versus the NOBULL Court Trainer. The Court Trainer is designed to serve as a CrossFit, cross-training, and court sports hybrid shoe.
Note, I have written a deep dive comparison between the NOBULL Trainer+ and Court Trainer. Check that out if you want the granular details between these two NOBULL training shoes, but three major construction differences to note between these shoes include the following.
1. Different Outsole Constructions and Performance
First, the NOBULL Court Trainer has a reworked outsole tread to promote overall court sports performance. Yes, the Trainer+ and Court Trainer both utilize a herringbone tread, however, the Court Trainer's tread is less pronounced and is designed to give you more bite on asphalt and courts.
This outsole wraps over the toe like the Trainer+ but has a larger bias towards the medial forefoot to prolong durability and to promote grip when pushing off the forefoot and moving laterally.
2. Different Tongue Constructions
The second notable difference is the tongue construction utilized on both shoes. In the NOBULL Court Trainer, you have a breathable tongue with additional padding to prevent tongue bite. I didn't realize how much I enjoyed this until wearing this model more and more.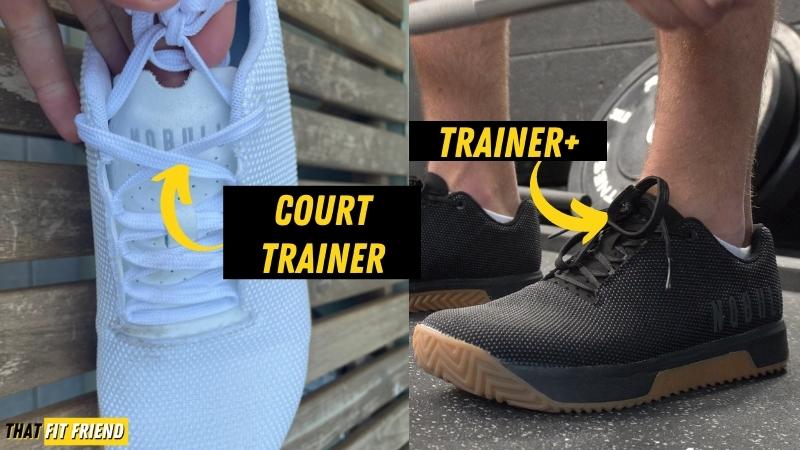 Compared to the NOBULL Trainer+, I really enjoyed the padded tongue construction in the Court Trainer. It's a construction detail that you don't really appreciate until you've worn both models and have context between the two, in my opinion.
3. Overall Performance and Intent
The third and final difference to note is the specific intent behind how each shoe is designed to be used. There are similarities like the fact that models utilize thicker EVA foam midsoles and SuperFabric uppers, so in the gym, they'll perform similarly in regard to stability, versatility, and durability.
However, the real differences come out when you get more specific with your training. The Court Trainer is an awesome call for anyone like me who plays court sports on a regular basis (huge pickleball fan here!) and wants a shoe to double as a go-to trainer.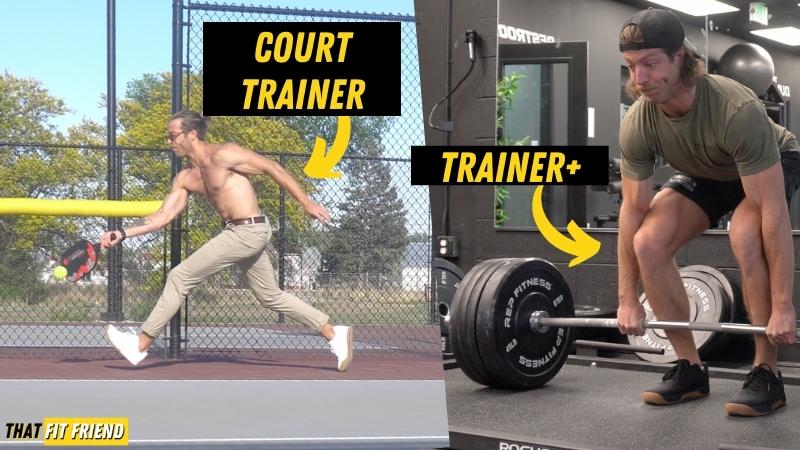 The Court Trainer does a good job at filling a very specific niche in regard to performance. The NOBULL Trainer+ can be a good option for athletes who need a little more motion control, like to train outdoors, and are more general with their training.
Personally, I like the Court Trainer a tad more than the Trainer+ and this is because you get similar levels of performance output from both shoes in the gym, but you also have the added edge of performance for court sports and other recreational sports with this model.
Best For
Recreational Lifting
CrossFit Workouts
Court Sports
Walking and Daily Wear
Multi-Directional Training
Falls Short
For Breathability
For Longer Runs
NOBULL Trainers Vs NOBULL High-Top Trainer
Of all the shoes NOBULL offers, two of their most popular models include the original NOBULL Trainer and the NOBULL High-Top Trainer. Despite having pretty much the same construction in regard to materials used in each shoe, they both perform slightly due to the higher boot in the high-top model.
Below are three major differences that I've noticed between the NOBULL Trainer and the NOBULL High-Top Trainer.
1. Different Boot Constructions
The first difference and the most obvious is that the NOBULL High-Top Trainer's boot comes up much further than the traditional NOBULL Trainer. The higher boot provides a bit more ankle support compared to the traditional trainer.
However, when laced tightly and fully up, I have noticed that the boot can actually limit dorsiflexion slightly. This is similar to most high-top shoes that have sturdy upper constructions like the NOBULL Trainer's Superfabric. That being said, if you're training in the high-top model, then you may want to experiment with how tight you want them in regard to your performance.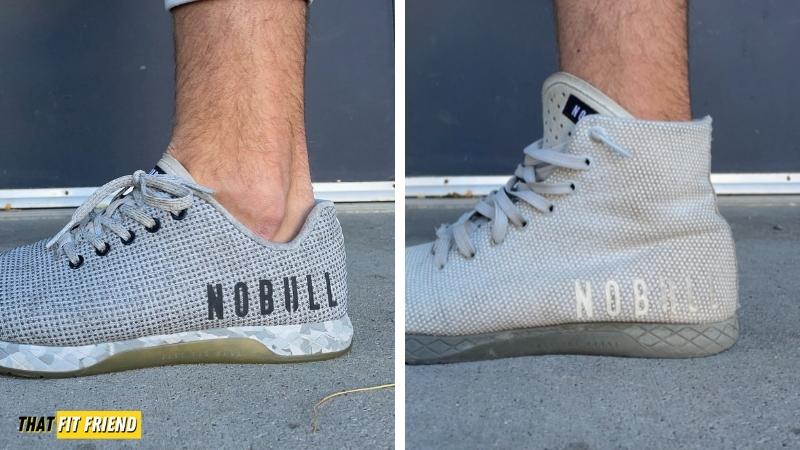 Check out the image above to see a reference for the NOBULL Trainer and NOBULL High-Top Trainer's sizing and fit on me.
2. Foot Temperature
Another not so commonly discussed difference between these two trainers is the foot temperature they can both provide. The high-top model is not always my favorite shoe for longer sessions in hot settings because this shoe can make your foot exceptionally hot.
The upper construction in both models is super durable and lightweight, however, the Superfabric isn't the most breathable so that is a difference worth noting in some contexts for the high and low-top models.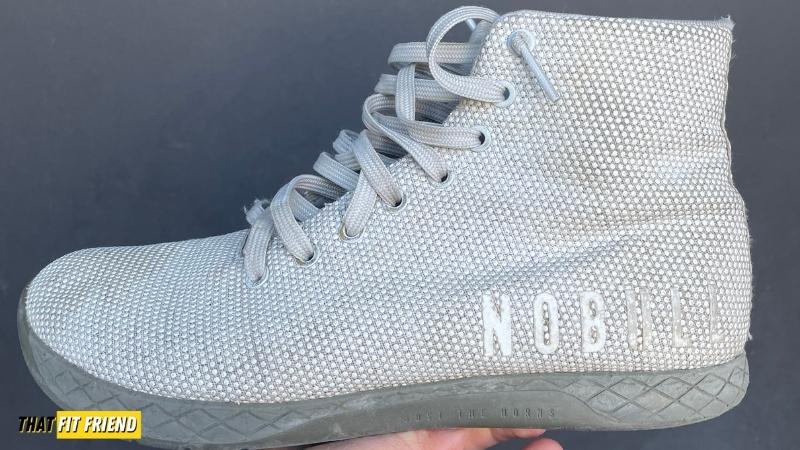 Personally, I actually like the high-top trainer better and use it more often than the low-top model, so I don't necessarily see this as a bad thing, but it is something to note that is different between these two shoes. For example, there are certain times in hotter workout settings where I'll take other models over it.
3. Price Points
The final difference between the NOBULL Trainer and NOBULL High-Top Trainer is their price points. The NOBULL Trainer has a price of $129 USD and the NOBULL High-Top Trainer costs $139 USD.
Overall, this isn't the biggest price difference, but I think it can matter when you factor in certain contexts and how you plan to use the shoe.
Best For
Heavy Lifting
Day-to-Day Wear
Long-Term Durability
Falls Short
For Versatile Training
For Running
For Cost-Efficiency
NOBULL SuperFabric Trainer Vs NOBULL Canvas Trainer
If you're considering the traditional NOBULL Trainer that features SuperFabric or the NOBULL Canvas Trainer, then you're likely wondering, what are the main differences between these models.
There are two key differences between the NOBULL Trainer and NOBULL Canvas Trainer and this includes each shoe's upper material and sole construction.
1. Different Upper Constructions
The traditional NOBULL Trainer comes with SuperFabric which is a type of fabric that has strategic guard plates covering the core material. These guard plates are lightweight and help a ton with abrasion resistance which is why the NOBULL Trainer is also known for its overall upper durability.
The NOBULL Canvas Trainer has a thick upper canvas that is fairly rigid out of the box. This canvas feels like the big brother of the canvas that you get on most Vans and Converse shoes. It's heavier than the SuperFabric and is not the most breathable in warmer workout settings.
2. Different Sole Constructions
Another core difference between the NOBULL Trainer and NOBULL Canvas Trainer is their sole constructions. The NOBULL Trainer comes with a high-density foam midsole that has strategic rubber outsole wraps for increased durability. This shoe's sole feels similar to what you get with other top cross-training shoes.
The NOBULL Canvas Trainer has a thick rubber sole which I'd compare to the sole of what you get in most Vans models. It's a bit heavy and feels a tad clunky for plyometrics, running, and other power-focused activities. In regard to lifting, I like this sole, but it's not the most responsive for CrossFit workouts.
NOBULL Ripstop Runner Vs NOBULL Mesh Runner
We've discussed NOBULL cross-training shoes in this article, but what about NOBULL running shoes. Two popular NOBULL running shoes include the NOBULL Ripstop Runner and NOBULL Mesh Runner. I receive a fair amount of questions about both of these models and their subtle differences.
The Ripstop and NOBULL Mesh Runner both have similar core construction features, however, there are three differences that I think are worth knowing if you're debating between the two shoes.
1. Different Upper Constructions
The first between the Ripstop and Mesh Runner includes their upper and tongue construction differences. The Ripstop Runner features a lightweight ripstop material throughout the entirety of its upper and it breathes really well.
In addition, this material is super easy to clean which I personally like for running outdoors and tackling lighter gravel and dirt trails.
Best For
Casual Running
Walking and Daily Wear
Bodyweight Workouts
Falls Short
For Long-Distance Runs
For Cost-Efficiency
The Mesh Runner's upper construction has a slight edge for breathability compared to the Ripstop Runner and it stretches a bit more. The Ripstop Runner doesn't have nearly as much give or stretch as the mesh runner especially out of the box.
The tongues are also built slightly differently. The tongue in the Ripstop Runner is a bit softer in nature and has a tad bit more padding compared to the Mesh Runner. Personally, I like this for comfort purposes and you can more easily wear no-show socks with the Ripstop Runner without the tongue cutting up your ankles.
2. Different Outsole Tractions
Another difference between these two models is their outsoles and the traction they provide. Both of these running shoes utilize full rubber outsoles with lug patterning, but their patterning is slightly different.
For the Mesh Runner, the lugs are a bit smaller in nature and the outsole has a bit more "give" to it when it comes to maneuverability out of the box.
The Ripstop Runner's lugs are denser and the outsole as a whole feels a bit more rigid compared to the Mesh Runner. I think this is due to the slight bias for outdoor training that comes along with the Ripstop Runner.
Both models provide adequate traction for both indoor and outdoor runs, however, if you are primarily running outdoors, then I would consider the Ripstop Runner due to its outsole construction.
3. Different Heel-to-Toe Drops
Another difference between these two models is their heel-to-toe drops. As a runner, you likely have a preferred heel-to-toe drop that you enjoy running on. The difference between these two shoes is fairly minimalist, but it's a difference nonetheless.
NOBULL Mesh Runner Heel-to-Toe Drop: 7mm
NOBULL Ripstop Runner Heel-to-Toe Drop: 10mm
If you have additional questions on the NOBULL Runners, drop a comment below or reach out to me personally I'll answer whatever you have before you invest.
Best For
Casual Outdoor Runs
Treadmill Running
Daily Wear
Longer Walks
Falls Short
For Serious Running Workouts
For Wider Footed Runners
Why Are NOBULL Shoes So Expensive?
NOBULL shoes definitely tend to air on the more expensive side and I think this is due to two reasons. First, is NOBULL's branding and marketing. NOBULL does a really good job at cultivating a community through their marketing and usage of their NOBULL professional athletes.
Both of these, I think at least, influence the price of NOBULL shoes specifically, and make a majority of their gear a bit more expensive than other budget-friendly shoes on the market.
Second, NOBULL shoes are consistent and deliver consistent performance. This being said, I think once you've created certain products that have enough momentum behind them in regard to positive feedback from mass community usage, then you can leave price points alone. Thus, why I think the price of NOBULL shoes never really fluctuates.
However, please note, that these are only two of my thoughts and opinions. Everyone has their own idea and opinion as to why NOBULL shoes are so expensive and if they're worth it.
When was NOBULL Founded?
NOBULL was founded in 2104 by ex-Reebok employees Marcus Wilson and Michael Shaeffer. Per Marcus Wilson's LinkedIn page, NOBULL was officially founded in June 2014. However, NOBULL didn't start officially offering products to the public until 2015.
Frequently Asked Questions (FAQ)
Q:
What is the deal with NOBULL shoes?
A:
NOBULL has spent a lot of time and energy building out their athlete roster and brand that comes with a no gimmicks style approach. The resources spent on branding and building this core belief system have helped propel this brand to leave its mark in both the CrossFit and training shoe industry.
Q:
Are NOBULL shoes good for flat feet?
A:
The NOBULL Trainer and NOBULL High-Top Trainer are both good options for flat feet as their last is fairly wide and they come with removable insoles. This makes them great options for putting in your insoles and inserts that match your foot anatomy best.
Q:
What is NOBULL SuperFabric?
A:
SuperFabric is a type of material that comes in a variety of options. Essentially, it's a lightweight fabric that has additional layers of guard plates to promote overall abrasion resistance and long-term durability.
Q:
Can you run in NOBULL Trainers?
A:
You can tackle shorter runs in the NOBULL Trainer, but if you're doing mileage, then I'd recommend finding a shoe that's more specifically designed for longer runs. The high-density midsole of the NOBULL Trainer can get uncomfortable for long runs.
Have More NOBULL Shoe Questions?
As NOBULL continues to expand and dive into different product categories, it's been really cool seeing how their products have held up to others on the market. If you have any additional NOBULL shoe questions or how certain models perform, feel free to drop a comment below.
Also, if you have any NOBULL Trainer-specific questions that you'd like answered, you can also shoot me a message on Instagram and I'll help where I can (@jake_boly).
I buy and test the products featured on That Fit Friend using a regimen of training tests that I've developed over years of testing training shoes and gear. I may earn commissions on sales made through the links on my site.