More than likely you've seen lifters wearing Vans and Converse at the gym when doing things like squats and deadlifts. Originally, Vans and Converse were not designed for lifting, however, their 0mm heel-to-toe drops and fairly firm outsoles make them prime contenders for supporting heavy weight training, especially deadlifts.
If you've been on the fence between choosing Vans and Converse for your next lifting-friendly shoe, then you're in luck. I've broken down all of the essential need-to-know details between the Vans Authentic shoes and Converse Chuck Taylor All-Stars.
As a powerlifter, these are two popular shoe options that I'll rotate through for training purposes and have deadlifted up to 500 lbs in each model. In this Vans vs Converse article, we'll discuss multiple key categories for each shoe and how they compare.
If you're on the market for new cross-training shoes make sure you check out the That Fit Friend cross-training shoe finder. This calculator will match you with your perfect pairs.
Vans Vs Converse Workout Performance
To gather a full understanding of Vans and Converse in the gym, I'm going to break this performance section into a few key categories.
Best Shoe for Powerlifting (Deadlifting and Squatting)
Both Vans and Converse work for powerlifting-focused training and this is due to their 0mm heel-to-toe drop and firm outsole construction. For powerlifting, you need to excel in three exercises, the squat, bench press, and deadlift. Vans and Converse's zero-drop construction make them great contenders for deadlifting specifically as they help provide a flat surface to pull from.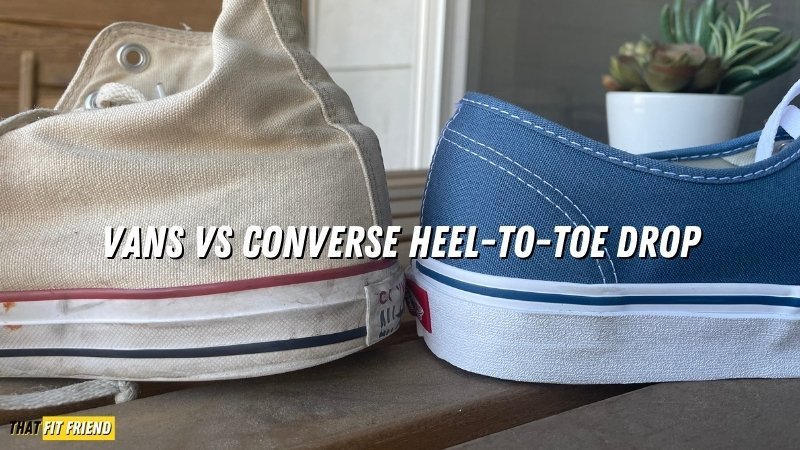 A flat and firm outsole allows you to root the feet better and really drive into the ground, hence why each of these models fair great for powerlifting-focused athletes. Personally, I do think the Converse Chuck Taylor All-Star shoes have a slightly firmer insole construction compared to most Vans models. This can make them a marginally better pick for anyone training with maximal loads.
In addition, some Vans models have a slightly higher stack height compared to Converse Chuck Taylor All-Stars, so when breaking down granular differences, Converse has a slight edge when it comes to powerlifting.
Winner: Converse, but not by much. However, powerlifting is a game of inches and little details can matter.
Converse Chuck Taylor All-Star
Best For
Powerlifting
Heavier Strength Training
Recreational Lifting
Deadlifting
Falls Short
For Versatile Training
Long-Term Durability
Best Shoe for Overall Performance
From a recreational lifting point of view, Vans and Converse are fairly neck and neck. The general Converse Chuck Taylor All-Stars feature a canvas upper which is fairly durable across the board and will usually last a few months before breakdown issues are experienced. My Converse typically lasts 6-8 months before I notice any signs of upper construction breakdown.
Most Vans models come with either a canvas, suede, or leather upper. The canvas upper is the most commonly used in Vans' shoes in the gym and is similar to the Converse in regard to long-term durability. My Vans last about 6-8 months before the upper stretches from lifting or the stitching starts to fray.
Suggested Read: My top 5 favorite cross-training shoes for deadlifts.
As for stability, I think both of these models will perform fairly equally for the general lifter. The Vans do have a slightly more cushioned insole, but overall, I don't think this will impact the recreational lifter in a negative way and may actually be more comfortable for regular wear.
Winner: Tie. Both models have similar upper durability for recreational training and the Vans may be a more comfortable option overall.
Vans Vs Converse Durability
When it comes to durability, it's to select a true winner between Vans and Converse. Each model has very similar core construction features and neither of these shoes is technically designed for lifting-focused wear, so in this context, their durability can be slightly skewed compared to those who wear these models on a day-to-day basis.
The most common Vans and Converse models that are worn in the gym generally feature canvas uppers. Canvas is fairly durable on a daily basis, but in the gym, it can be prone to ripping and stretching. If you've ever worn a pair of Converse for a while, then you've likely noticed how the medial upper material starts to collapse from constant stress and daily wear.
When squatting and deadlifting a lot of weight, the canvas that surrounds the boots of these shoes can be prone to stretching and ripping. I've had a pair of Converse rip at the boot and a pair of Vans start to rip around the upper part by the big toe. In both of these cases, this was around the 8-month mark of religious wear with the shoes.
Winner: Tie. Both models are good for about 6-8 months which makes sense when you consider their price point and that they're not really designed for the gym.
Vans Vs Converse Sizing
For performance and durability, both Vans and Converse are fairly similar, however, for sizing this is not the case. If you're buying these shoes for primarily lifting and daily wear, then you'll want to get the sizing right for comfort and performance purposes.
Before buying, I also suggest checking out what Vans and Converse say in their product details about sizing as this can also help you decide what size to go with.
Vans Sizing Thoughts
For the general pair of Vans, most should be safe going true to size. Most Vans fit fairly true with their length and typically have a medium width throughout the toe and mid-foot.
That being said, if you're new to Vans, they may feel a little narrow through the mid-foot, so expect that when grabbing a pair. Generally though, the canvas upper will stretch a bit and break-in so this is usually not the biggest deal for most.
Sizing Thoughts: Go true to size, but if you have a wider foot, then you may want to up a half size.
Converse Sizing Thoughts
Converse can be a pain to get right when it comes to sizing especially if you're new to wearing them. For most folks, you'll want to size down a half size to a full size. This will help you not feel like you're swimming in the toe box, and you won't look like you're wearing clown shoes.
Converse can feel fairly slim through the mid-foot similar to Vans, but they do stretch out over time, so give them a few sessions and they'll likely start to form fit your foot a bit better.
Sizing Thoughts: Size down a half to full-size. If you generally have a good amount of room in the toes in your normal shoes, then go a full size down.
Vans Vs Converse Comfort
Overall, both of these shoes are okay from a comfort standpoint. They're obviously not going to be the most forgiving for long-duration wear due to their firmer outsole construction and low heel-to-toe drops, but they do okay.
Plus, over the last few years, Converse, which is now owned by Nike has had their insoles slightly reworked to provide a bit more responsiveness and comfort for longer-term wear. Converse can be worn to run errands in and for lifting sessions and they'll be decently comfortable. I would not recommend them for long walks or all-day wear though.
Similar to Converse, the Vans Authentic shoes have a decently responsive insole. In my opinion, the Vans insole is a bit more cushioned than the Converse, so they do have a slight edge for comfort. Still, though, I wouldn't recommend wearing Vans for long-term wear or standing all day in.
Winner: Tie. Both models are okay for shorter duration wear and lifting but fall short for all-day wear.
Vans Vs Converse Price
The positive about rocking Vans and Converse in the gym is that their price points are fairly similar. For this article, I chose two of the most popular options worn from each company, the Vans Authentic and Converse Chuck Taylor All-Stars.
Both of these shoes are fairly consistent with price and that's a good thing since their durability can be a little spotty at times. For either of these models, you can expect to pay between $45 USD and $60 USD.
Best For
Powerlifting
Heavy Weight Training
Recreational Lifting
Falls Short
For Versatile Training
For Long-Term Durability
Wrapping Up
The Vans Authentic shoes and Converse Chuck Taylor All-Stars are both popular training shoes for lifters everywhere. Truthfully, they're both very similar and if we want to get granular, then I do think the Converse Chuck Taylor All-Stars take a slight edge for stability.
If you have any questions on these two models, please feel free to drop a comment below or reach out via Instagram (@jake_boly)!
That Fit Friend is a site that is supported by myself (Jake Boly) and its readers. If you purchase products through affiliates links on this site, then I may receive a small commission on the sale. These commissions help keep the lights on here at That Fit Friend so I can continue to create content and they help me purchase new models to review!