When discussing topics like footwear choice for weight training and working out it's always important to discuss context. If you're someone who's into weight training, then you've likely heard something along the lines of, "flat shoes are better for lifting". Shoes that are flat will provide a few key benefits for working out, but they're not necessarily always superior to other footwear choices.
Some classic and popular examples of flat shoes that are often used for lifting include barefoot shoes, Converse Chuck Taylor All-Star, and Vans. All of these models have a 0mm heel-to-toe drop and they can be exceptional choices in the gym based on the context and goals of your training.
In this article, I'm going to discuss everything that you need to know about using flat shoes for lifting. Are they right for you based on your training?
On the market for new deadlift shoes? Check out my Best Deadlift Shoe round-up breaking down my favorite shoes for a variety of training needs, goals, and contexts.
What Are Flat Shoes for Lifting?
When lifters refer to flat shoes for working out they're referencing shoes that have flat outsole and midsole constructions. This means that the flat shoes for lifting will have a 0mm heel-to-toe drop or offset, which means that the heel is sitting at the same height as the forefoot and toes.
Note, shoes with 0mm heel-to-toe drops will vary in regard to their stack height. For example, if you look at a Converse Chuck Taylor All-Star's midsole and outsole and compare them to a barefoot shoe, then you'd notice that they look pretty different despite their heel-to-toe drops being the same.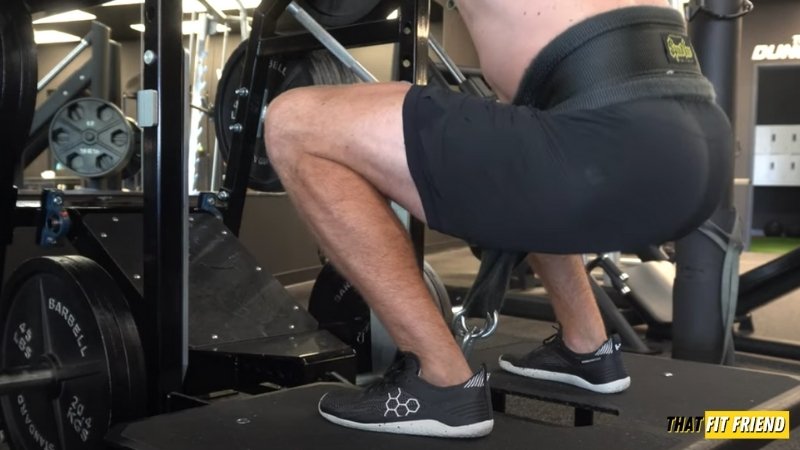 Stack Height refers to the amount of material that separates the foot from the floor. For a practical example, a barefoot shoe will have a lower stack height compared to something like a Vans Authentic.
That being said, when we reference flat shoes for lifting we're specifically talking about the shoe's offset and not their stack height. If a shoe is placing the foot into a flat position despite their stack height, then we'd define them as flat shoes in this context.
Why Use Flat Shoes for Lifting?
Flat shoes can offer a few distinct benefits for lifting based on how you train. It's important to note that a flat shoe's benefits and best uses will vary from athlete to athlete. For this article, I'm going to discuss why recreational lifters and normal gym users would use flat shoes.
1. Flat Soles May Help With Stability
Flat shoes tend to have wider surface areas than traditional training shoes. If you're tackling lower body workouts and exercises, then you may find that you like how flat shoes and their soles feel when training. Their flatter soles tend to allow the foot to fully splay and spread to grip the floor below you when training.
If we have a wider base when training, then we can potentially improve our stability as a whole. You'll see this reflected most in squats, deadlifts, and other static strength and machine-based exercises.
2. Flat Construction Support Certain Exercises
For exercises like deadlifts and Romanian deadlifts, a flat foot position can help improve your exercise mechanics. In these exercises, a flat foot position will be more optimal because if we had something like an elevated heel, then we would alter the mechanics of these exercises.
A flat foot position will better allow you to root the feet and remain balanced. If you're working on deadlifts and deadlift variations, then flat shoes are often a go-to for most recreational lifters due to their performance-supporting properties. This is also why it's not a great idea to deadlift in weightlifting shoes if you're not a weightlifting athlete.
Why Are Flat Shoes Better for Lifting?
Flat shoes are not necessarily better for lifting, but they can certainly be helpful for some lifters. If you enjoy training with a flat shoe and don't necessarily need a shoe for assisting with ankle mobility, then in your case, flat shoes can certainly be better for lifting.
That being said though, there is always context needed and flat shoes are not inherently better than cross-training shoes, weightlifting shoes, or any shoe that has a slightly higher heel-to-toe drop.
I do think there are scenarios when flat shoes can be better for lifting, but again, this is contextually based on your preferences and goals with training. Below are some scenarios in which flat shoes can be useful.
Deadlift-Focused Training: Flat shoes can be great tools for supporting the specific demands of deadlifts.
Static Lower Body Training Days: If you're tackling machine work or doing more static lower body strength work, then you may enjoy how a flat shoe feels for this style of training.
Outside of those two scenarios, flat shoes are not necessarily inherently better than other training shoe options. There are times and places in which some shoes can be more useful than others based on one's performance goals.
Are Flat Shoes Bad for Lifting?
Flat shoes are not inherently bad for lifting by any means. They will change movement mechanics slightly for certain exercises and they may not align super well with your training goals, but this does not mean they're "bad" for lifting.
When we elevate the heel with a shoe, then we're going to change our movement patterns slightly. The more drastic our shoe's offset or heel-to-toe drop is, then the more drastic we'll see changes in our lifting mechanics. With a higher heel-to-toe drop we'll see changes in our ankle mobility demands which will then shift our movement patterns up the kinetic chain.
Let's look at a couple of practical examples in which flat shoes are not "bad", but they may not be the most optimal footwear choice based on the training context.
1. Struggling With Achieving Squat Depth
If you're having trouble squatting to depth and you're using a flat shoe, then you may want to opt for adding a heel wedge or using a weightlifting shoe. By using an elevated heel, we'll shift the ankle mobility demands needed for achieving squat depth.
If you have lacking ankle mobility, then flat shoes may be problematic for your squat sessions because you need more ankle mobility to perform strongly in these shoes.
2. Tackling CrossFit Workouts
For CrossFit workouts, you'll likely feel more comfortable using a training shoe with a lower heel-to-toe drop. This slight heel elevation can be useful for the vast and expansive demands of CrossFit workouts.
For example, if you're performing wall balls, box jumps, squats, and double-unders in a workout, then you'll likely want a shoe that will help you stay on your toes when you need to and assist with ankle mobility. In this context, some flat shoes can feel clunky and heavy.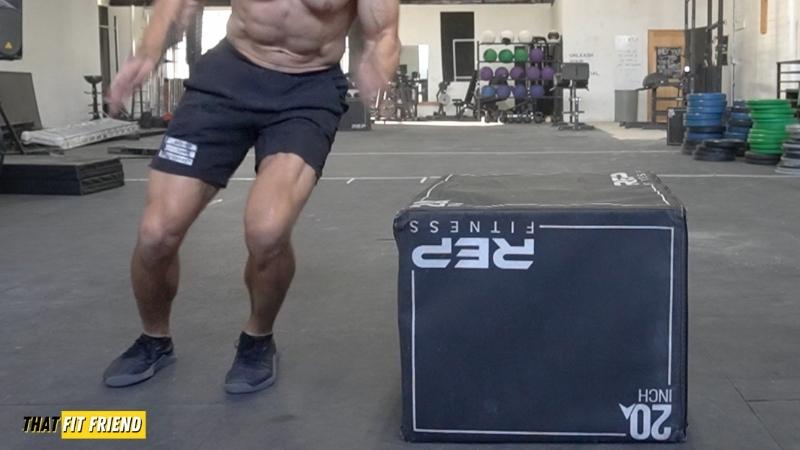 3. Performing Snatches and Clean & Jerks
If you're getting into weightlifting, then you'll likely learn fast that you want an elevated heel to assist with the demands that come along with the snatch and clean & jerk. In the catching phases of these exercises, you're going to want and need a more upright torso position for balance and movement execution.
For this context, you'll want a pair of weightlifting shoes as they'll assist with the ankle mobility demands needed when performing snatches and clean & jerks and catching weight in the bottom position.
What Is the Difference Between Flat Shoes and Lifting Shoes?
The main difference between flat shoes and lifting shoes (weightlifting shoes) is the heel elevation that each shoe comes with. There are differences including lacing style and outsole materials used, but the main difference that I'm going to discuss in this article is their heel heights and the different positions these shoes put your feet in.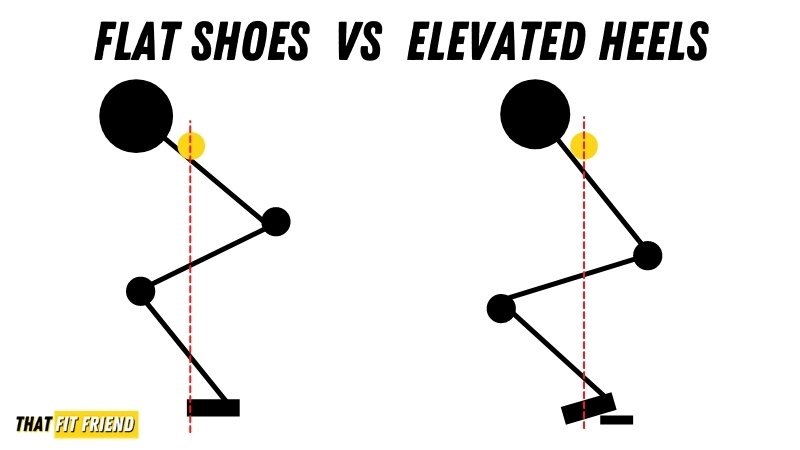 When we elevate the heel when working out, we create an environment that can facilitate more shin angles, which translates to these shoes assisting with our ability to track the knees over the toes. For squat depth and lower body exercises where depth and range of motion are desired, then these shoes can be more useful tools.
For example, if you're a taller lifter or have trouble with the mobility demands required for lower body exercises when wearing flat shoes or lifting barefoot, then you'd want to opt for a shoe that has a heel that will assist with your training goals and demands.
Weightlifting shoes with elevated heels do not increase ankle mobility, however, they do help create an environment that better facilitates dorsiflexion which flat shoes will be limited with.
Best Flat Shoes for Lifting
If you've decided that flat shoes are useful for your training and lifting needs, then you're likely wondering, "What are the best flat shoes for lifting?" As a powerlifter and strength athlete, I've tried countless flat shoes for my lifting and these are my current four favorites.
1. Vivobarefoot Primus Lite III
If you like barefoot shoes and want a model for lifting, then it's tough to go wrong with the Vivobarefoot Primus Lite III. This shoe has a wide construction which is awesome for accommodating toe splay and allowing you to really grip and feel the floor below the feet.
The outsole has good traction to it and if you're training on machines, rubber gym floors, or wooden platforms, then you shouldn't have too many issues with slippage. Another perk of this shoe is how breathable and lightweight the upper construction is.
This shoe is also a solid option due to it being great for daily wear and other forms of training. If you prefer to train in barefoot shoes over training shoes and also want a model that has a clean and simplistic look to them, then I'd say go with the Primus Lite III.
Best For: Heavy Lifting and Barbell Training
Heel-to-Toe Drop: 0mm
Weight: 8.85 oz
Removable Insole: Yes
Sizing: True to Size, but there are no half sizes (except for 12.5)
Read My Review: Vivobarefoot Primus Lite III Review
Vivobarefoot Primus Lite III
Best For
Heavy Weight Training
Daily Wear
Casual Workouts
Lighter Runs and Athletic Training
Falls Short
For Cost-Efficiency
For Longer Barefoot-Style Running Workouts
2. Converse Chuck Taylor All-Star
When it comes to tried and true flat shoes for lifting, it's tough to beat the Converse Chuck Taylor All-Star. This shoe has been used by lifters for years and delivers consistent performance and construction for a fair price.
Personally, I like the Converse Chuck Taylor All-Star high-top models because the additional upper construction on the boot provides a nice additional layer of material for ankle support. Plus, I think the high-top model looks better for daily wear compared to the low-top addition.
The stack height on Converse is not the best when compared to barefoot shoes, however, if you're a recreational lifter or beginner looking for a flat shoe for lifting, then this detail likely doesn't matter too much for the context of your training needs.
Best For: Recreational Lifting and Casual Deadlifting
Heel-to-Toe Drop: 0mm
Weight: 14.3 ounces (size 10 high-top model)
Removable Insole: Technically yes.
Sizing: Size down a half size to full size.
Read More: Converse Vs Vans
Converse Chuck Taylor All-Star
Best For
Powerlifting
Heavier Strength Training
Recreational Lifting
Deadlifting
Falls Short
For Versatile Training
Long-Term Durability
3. Vans Canvas Sk8-Hi
If you're not a Converse fan, then you may want to explore some of the Vans models. One of my favorite Vans shoes for lifting is the Vans Canvas Sk8-Hi. This shoe delivers a consistent fit and has a durable canvas upper construction.
Similar to other Vans models, this shoe has a full rubber sole that doesn't compress under heavier loads when lifting. I also like the waffle tread patterning on this model due to its ability to provide adequate traction on different gym floors and machines.
If you like high-top models, then the Canvas Sk8-Hi is definitely a model to consider for lifting. Compared to Converse, I also think this shoe has a slight edge for long-term durability.
Best For: Lifting, Skating, and Daily Wear
Heel-to-Toe Drop: 0mm
Removable Insole: No
Sizing: True to Size
Best For
Bodybuilding
Powerlifting
Recreational Training
Daily Wear
Skating
Frequently Asked Questions (FAQ)
Q:
Are flat shoes bad for lifting?
A:
Flat shoes are not bad for lifting and they can actually be beneficial based on your lifting goals. If you're deadlifting or doing lower body workouts, then you might find that you enjoy how flat shoes feel for lifting.
Q:
Why are flat shoes good for lifting?
A:
Flat shoes can be good for lifting because their flatter and wider soles can be beneficial for balance and stability. Additionally, flat shoes can be great footwear options for deadlifts and deadlift variations.
Takeaway Thoughts
Flat shoes can be awesome footwear options for lifting based on your training goals and needs. If you're a recreational lifter that likes having a flatter foot position for lower body workouts and exercises, then you may want to consider having a pair of flat shoes in your shoe lineup.
If you have any questions about flat shoes for lifting or any of the shoes discussed in this article, drop a comment below or reach out to me personally via Instagram (@jake_boly)!
I buy and test the products featured on That Fit Friend using a regimen of training tests that I've developed over years of testing training shoes and gear. I may earn commissions on sales made through the links on my site.