NOBULL continues to innovate their shoes and build out more models for tackling different training settings. The NOBULL Ripstop Runner is one of the more popular NOBULL running shoes. As a fan of the NOBULL High-Top Trainer and NOBULL Trainer, I was curious, how would NOBULL's running shoes really perform?
To be honest, I wasn't the biggest fan of the NOBULL Mesh Runner, and out of the box, the NOBULL Ripstop Runner has a fairly similar construction. However, after testing these for multiple runs, I do think they're a stronger running shoe compared to Mesh Runner. There are still certainly some drawbacks to this though, which I'll discuss in detail below.
In this NOBULL Ripstop Running review, I'm going to break down all of the key details that you need to know about this running shoe before investing.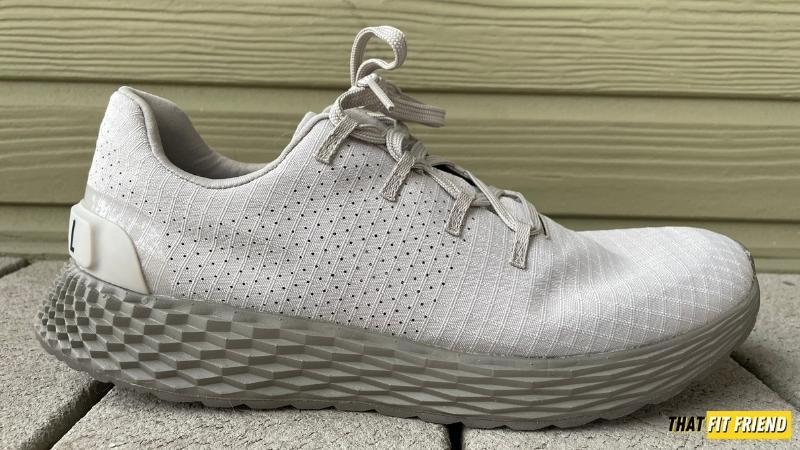 On the market for new cross-training shoes? Make sure you check out my TF2 Cross-Training Shoe Finder. This calculator matches you with cross-training shoes that I've reviewed that match your training needs best.
Who Should Invest In the NOBULL Ripstop Runner?
If you love supporting NOBULL and enjoy their style of product, then you'll likely enjoy the NOBULL Ripstop Runner. This running shoe delivers a high-rebound phylon foam midsole that provides an adequate level of responsiveness when tackling casual running workouts and longer walks.
The rubber lug patterning on the outsole also makes this a fairly good running shoe for tackling indoor and outdoor runs. This model is definitely best served for more casual runners and I could see this being a good option for the NOBULL fan that wants to swap from their NOBULL Trainer to a NOBULL running shoe for consistency purposes.
Best For
Casual Outdoor Runs
Treadmill Running
Daily Wear
Longer Walks
Falls Short
For Serious Running Workouts
For Wider Footed Runners
NOBULL Ripstop Runner Pros
There are a few standout pros with the NOBULL Ripstop Runner that I could see both NOBULL fans and casual runners enjoying about this shoe.
Ripstop Upper Breathes Fairly Well
Midsole Provides a Bit More Stability
Good Model for Daily Wear and Casual Training
The first thing to like about the NOBULL Ripstop Runner is that the upper in this model breathes fairly well. Ripstop is a lightweight material known for being resilient to abrasion and other outdoor elements that you could run into with this shoe (literally). The lightweight build of this shoe's upper gives it a nice cool feeling which is nice for warmer days and runs.
Another perk to the ripstop upper is that it's easy to spot-clean. If you plan to wear these for daily wear, on casual trails, or exclusively for outdoor runs, you should have no problems cleaning these shoes.
Must Read: NOBULL Shoes Guide | How to Clean Them, Where to Buy, and More!
If you like having running shoes with slightly more stable midsoles, then I also think you'll enjoy this shoe. It doesn't have the same plush ride as some of the other thicker midsole running shoes on the market. If you're a fan of more rigid running shoes, then the Ripstop Runner will be a good fit for you.
Another perk to the NOBULL Ripstop Runner is that it can serve as a good daily wear and hybrid workout shoe as well. Not every running shoe can be worn on a casual basis, but with its simplistic design and easy-to-clean upper construction, I do think the Ripstop Runner fits this bill fairly well.
Additionally, since this running shoe is a bit more rigid, it can also serve as a solid running shoe for tackling hybrid workouts. If you like to do some bodyweight training and lighter lifting in your running shoes, then you should have no problem doing so in the NOBULL Ripstop Runner.
NOBULL Ripstop Runner Cons
The NOBULL Ripstop Runner is not as strong of a performer as some of the other NOBULL shoes I've worn for cross-training and lifting.
Price Point Isn't Great
Might Be Too Rigid for Some
Boot Can Cause Blisters
The first drawback to the NOBULL Ripstop Runner is that their price point isn't great especially for what you get. At a price of $149 USD, these are slightly more expensive than other drop running shoes and they don't really have any running-focused tech in them, which makes me wonder why their price is slightly higher (well…it's NOBULL, duh).
That being said, I think you could definitely find other running shoes with lower price points that have more to them than what the Ripstop Runner offers. Truthfully, it's hard for me to get behind this shoe's price when I have models that cost $20 USD less and perform better across the board with better signs of durability.
The second drawback to these shoes is that their midsole is fairly rigid and takes a while to break in. Some runners enjoy having a firmer shoe, but if that's not you, then I don't think you'll enjoy this model. Yes, the more firm structure of this shoe could be a good thing for some, however, it could equally be a turnoff for others.
Don't get me wrong, the high-rebound phylon (which is a twice foam EVA) provides some cushion and it's not like running on concrete. My concern revolves around those that are used to something like a Nike React Foam or Reebok Energy Foam which is much more plush and forgiving.
The last con with this shoe is how rough it can be on Achilles. My Mesh Runner still has a blood stain from their boot cutting up my heel and with the Ripstop Runner I noticed similar friction, but got ahead of it and put on long socks from their first wear. That being said, save yourself the trouble and rock longer socks when breaking these to avoid heel friction and blisters.
Performance
To properly break down the NOBULL Ripstop Runner's performance, I'm going to discuss how this performs in a variety of running and training contexts.
NOBULL Ripstop Runner for Sprints and Short Runs
For sprints and short runs, I like the NOBULL Ripstop Runner as a whole. They're not going to be the best running shoe for serious sprint-focused athletes or 5k runners, but if you're implementing this form of training casually on a weekly basis, then I think this shoe's construction will work for you.
The slightly more stable construction of this actually helps it perform slightly better in this context, in my opinion. You get a nice level of pop from this shoe's toe box when picking up your pace and the outsole grips well to so you won't have any issues with traction if you're training on pavement, tracks, or treadmills.
Must Read: 8 Best CrossFit Shoes In 2022 | Picks for Flat Feet, Rope Climbs, and More
NOBULL Ripstop Runner for Mid-Range and Long Runs
For longer runs, this shoe is hit or miss for me for two key reasons. First, I don't think everyone will enjoy this shoe's midsole construction and how stable they are especially when initially breaking them in. This shoe is much more stable than many other running shoes on the market.
For example, if you were to compare these to a running shoe like an Adidas Adizero Boston 10, then you'd quickly realize that each shoe's fit and ride are very different from one another. If you like a plusher running shoe to run on especially for long distances, then I think the Ripstop Runner will be a miss for you.
Second, this shoe can beat up your Achilles especially for your first few longer runs. I noticed this right away when testing these so I would highly suggest wearing longer socks when breaking these in. Their boot construction is pretty rough and I worry more so for anyone with smaller feet where the upper portion of the boot's cup will be sitting higher on the Achilles.
NOBULL Ripstop Runner for Daily Wear and Working Out
One of the perks of this shoe's slightly more stable midsole is that you can technically train in them without a ton of compression issues if you're doing lighter workouts. If you want to wear these for hybrid workouts at the track where you're running, doing some light lifting, and bodyweight work, then these will function really well for you.
Additionally, I like this model for daily wear when they're broken in. After the quite frustrating break-in period, these are pretty solid for day-to-day wear. They're comfortable, supportive, and the ripstop upper has a nice clean and simplistic look to it. You can't wear every pair of running shoes on a daily basis due to their appearance, but these are pretty good in this context.
NOBULL Ripstop Runner Sizing
For the NOBULL Ripstop Runner, I think most runners and athletes will be safe going true-to-size in this shoe. The length fits true, but I could see the slightly more narrow midfoot being an issue for those with wider and flatter feet.
That being said, if you fall into the wide or flat foot category, then you may want to size up a half size or skip on this model as the last construction may not align super well for your foot anatomy.
NOBULL Ripstop Runner Sizing Thoughts: Go true-to-size unless you have a wide or flat foot. In this case, you may want to explore different running shoe options that better align with your anatomy.
If you have additional questions on the NOBULL Ripstop Runner's sizing, drop a comment below or reach out to me personally.
NOBULL Ripstop Runner Vs NOBULL Mesh Runner
The core construction of the NOBULL Ripstop and Mesh Runner are fairly similar. Each shoe has a similar midsole build that is made with a high-rebound phylon and each shoe has a similar full rubber lug-patterned outsole construction and build.
The two bigger differences between the two shoes include their upper construction and heel-to-toe drop. As their names suggest, the one major visual difference between these two shoes is what their uppers are made out of. The Ripstop Runner has a full ripstop upper which is lightweight and breathable and is a bit more suited for outdoor runs.
The Mesh Runner features a highly breathable and maneuverable mesh. This model gives you a lot more wiggle room in regard to shoe volume so if you have your own orthotics that you wear, then this shoe would definitely be better suited for your needs.
Another difference between the Ripstop and Mesh runner is their heel-to-toe drops. In the Ripstop Runner, you're going to get a 10mm heel-to-toe drop while in the Mesh Runner you'll get a 7mm drop. If you're prone to overstriding and need a bit more heel to mitigate the impact from the ground, then the Ripstop may be a slightly better call for your running needs.
Outside of those two characteristics, they also both utilize different lacing systems and their tongues are slightly different.
Personally, I prefer the Ripstop's tongue a bit more due to its softer nature. The tongue on the Mesh Runner can tear up your feet at times especially if you have higher arches and you're wearing no-show socks.
The last difference is their tread patterning on their outsoles. The Ripstop Runner's outsole's patterning is much more dense and you can tell it's more geared towards outdoor training which could also further help you decide which model is best for you.
Price Breakdown
For the NOBULL Ripstop Runner, you can expect to pay $149 USD. Personally, I'm not a huge fan of this price point and I feel like for the money you can probably find a more dialed-in running shoe.
This shoe is a relatively no-frills running shoe, which I know some really like, but personally, if I'm spending that much on running shoes, then I want a shoe with a bit more running technology to it. Plus, this model's stable nature may not align with everyone's running style especially those that want plusher running shoes.
Best For
Casual Outdoor Runs
Treadmill Running
Daily Wear
Longer Walks
Falls Short
For Serious Running Workouts
For Wider Footed Runners
Construction Details
I've mentioned this above, but there's not a lot to the NOBULL Ripstop Runner's construction. Similar to NOBULL Trainers, this model has a pretty simplistic design and construction which many NOBULL fans love.
Below are some of the biggest construction callouts for the NOBULL Ripstop Runner that can play a role in this shoe's performance.
Heel-to-Toe Drop: 10mm
Weight: 11.1 oz (for my size 10 model)
Removable Insole: Yes
Ripstop Upper Construction
Phylon Midsole
Full Rubber Outsole
Lug Patterning On Outsole
Four Eyelets
NOBULL Branding On the Heel
If you have additional questions about the NOBULL Ripstop Runner or Mesh Runner, reach out and I can answer whatever you have accordingly.
Frequently Asked Questions (FAQ)
Q:
Are NOBULL shoes good for running?
A:
The NOBULL Ripstop and Mesh Runner are both okay options for the casual runner wanting to train indoors and outdoors. These shoes feature a high-rebound phylon foam midsole which provides a fair amount of cushion and responsiveness.
Q:
Do NOBULL running shoes fit true to size?
A:
Yes, the NOBULL running shoes fit true to size. However, some runners with wide feet may find them to fit a tad narrow, so they may want to skip these shoes. Additionally, the boot and tongue can be a little rough when breaking these shoes in.
Takeaway Thoughts
The NOBULL Ripstop Runner is a good running shoe for the casual runner that wants a slightly more stable rider under them. Personally, I could see these being a hit for NOBULL fans who want to swap from their NOBULL Trainers to these for a consistent NOBULL fit and feel.
This model is certainly not the best running shoe on the market, so if you are only concerned with performance, then you may want to look into other running shoes.
If you have any questions about the NOBULL Ripstop Runner, drop a comment below or reach out to me personally via Instagram (@jake_boly).
I personally test every product featured on That Fit Friend using a regimen of training tests that I've developed over years of testing training gear. I buy the gear I test and may earn commissions on sales made through links on my site.