Whether you're just starting your workout journey or you're looking to expand your shoe collection, it can be a good idea to understand what types of shoes will be best for your individual training.
Even from my coaching and shoe review perspective, I think it can be a daunting task to try and navigate the endless information out there covering different types of shoes. So, if you feel overwhelmed, you're not alone and it's okay.
We all work out and exercise in different ways and when you factor in our individual preferences, wants, needs, and anatomical differences, it makes sense why finding the perfect pair of shoes can make heads spin at times.
In this article, I'm going to cover four different types of shoes that are commonly used for working out and I'll discuss when and why you'd want to use each. I'll also cover why it's a good idea to have different shoes for different training contexts.
On the market for new cross-training shoes? Try out my Cross-Training Shoe Finder. This calculator matches you with the best workout shoes for your individual needs.
What to Ask When Looking for New Workout Shoes
When navigating the topical ask of, "What to look for in your workout and training shoes," I always suggest approaching this topic from a top-down point of view with two key questions.
These questions will essentially make up the foundation of what you should be looking for in different shoes for working out. As you get more niche and serious with your training, you'll then expand on this foundation as you learn more about your preferences and style of training.
I like to think of workout shoes as tools, and like any great contractor, you have to understand what you're working on before you select your lineup of tools. Hence, why answering these three questions is the first step to finding and understanding the different types of shoes for working out.
Question 1: What Does Your Week of Training Look Like?
The first question to ask yourself is how you plan to work out and train on a weekly basis. Once you can break this down and answer this question, you can then start to look into the shoe designed for your type of training.
This question can be important for anyone that wants just one pair of shoes for working out or someone (like myself and other athletes/lifters) that plan to rotate their footwear throughout the week. Below are three common examples.
Athlete/Lifter 1: Plans to do mostly lifting in their shoes with a blend of strength and hypertrophy work. They're not super specific with their lifting goals, as in they're not training for a strength sport, and they like to do a little versatile training, too.
The Shoes They Should Explore: Cross-training shoes will typically be the best style of shoe for this particular individual. They're stable enough for most lifting contexts and they can work for versatile workouts and short runs that are added into one's training here and there.
Examples of This Style of Cross-Training Shoe: Reebok Nano X3, TYR CXT-1 Trainer, Nike Metcon 8, STR/KE MVMNT Haze Trainer, R.A.D ONE, and UA TriBase Reign 5.
Athlete/Lifter 2: Plans to do some light strength work, some pre and post-workout short runs, and a lot of HIIT workouts/classes every week and wants a pair of training shoes that can do all of this.
The Shoes They Should Explore: Cross-training shoes with a versatile bias to their construction. These will typically be non-specific cross-training shoes with thicker midsoles and lighter upper constructions to accommodate the versatile training demands.
Examples of This Style of Cross-Training Shoe: UA HOVR Rise 4, Nike Zoom Metcon Turbo, York Athletics Frank Trainer, On Cloud X 3, and Altra Solstice XT 2.
Athlete/Lifter 3: Is very specific with their training goals and regularly rotates workouts each week. This individual blends CrossFit workouts with heavy barbell/weightlifting sessions and likes to run.
The Shoes They Should Explore: If you're at a point in your training career where you're really niching down on your training, then you'll likely want to explore different types of footwear based on your training demands.
Examples of Shoes for Weightlifting-Focused Sessions: Reebok Legacy Lifter 3, ANTA 2, UA Reign Lifter, Nike Romaleos 4, and TYR L-1 Lifter.
Examples of Shoes for CrossFit-Focused Sessions: Reebok Nano X3, R.A.D ONE, STR/KE MVMNT Haze Trainer, TYR CXT-1 Trainer, and Nike Metcon 8.
Examples of Shoes for Running-Focused Sessions: Inov-8 Fly G 295, Nike Pegasus 39, TYR RD-1 Runner, and Altra Escalante 3.
Examples of Shoes for Barbell/Deadlift-Focused Sessions: Vivobarefoot Primus Lite III, Tolos Archetype 1.0, and Xero Shoes 360.
I know, the above can seem like A LOT and I don't want you to feel like you have to invest in a ton of different shoes if you do like to vary your training. I'll expand on the why behind each footwear style below so you can better understand if you should actually get a certain shoe for your training.
After you've broken down your weekly training and you have an idea of your training goals, which will lead you to the types of shoes you should explore for working out, you'll then want to explore the type of fit you're after.
Question 2: What Type of Foot Do You Have?
There are a lot of benefits in knowing the anatomy of your foot as shoes and their fits can vary greatly. For example, knowing things like if have a wide foot, have high arches, or need more ankle support, can all be incredibly important to know in your footwear journey.
A lot of these fit preferences will come after trial and error with different shoes and how you train. This means that you may not know you prefer and need more ankle support until after you've hit a few sessions where you're doing lateral work.
If you're unsure about the width of your feet, I'd suggest either going to a shoe store and having an employee size your foot for you or measuring your foot at its widest part, then cross-referencing your measurement with a company's sizing chart (sizing charts can vary, FYI).
When it comes to your foot, I think there are four key things to ask and think about when looking into new shoes. These five can help greatly narrow down what shoes will work for you when searching which is also great for combatting feeling overwhelmed.
Foot Width: How wide is your foot? Do you need a wider toe box?
Arch: Do you need more or less arch? Do you have a flatter foot?
Foot Thickness: Do you need more upper volume?
Ankle Support: Do you like/need a rigid boot or does it matter?
While there are countless factors to consider when assessing your feet, these are the big four that I constantly get asked about on review content that can be worth knowing. Plus, these can serve as a great starting point when searching for new workout shoes.
Four Different Types of Workout Shoes
When it comes to working out, there are four different types of shoes that lifters and athletes will reach for. These four shoes include cross-training shoes, weightlifting shoes, running shoes, and barefoot shoes.
1. Cross-Training Shoes
Cross-training shoes will be your "best-of-all-worlds" style of workout shoe. This type of shoe is designed to tackle activities like lifting, versatile training, HIIT, and even short runs, so you'll want to wear them if you vary your training.
Generally speaking, most individuals can't go wrong with a good pair of cross-training shoes for their workouts. This style of footwear will be better than something like a running shoe for lifting and versatile training and will typically be designed to be more durable.
Every cross-training shoe will vary slightly regarding its construction and this is why it's a good idea to understand how you plan to train. For example, some cross-training shoes will have denser and more stable midsoles while others will be more plush and responsive.
While there are a lot of construction nuances and details that go into cross-training shoes, I want to highlight the big three that every good cross-training shoe will have.
Denser Midsoles: Cross-training shoes will come with a range of midsole densities that will promote either more stability or responsiveness. Generally, the midsoles used in cross-training shoes will run more densely to promote stability.
Rubber Outsoles: Unlike running shoes that can have exposed foam to save on weight, most cross-training shoes will have nearly full or full rubber outsoles to promote traction and long-term durability.
Reinforced Uppers: The upper constructions used in cross-training shoes should do two things, 1) promote foot security when lifting and doing multi-direct work, and 2) support long-term durability.
The combination of these three construction features is what makes cross-training shoes a great option for anyone that likes to do a little bit of everything in the gym. These features will ebb and flow as you get more specific with your training.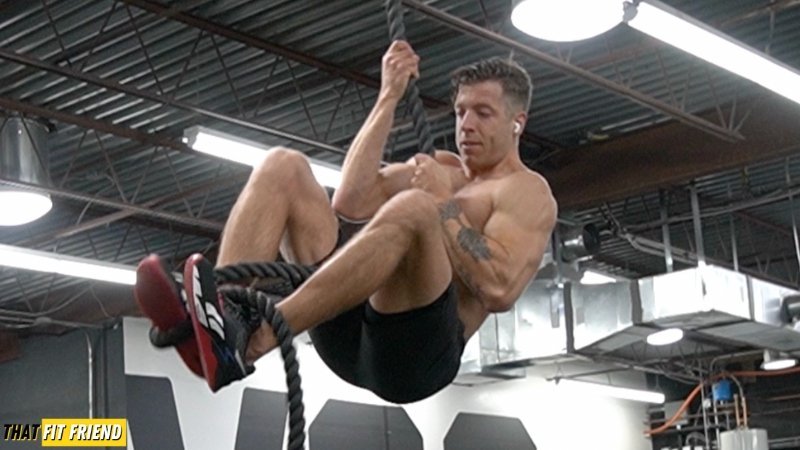 For example, a good CrossFit shoe will be built to be more durable than a cross-training shoe designed for HIIT and general workouts. This is why it's, again, a good idea to understand your individual training needs.
2. Weightlifting Shoes
Weightlifting shoes are a specific type of footwear designed to promote performance with squats, snatches, and clean & jerks. These are not shoes that you'll want to wear for your entire lifting session.
A weightlifting shoe can be a great tool for general recreational lifters that struggle with getting adequate squat depth and need more stability when squatting. They will also support the lifting mechanics needed for snatches and clean & jerks.
Every weightlifting shoe will be built similarly in that they'll all utilize additional means of promoting midfoot security and they'll have a purposely elevated heel built with dense materials.
As you look at different weightlifting shoes, these features will all vary slightly and this can help lead you to pick the best weightlifting shoes for your needs. Different heel heights can promote various performance outcomes, for example. Below are three construction details to explore in your next pair of weightlifting shoes.
Elevated Heels: The heels used in weightlifting shoes can vary in height and typically span between a .5-1 inch in height. Heels will be built with TPU, wood, high-density EVA, and stacked leather, AKA compounds that don't compress easily under heavy weight.
Midfoot Straps: Midfoot security can vary and most weightlifting shoes utilize a single or dual midfoot strap to promote additional security. This is great for locking down the feet when training and preventing spillover when catching snatches and cleans.
Rubber Outsoles: Most weightlifting shoes will be built with full rubber outsoles to promote traction and protect the shoe's midsole. Stability and balance are the names of the game in weightlifting shoes and this all starts with good traction.
While there are other construction elements that can be important to consider in weightlifting shoes, these are what I refer to as the core three that can influence a shoe's performance and durability.
The specificity of your training and preferences will influence what weightlifting shoes will be best for you. This is where it can be a good idea to understand things like heel elevation versus flat shoes for your squat performance.
3. Barefoot Shoes
Barefoot or minimalist shoes are designed to replicate what it's like to move around barefoot while providing your foot with a light layer of protection. More and more we're seeing barefoot shoes become increasingly popular in the gym.
For working out, barefoot shoes can be awesome to give you a heightened level of ground feedback and to promote a greater articulation of the foot, meaning, they'll move with the foot when doing something like a walking lunge compared to thicker midsole shoes.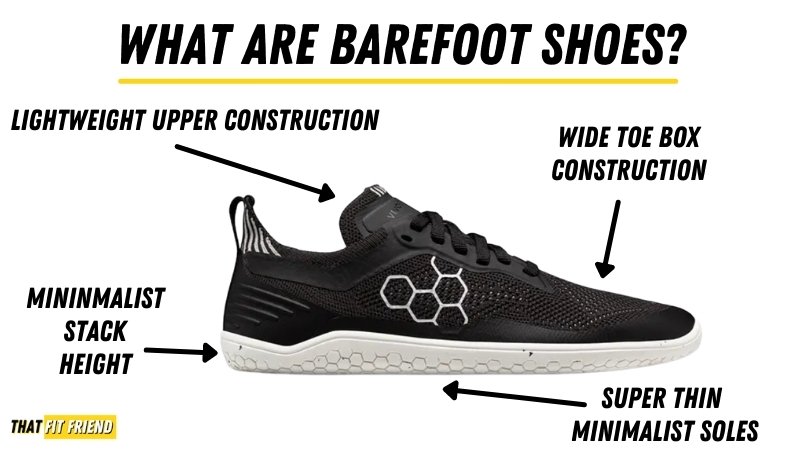 Outside of ground feedback and flexibility, barefoot shoes can also be great for things like deadlifts where you want the least amount of material separating the foot from the floor, and they can be great for those that love training barefoot but can't do so due to gym rules.
While every barefoot shoe will be somewhat similar in nature, there are countless nuances that separate models and make some better in the gym than others. In the context of working out, a good barefoot shoe should have three construction features.
Good Outsole Tread: A full rubber outsole with a decent tread patterning is a must for preventing slip issues when lifting and doing dynamic workouts in barefoot shoes. When looking at tread patterns, thicker and more aggressive lugs will give you more bite on surfaces like turf.
Reinforced Uppers: While barefoot shoe uppers will often be lighter weight than traditional shoes, a good barefoot shoe for training shoe should have some reinforcement around the toe box, midfoot, and heel.
Flexible Sole: If you're wanting to get as close to the ground as possible, then you'll want a model that has a super high degree of articulation which often reciprocates with a lower overall sole thickness. Typically shoes 6mm thick or below will be good bets here.
If you lead with those three construction features, then you should be well on your way to finding a good barefoot shoe for your exercise needs. As training demands get more specific, the type of barefoot shoe you use should also get more specific.
Remember, if you're new to barefoot shoes for training, then I'd suggest easing into this style of footwear. If you've never trained barefoot and don't use barefoot shoes currently, you might want to limit their use for low threshold lifting days to start.
4. Running Shoes
In the context of training, running shoes are pretty straightforward. They're designed for one thing, and that's running. In most cases, a running shoe is built to accommodate forward movement and propulsion.
If you're wanting to wear something for long-distance runs and don't want or prefer something minimalist, then running shoes will be a must-have in your shoe toolbox.
Outside of promoting stronger running performance, another benefit that is not talked about enough with running shoes is that they can be great for limiting how much a toll running can take on the body.
For example, if you're a hybrid athlete like me and you're blending long runs with a lot of strength work, a good running shoe can help mitigate some of the stress tough running can have on the body versus using the wrong type of shoes. Below are a few things to look for in running shoes.
Quality Midsole: The midsole in your running shoe should align with your needs and preferences. If you need more support and cushion, then a thicker and more responsive midsole can be ideal, while a thinner midsole can be better for those that want a firmer ride. This is why assessing multiple running shoes can be important.
Specific Sole: Outside of a midsole that resonates with your preferences, it's also a good idea to make sure the running shoe is built for your running style. For example, neutral shoes will be built slightly differently than running shoes for someone who overpronates.
Dialed Heel-to-Toe Drop: The heel-to-toe drop used in your running shoe should align with your running mechanics and preferences. For example, if you're bombing a bunch of hills on trails then you may want a lower heel-to-toe drop, and for road running a mid to high heel-to-toe drop can be useful.
To be honest, I often compare finding the perfect running shoe to creating art. There is a lot that should go into the process of finding the right running shoes for your needs and getting individual with your picks is incredibly important.
When in doubt when finding running shoes, try to visit your local running store to seek out in-person help. While online reviews are great, they can only give you so much and if you're a beginner then it can sometimes be best to have someone help you in person.
Author's Note: While these are the big four types of shoes you can use for working out, there are also sub-categories within these four types. I wanted to cover the core four for brevity and have deeper content on each style of footwear on the site!
Frequently Asked Questions (FAQ)
Q:
Which type of shoes is best for gym?
A:
For lifting and versatile training, you'll want to find a good cross-training shoe. This style of footwear will be stable enough for lifting and versatile for things like HIIT workouts, short runs, and classes.
Q:
Can I use running shoes for gym?
A:
Unless you're running, you'll want to pass on using your running shoes for lifting and cross-training. These shoes will lack the stability needed for strength work and the versatility for cross-training. A good pair of training shoes will work better.
Q:
Is it better to workout with flat shoes?
A:
Flat shoes can be great for working out, but they're not necessarily better than other shoes that have lower heel-to-toe drops. A lot should go into the decision of wearing a flat shoe versus a shoe with some drop. For example, how you train and move will influence this decision.
Wrapping Up
Your shoes should be reflective of how you train and rotating footwear is a perfectly normal practice to get the most out of your training. When asking what kinds of shoes you should wear to the gym, I'd suggest taking a step back and breaking down how you train.
If you can use the right tools for the job, then you'll be well on your way to making steady progress. I think far too often we box ourselves into one style of shoe without trying others.
If you have additional questions about what kinds of shoes will be best for your training needs, drop a comment below or reach out to me personally via Instagram (@jake_boly or @that_fit_friend).