The FOOST Trainer HD210 is the latest cross-training shoe to release from FOOST Fitness. This model delivers a lot of promising construction characteristics for lifting and CrossFit. After receiving multiple asks to review this model on my YouTube channel, I finally had the opportunity to test them and put them through the wringer.
Across the board, I thought the FOOST Trainer HD210 performed really strongly in my training sessions and it's quickly become one of my favorite cross-training shoes. There are a couple of areas where I think this training shoe could be improved upon, but overall, I've been subtly impressed with this model.
In this FOOST Trainer HD210 review, I'm going to break down the most important details that come along with this shoe to help you decide if it's a good fit for your training needs.
On the market for new cross-training shoes? Check out my TF2 Cross-Training Shoe Calculator to be matched with the best shoes for your training needs!
Who Should Invest In the FOOST Trainer HD210?
The FOOST Trainer HD210 is a great model for the CrossFit and lifting-focused athlete. This model delivers a stable midsole and outsole construction, and as a whole, they stood up to all of my performance tests really well. I think this is also a good shoe for anyone that wants a trainer that can perform well across multiple settings.
With the additional insert and insole that comes with this model, you can also turn the FOOST Trainer HD210 into a pseudo-weightlifting shoe and make them more versatile for shorter runs and athletic-focused training. For this reason, I'd rank the FOOST Trainer HD210 as a "best of all worlds" style of trainer.
The only caveat to this model is the outsole durability if you plan to train outdoors frequently, but if that doesn't sound like you, then I don't think you'll have many issues with this model.
Best For
CrossFit-Style Training
Heavy Lifting
Weightlifting Training
Versatile-Focused Workouts
Shorter Runs
Falls Short
For Outdoor Training On Concrete
For Longer Runs
FOOST Trainer HD210 Pros
Since FOOST is relatively new to the cross-training shoe world, I was uncertain of what to expect from the Trainer HD210, but I've found multiple aspects to like about this shoe.
Dynamic Shoe With All the Fix-Ins
Sock-Like Fit and Feel
Responsive and Maneuverable Outsole and Midsole
Upper Material Is Abrasion Resistant
The first aspect to like about the FOOST Trainer HD210 is that it's a good "all-in-one" style shoe. This model comes with a 5mm heel-to-toe drop with its standard sock liner and it also comes with an additional more padded insole and heel insert (13mm). If you use the more padded insert you'll get a more responsive fit and feel for shorter runs and dynamic workouts.
Must Read: Cross-Training Shoe Size Guide | How They Should Fit, Measuring Your Foot, and More
For those that use that insert, then you'll bring the heel-to-toe drop from 5mm to 18mm. This gives this model a weightlifting shoe-like feel which is great for anyone that wants a cost-efficient option for training with an elevated heel without buying separate weightlifting shoes.
Another aspect to like about this model is its overall fit and feel during workouts. This shoe has an internal neoprene construction that is enclosed with a monofilament 3D fabric shell. The combination of these two provides a nice locked-down feeling and this model never runs into heel slip issues whatsoever.
If you like trainers that have a slightly more snug fit, then I think you'll enjoy how the FOOST Trainer HD210 feels on the foot. The neoprene can be a bit tough to navigate when putting this shoe on with a sweaty foot, but this is a small sacrifice to have the more snug fit this shoe provides.
To add to the snugger fit that comes with this model, the outsole and midsole do a really good job of providing a responsive and versatile feeling. The outsole on this model breaks in really easy and the toe box has a high level of maneuverability which is awesome for multi-directional athletes.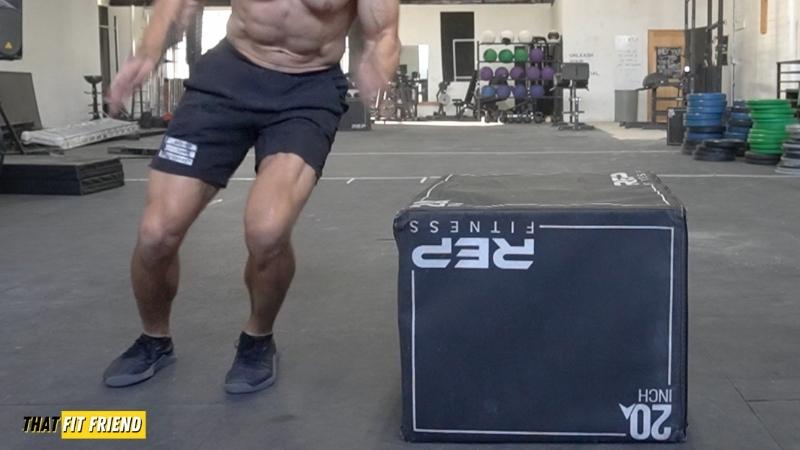 The midsole is constructed with a double-density EVA foam and overall I thought this midsole did a good job at walking the fine line between stability and responsiveness. To be quite honest, the midsole in this model reminds me a bit of the Nike Metcon 5's performance – in a good way.
The final pro with this model is the upper construction and its overall durability. When I read that this shoe's internal construction was neoprene I got a little nervous about it stretching and breaking down fairly quickly. I'm glad FOOST chose the monofilament 3D fabric that they did for the upper in this model.
When rope climbing or having toe drag on the ground during burpees, I thought this model's upper did a good job at being abrasion-resistant. Even out on concrete where I've drug my toe during some movements, I haven't noticed any scuffing or ripping taking place.
FOOST Trainer HD210 Cons
As a whole, I've really enjoyed training my FOOST Trainer HD210, but there are a couple of cons that I could see bothering other athletes in certain contexts.
Long-Term Outsole Durability
Toe Box Can Feel Tight for Daily Wear
The first aspect that I think could be problematic is the long-term outsole durability in this shoe, and more specifically when training outdoors. The outsole in this model features flat and indented hexagon patterning which grips a variety of surfaces very well, but I worry that concrete will fair down this tread pattern fast if you're really digging into the forefoot of this shoe.
Outside of my in-gym sessions, I've used these shoes for a few outdoor workouts and pickleball. I know these shoes are obviously not designed for pickleball, but I actually like testing cross-training shoes with this activity because it provides a lot of insights into the shoe's feedback and grip when moving multi-directional.
These shoes perform well across the board for the above activities, but the durability is definitely something to consider if you're like me and you love wearing your cross-training shoes for outdoor activities. If you primarily train in a gym, then I do not think this will be a concern for you whatsoever.
The second potential drawback I could see others having with this model is that the toe box can feel fairly tight if you're wearing them for longer durations. If I put these on for an hour or so, even with thicker socks, then they're comfortable and fine. However, for all-day wear, they start to feel a tad tight.
I think this is likely due to the neoprene internal construction that these shoes come with and the 3D monofilament upper that doesn't have a ton of stretch. These shoes fit snug and are sock-like which is awesome, but that does leave them a tad more prone to being uncomfortable if you like wearing your trainers all day.
I think if you have a wider or flatter foot, then sizing up a half size could be both a safe and smart call. For other athletes and lifters that plan to just wear them for training sessions, then you should be fine going true-to-size.
Performance
To assess the construction of the FOOST Trainer HD210, I'm going to break this section into multiple parts to help you better align if these cross-training shoes are a good fit for you.
Stability With Lifting and CrossFit
For most lifters and athletes, I don't think stability will be an issue in the FOOST Trainer HD210s whatsoever. The midsole and outsole provide plenty of stability and when training over 455 lbs in this model, I never had issues with compression or feeling like my foot wasn't stable and grounded.
I also really enjoy that FOOST provides an additional heel insert in this model which gives the heel an additional 13mm of lift. This gives this model a weightlifting shoe-like feel which I personally really enjoy. If I forget my weightlifting shoes or don't feel like switching shoes entirely, then I'll use the inserts for my squats and cleans.
Must Read: 8 Best CrossFit Shoes | Picks for Rope Climbs, Flat Feet, and More
If I had to compare this shoe's performance for lifting and CrossFit to another model, then I'd say they most closely feel like a Nike Metcon 5 or 6 and that's high praise because both of those models were solid across the board.
Versatile Training
There are three construction elements that help the Trainer HD210s excel for versatile training including HIIT, plyometrics, and athletic-focused exercises. For starters, their snug fit and feel give them a very "athletic" feel which I personally love when sprinting, jumping, and moving laterally.
Second, this shoe's outsole grips floors really well and provides a nice level of feedback to help you propel yourself in whichever direction you're heading. The foam midsole also does a good job of providing a nice level of ground feedback when moving ballistically.
Third and lastly, this model is lightweight and my size 10 model has a weight of 11.4 ounces. Even with the different insole and insert in his model, the weight remains relatively lightweight.
Shorter Runs and Daily Wear
For shorter runs, I think this shoe does a better job than other more stable cross-training shoes on the market. The optional more responsive insole gives this shoe a bit more distance before they start to get uncomfortable. For runs programmed in WODs, this model will work well. Outside of those runs, I'd suggest capping yourself to one-mile tops in these in any one session.
I like this shoe for daily wear, but they can get a little tight if you're wearing them all day and have on thicker socks. Additionally, I'd say limit your daily wear in this model to help them last longer, too, which is always a tip I always use for helping my cross-training shoes go the distance for my investment.
FOOST Trainer HD210 Sizing
Most lifters and athletes should be safe going true-to-size in the FOOST Trainer HD210. My model fits true, however, I do think this model may feel tight in the toe box for some lifters and athletes with flatter and wider feet.
Additionally, if I wear thicker socks in this shoe, then I do notice them starting to feel tight if I'm wearing them all day. I think this is primarily due to the upper not having a ton of stretch to them compared to other mesh and knit uppers in other cross-training shoes.
If you have additional questions about the FOOST Trainer HD210, drop a comment below and I can help you out accordingly based on what you're currently wearing.
Price Breakdown
For the FOOST Trainer HD210, you can expect to pay $125 USD. While this is certainly not the most budget-friendly cross-training shoe on the market, I think the price is fair for what this shoe offers especially when you compare them to other top trainers.
With the insert, additional insole, and overall construction of this model, I really enjoy this shoe and think its price is fair especially for the CrossFit-focused athlete.
Best For
CrossFit-Style Training
Heavy Lifting
Weightlifting Training
Versatile-Focused Workouts
Shorter Runs
Falls Short
For Outdoor Training On Concrete
For Longer Runs
Construction Details
If you're interested in the construction of the FOOST Trainer HD210, I'm going to list some of the most important construction details for this model. If you want a visual breakdown of this model, then skip to 9:20 in the video above.
Heel-to-Toe Drop: 5mm
Weight: 11.4 ounces (for a size 10 model)
Removable Insole: Yes
Monofilament 3D Fabric Upper
Neoprene Internal Construction
Additional 13mm Heel Insert
Fully Rubber Outsole
TPU Heel for Handstand Push-Ups
C-Frame Outsole Wrap for Durability
Double-Density EVA Foam Midsole
If you have additional questions about this shoe, drop a comment below or reach out to me personally.
Frequently Asked Questions (FAQ)
Q:
Can you run in the FOOST Trainers?
A:
Despite being a more stable cross-training shoe, you can run shorter distances in the FOOST Trainer HD210. This model has a secondary more cushioned insole for tackling runs that are about 800-meters to 1-mile in length comfortably.
Q:
Is the FOOST Trainer good for CrossFit?
A:
The FOOST Trainer HD210 delivers a strong performance for CrossFit workouts for two key reasons. First, their upper is plenty durable for rope climbs, burpees, and other exercises where abrasion happens. Second, their midsole and outsole both walk a fine line between being stable yet responsive.
Final Thoughts
Overall, I've enjoyed training in the FOOST Trainer HD210 and they've been solid across all of my tests and workouts. They deliver a dynamic performance in both lifting and CrossFit settings and I think most recreational athletes and lifters will enjoy this model.
I also like that this shoe comes with an additional insert and sock liner for more versatile-focused training sessions.
If you have additional questions on the FOOSt Trainer HD210s, drop a comment below or reach out to me personally via Instagram (@jake_boly).
I buy and test the products featured on That Fit Friend using a regimen of training tests that I've developed over years of testing training shoes and gear. I may earn commissions on sales made through the links on my site.