If you've been considering investing in a pair of barefoot shoes, then you've likely looked into Xero Shoes before. Xero Shoes designs a variety of barefoot shoes that span across multiple training demographics. Three of their most popular shoes for strength training, running, and CrossFit include the Xero Shoes 360, Prio, and HFS.
I'm constantly fielding asks about these three shoes in regard to which model is best for particular needs. I think the Xero Shoes Prio, HFS, and 360 are all good shoes in their own right. They all have their respective places in training settings and selecting the right model for the job is crucial to have the shoes perform to their best abilities for you.
In this article, I'm going to be comparing the Xero Shoes 360 Vs the Xero Shoes Prio vs the Xero Shoes HFS and discussing which model to select for your needs. Hopefully, by the end of this article, you'll have a clear idea of which Xero Shoes model to go for.
Interested in learning more about barefoot shoes and if they're right for you? Check out my in-depth barefoot shoes guide to learn more about this shoe style!
Xero Shoes 360 Vs Xero Shoes Prio Vs Xero Shoes HFS Performance
To make this section much more digestible and to highlight which performs best in certain settings, I've broken the below performance section into three categories including lifting, versatile training, and running.
Lifting Performance
One of the perks with barefoot shoes is that for the most part, they all perform consistently well in lifting settings. The Xero Shoes 360, Prio, and HFS are all awesome for resistance training and barbell lifts like deadlifts. All of these models feature removable insoles which are awesome for allowing you to get even closer to the ground in your lifts.
My two favorites models of the three for lifting include the Xero Shoes Prio and Xero Shoes 360. Both of these models are consistent performers and their upper constructions are durable for the resistance training-focused individual. Additionally, these models all feature wide toe boxes for accommodating toe splay when training heavy.
The HFS is good for lifting, but I think it falls a bit short due to its running-focused build. If I had to pick a winner between the Prio and 360, then I'd have to go with the Prio because of the price point. The Prio costs $30 USD less than the 360 and is a great entry-level barefoot shoe. Note, if you're into lifting and CrossFit, then read on below!
Winner: Xero Shoes Prio due to the price point, and my runner-up pick is the Xero Shoes 360. I rotate between both for my training at the moment. Note, the HFS also works for lifting, but it's not my go-to of these three.
Best For
Heavy Barbell Work
Recreational Lifting
Casual Runs
Barefoot Shoe Newbies
Cost Efficiency
Falls Short
For Dedicated Barefoot Runners
Versatile Training
For more versatile training and CrossFit-style workouts, there's a fairly clear winner between these three models. Of these shoes, the Xero Shoes 360 is the strongest performer for CrossFit and CrossFit-style training. In addition, I also really like this model for more versatile training due to its removable insole being a bit more responsive in nature. It's nice to have the option to leave it in or take it out.
The Xero Shoes 360 has a reworked upper construction that features rubber ribs for additional support and a thicker suede toe cap for friction resistance. The sole also wraps up on the lateral and medial sides of the base of the toes to promote more traction and durability for multi-directional activity.
Across the board, if you're training with a versatile focus, then I'd suggest going with the Xero Shoes 360. The other models will work for this style of training, however, they're not optimized for it. The Prio can feel a bit chunky at times and the HFS's lighter upper will not last as long as the 360's re-worked upper.
Winner: Xero Shoes 360.
Best For
Heavy Lifting
Functional Fitness Workouts
Short Runs and Sprints
Daily Wear
Running
If you're running a lot on a weekly basis, then there's a clear winner between these three models and that's the Xero Shoes HFS. This model has an incredibly lightweight upper construction and a sole patterning to promote overall traction when moving forward.
I also like how well this model breathes and that it has a more subtle appearance. On multiple occasions, I've been asked if I'm wearing socks when I've went running in my Xero Shoes HFS. It's also a nice perk that this model works well in the gym, too, so if you are a runner that wants one barefoot shoe for everything, then the Xero Shoes HFS is a good pick.
Outside of the HFS, I also like the Xero Shoes 360 for more casual shorter runs. Basically, runs that you would see in CrossFit-style workouts. This model also breathes really well and has a slightly more responsive insole. The Prio is a bit chunky for me when it comes to running especially when comparing it between the other two models.
Winner: Xero Shoes HFS. The 360 also works for shorter and mid-range runs.
Best For
Heavy Training
Lower Body Sessions
Shorter/Mid-Range Runs
Agility Workouts
Falls Short
For Heel Strike Driven Running
For Maximal Cost-Efficiency
Xero Shoes 360 Vs Xero Shoes Prio Vs Xero Shoes HFS Construction
Similar to our performance section, I'm going to break this construction section into multiple parts to properly discuss and dissect each model.
Sole
All three of these models have different sole constructions and they all come covered with Xero Shoes 5,000 mile sole warranty. Each model features a full rubber sole and the traction patterns are optimized to assist the types of activities these models are designed to tackle.
The Xero Shoes 360 model has a multi-directional arrow tread on the forefoot and heel with an additional circle tread at the base of the big toe.
The Xero Shoes Prio features also features an arrow construction through the forefoot, mid-foot, and heel, and this model has forefoot grooves for additional forefoot maneuverability.
The Xero Shoes HFS has an arrow-like tread pattern as well, however, the tread on this model is much more aggressive and that's designed for assistance with propulsion when running.
Upper Construction
The Xero Shoes 360, Prio, and HFS all have upper constructions that feature a blend of materials. The Prio and 360 each have a reinforced toe with thicker leather and suede-like materials while the HFS has a reinforced toe with a lightweight synthetic material.
The Xero Shoes 360 features a breathable mesh throughout the forefoot and mid-foot with the forefoot rocking additional rubber tread for abrasion resistance.
The Prio's upper is fairly consistent throughout with a thicker mesh and leather-like material. Of the three shoes, the Prio has the thickest upper construction by far.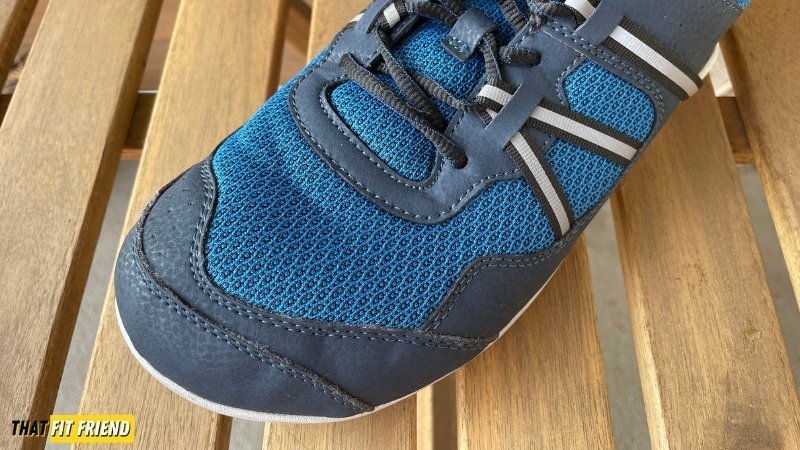 The Xero Shoes HFS has a blend of synthetic materials and breathable mesh to help keep it light and airy for running-focused athletes. All of these models feature a huarache-inspired design and skeleton as well in their uppers.
Laces and Tongue
All of these models feature five main eyelets with a sixth for lace-lock. Each shoe features traditional eyelets and eyelets used with the huarache design. This is a feature intended to provide a more secure a snug fit throughout the mid-foot for each model.
The tongues on these models are also slightly thicker in nature so there's never really an opportunity to have them rip when pulling the shoes on.
Personally, I'm a huge fan of this because the lighter tongue on something like the Vivobarefoot Primus Lite III is something to keep an eye on when putting these shoes on.
Insoles
The Xero Shoes 360, Prio, and HFS all feature removable insoles. The insoles used have a thin level of responsiveness and do a fairly good job at providing an additional layer of comfort for anyone experimenting with and acclimating to barefoot shoes.
Another nice perk of these models and their insoles is that the internal construction of the shoe is also finished. So, if you like to remove the insole and wear your shoes or train, you don't have to worry about that awkward thread-like material that some shoes have when removing their insoles.
Xero Shoes 360 Vs Xero Shoes Prio Vs Xero Shoes HFS Durability
Across the board, I think the Xero Shoes 360, Prio, and HFS each have their own perks for durability. In each of these models, their durability is optimized to support the style of activities they're designed to tackle.
For CrossFit-style training, the Xero Shoes 360 does a solid job at resisting abrasion and you can tell Xero Shoes spent time configuring this model's upper. I have yet to experience any breakdown issues with my model for this type of training.
The Xero Shoes Prio's durability has stood up well to my daily wear and resistance training workouts. This model is pretty standard with its construction and shouldn't break down on you if you're limiting how much friction the upper is experiencing.
For the Xero Shoes HFS, its construction does a good job at lasting a while when it's used for lifting and running. One thing to note, if you're running outside, I'd suggest avoiding puddles to ensure the upper last longer.
Xero Shoes 360 Vs Xero Shoes Prio Vs Xero Shoes HFS Sizing
If you're interested in the sizing for the Xero Shoes 360, Xero Shoes Prio, and Xero Shoes HFS, then check out my thoughts and recommendations below. I also talk about the sizing in each of these models more in-depth in their individual reviews.
Xero Shoes 360: True-to-size
Xero Shoes Prio: True-to-size
Xero Shoes HFS: Go up a .5 size
Price Breakdown
The one pro about all of the Xero Shoes compared in this article is that their price points are all somewhat in the same ballpark. Unlike other barefoot shoe brands out there, Xero Shoes tends to have fairly cost-efficient shoes.
For the Xero Shoes Prio, HFS, and 360, you can expect to pay between $89.99 USD to $119.99 USD, respectively.
Takeaway Thoughts
The Xero Shoes 360, Prio, and HFS each have their lists of pros and cons. If you can dial in how you plan to train in your model, then you can better select the shoe that fits your needs best.
For CrossFit-focused athletes and those that love to train with more versatile training, go with the Xero Shoes 360. For my barefoot shoe newbies and recreational lifters, go Xero Shoes Prio. Runners who love to lift go with the Xero Shoes HFS.
If you have any questions about these three models, drop a comment below or reach out to me via Instagram (@jake_boly)!
I buy and hand-test every product featured on That Fit Friend. I may earn commissions on sales made through the links on my site. Learn more here.