I spend the majority of my days testing and reviewing the latest and greatest training shoes. In addition to physically reviewing training shoes, I'm constantly helping others assess and figure out which training shoes they should invest in. There are countless training shoes on the market and it can be super overwhelming trying to figure out which training shoes are best for your needs.
For example, we could ask questions like, are you looking for a pair of training shoes for tackling CrossFit workouts or for classes and HIIT training? Shoes designed for each of these workout settings will have different construction characteristics and if you can understand what to look for in your next pair of training shoes, then you'll be well on your way to making your investment worthwhile.
Shoes can and often translate to better performance in your respective activities. Will a pair of CrossFit shoes alone make you the next Mat Fraser? Probably not, however, if you're wearing the right shoes for the right jobs in the right contexts then you'll likely see your performance receive an uptick as a whole.
In this article, I'm going to share five of the most important things to look for in your training shoes. This training shoe buyer's guide will help connect you with the best pair of shoes for your training needs.
On the market for new cross-training shoes? Check out the TF2 Cross-Training Shoes Finder. This calculator matches you with all of the training shoes that I've reviewed that fit your needs and wants best.
1. Identify How You Plan to Use Your Training Shoes
The first question and aspect to consider before buying new training shoes is identifying how you plan to use the shoes. This question is essentially the foundational question that will lay the groundwork for helping to narrow down the options that will suit your needs best and it takes relatively little time to complete.
I think one of the most productive ways to approach this topic is to break down your weekly training sessions and identify the general intensity within each of these shoes. Workout type and intensity will influence the construction features that you should keep an eye on before investing.
Note, intensity can vary based on the style of activity. For example, if we're discussing lifting, then intensity could be the load and amount you're lifting, and if we're talking HIIT training, then intensity could be the effort required in each session and duration.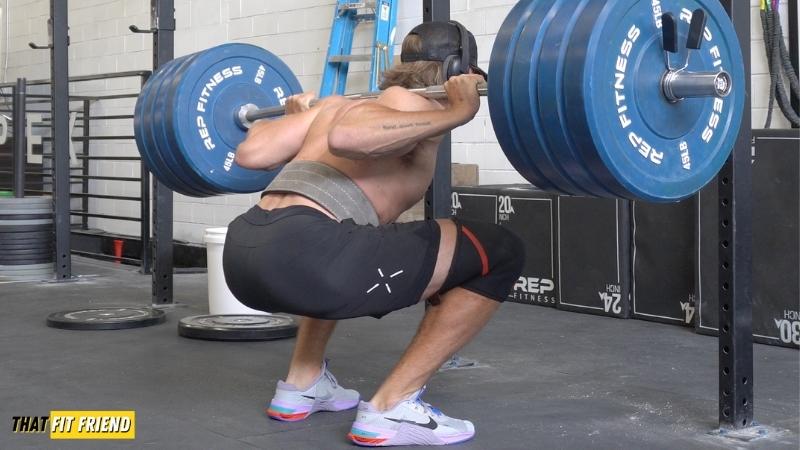 Why This Is Important
If we can better identify how you plan to train in your new shoes on a weekly basis, then we can find models that will match your performance demands accordingly. Additionally, we can better identify shoes that are designed with durability features to help with your style of training.
With better durability and features to assist performance, you'll be better equipped to perform your best have your investment go the distance. Far too often, I have athletes and lifters reach out about their shoes breaking super quick due to them using them in the wrong contexts. For example, this is why using something like an On Cloud X isn't the best idea for serious CrossFit workouts.
There are a lot of nuances between different types of training shoes and I'm not going to overwhelm you by pointing them all out here. Instead, I think it can more productive to highlight how you plan to use the shoes because that's easier to do, and this will help you easily assess the demands your shoes will have to match.
How to Navigate This
There's really no one-size-fits-all way to break down your weekly training sessions. Personally, I like to write out how I like to train on a weekly basis, then identify the general intensity that comes along with these workouts. By doing this, I can start to curate what type of shoe will feed into my needs best.
For example, if my weekly training involves a lot of lifting and strength work, then I'm going to note that I'll need a shoe that offers a good amount of stability to accommodate my training demands. If I noted that my training is primarily bodyweight workouts and versatile training, then I'm going to want a shoe that is lightweight and responsive.
Below is an example of how I would write this out to start narrowing down which training shoes would be best for my needs. Again, you can do the following in any way that makes sense for you.
Sessions a Week: 5
Monday: Lower Body Strength (moderate intensity)
Tuesday: Upper Body Hypertrophy
Wednesday: Off
Thursday: Lower Body Strength/Power (high intensity)
Friday: CrossFit/Cross-Training (moderate intensity)
Saturday: Upper Strength
Sunday: Off
By looking at the above, I can see that my lower body sessions include a lot of moderate-intensity work with some high-intensity training sprinkled in and some cross-training. This would suggest that I likely need a training shoe that offers a fair amount of stability for lifting purposes since a majority of my training includes moderate-intensity (fairly heavy) lower body training.
Tip: Heavier weights equate to a higher need for stability. If you're just starting out on your lifting journey and you're not lifting super heavy, then you'll have a wider range of shoes to work with as most shoes' midsole stability will likely work well for you!
2. Relate Your Training to a Shoe's Construction
One of the best parts of reviewing countless training shoes is appreciating the nuances between every shoe's construction. These nuances can play a heavy role in how a shoe will perform for you and how long it'll last in certain training settings.
To be honest, this section could go into incredible depth, but that's not going to be beneficial for most lifters and athletes who just want to know what shoe to go with. In an attempt to simplify this step, I'm going to discuss a few key construction areas on shoes to explore and look at based on your style of training.
Midsole
A shoe's midsole is the material that separates the outsole (bottom of the shoe) from the insole (internal part of the shoe). In training shoes, midsoles will vary in regard to their stability and versatility.
More stable midsoles will be constructed with things like high-density foams that don't compress easily under different loads. Midsoles that offer more versatility will be built with low to medium-density foams and will offer a bit more of a responsive fit and feel.
For CrossFit: Opt for a medium or high-density midsole for stability. Go medium-density if you like having a bit more responsiveness.
For Lifting: Opt for a medium or high-density midsole for stability.
For Classes/HIIT: Opt for a low or medium-density midsole for a more comfortable, versatile, and cushioned feel.
For Outdoor Training: Low, medium, and high-density midsoles can all work.
For a Little Bit of Everything: Opt for a medium-density midsole.
A shoe's midsole can play a large role in its comfort and performance based on how you plan to use them.
Outsole
A shoe's outsole can play a large role in how durable a shoe is and how much traction you get from the shoe. Not all outsoles are created equal and different companies will use different outsole designs and tread patterns which can influence a shoe's traction in different settings.
If you can identify where you plan to use your shoes the most, then you can look into outsole options that fit your training settings best. For example, if you train outside on concrete regularly, then you're not going to want an outsole with exposed midsole foam as this can lead to durability issues.
For CrossFit: Opt for full rubber outsoles or outsoles that are primarily all rubber. This will help with traction and durability.
For Lifting: Opt for full rubber outsoles or outsoles that are primarily all rubber.
For Classes/HIIT: Most outsoles will work here. If you're indoors, then you can get away with more exposed foam and if you're outdoors, then you'll want more rubber.
For Outdoor Training: Opt for full rubber outsoles.
For a Little Bit of Everything: Opt for outsoles that are primarily rubber.
Upper
A training shoe's upper can play a large role in a shoe's maneuverability, breathability, and durability. These characteristics and their importance will all ebb and flow based on how a training shoe is being used.
For example, if you're regularly training outdoors in warm climates, then you're going to want a shoe that breathes well to prevent the feet from overheating. Another good example here would be opting for a shoe with layered upper materials and additional durability features for tackling the demands of CrossFit workouts.
For CrossFit: Opt for shoes that have layered and moderately thick uppers for durability purposes.
For Lifting: Opt for moderately thick uppers for durability purposes.
For Classes/HIIT: Opt for lightweight uppers that breathe well.
For Outdoor Training: Opt for breathable and lightweight uppers.
For a Little Bit of Everything: Opt for moderately breathable uppers with some durability.
The big takeaway with upper constructions is that they can vary a ton and they become more important depending on the niche in which you're using your shoes. Things like abrasion and climate are important to consider when thinking about a shoe's upper.
3. Understand Your Training Shoe Fit Preferences
Now that you've identified and broken down your weekly training, it's not time to narrow down training shoe options further by identifying how you like your shoes to fit. Fit can mean a lot of things and we all interpret how different shoes feel on our feet based on our anatomy, wants, and needs.
For this fit section, I'm going to focus on three primary areas that tend to be the most asked about when reviewing training shoes. The three fit areas that I'm to cover in this section include width, length, and heel-to-toe drop.
Width
A training shoe's width can be a huge deal for lifters and athletes especially those with wider feet. Nothing is worse than doing a long workout with a lot of lifting and jumping while wearing shoes that are far too narrow for your foot's anatomy. As we train, the feet are constantly splaying and maneuvering accordingly to account for the demands we're placing on them at the moment.
If you have on shoes that are too narrow, then you're likely going to feel that big sigh of relief after you take them off after your training session. This is not ideal, nor sustainable. It's like trying to fit a square peg into a round hole. Far too often, I think lifters and athletes neglect that different shoe companies use different lasts for their shoes.
Shoe Last: A shoe last is a form or shape that a shoe is constructed and based on. Companies will pick lasts that generally capture a large amount of market share or generally fit a wide range of foot anatomies.
That being said, if you find a pair of training shoes that always feel too narrow for you, then that's likely a good sign that the last that company used isn't a good match for your foot's anatomy.
Length
Another consideration for fit is the length that you prefer in your training shoes. Length is a little easier to dial in and it isn't as nuanced or difficult to navigate as width. The main discussion around length revolves around how much room you enjoy at the end of your shoe's toe box.
For most lifters and athletes, I often recommend having about .2″-.6″ of room at the end of the toe box. This generally covers a wide range of preferences and fit needs. I've found that athletes with wider feet generally like a little more room, while athletes with narrow and neutral feet tend to bias the lower end of this range.
Some lifters and athletes (like myself), prefer a slightly snugger fit in regard to length while others enjoy having a little bit of room at the end of their shoes. Feel the toe box on your current pair of training shoes and internally ask, "Do you like how this fits and feels?". If the answer is yes, then that's likely a good shoe length to work off of.
Heel-to-Toe Drop
In my opinion, the heel-to-toe drop of training shoes is constantly overlooked in regard to how this aspect can impact a shoe's sizing and fit. A shoe's heel-to-toe drop entails the difference in height in which the shoe position the forefoot and heel. Basically, how much higher is the heel sitting in relation to the base of the forefoot.
A higher heel-to-toe drop will position the heel higher which will then influence how a shoe fits and how you move in that shoe. Different heel heights will result in different movement patterns which can then relate to how we internalize a shoe fitting.
For example, if you went from training in something like an Altra Solstice XT 2 which is a zero drop (zero drop = 0mm heel-to-toe drop) to a GORUCK Ballistic Trainer which has an 8mm heel-to-toe drop, then you would more than likely immediately feel a difference in how these shoes fit and how you move in them, and you're more than likely have a natural preference.
Why This Is Important
Training shoes that fit correctly per your preferences, wants, and needs can be incredibly important for both your performance and movement patterns. Circling back to our example above, let's say an athlete is wearing training shoes that either fit too narrow or run too long and they keep experiencing heel slip during their workouts.
Both of these occurrences are directly related to your training shoe's fit and can negatively impact how your feet are interacting with the ground, and how you're physically moving.
If we can better understand your training shoe fit preferences, then we can narrow down shoe options that work best for you. There are so many options on the market, there's no need to compromise fit preferences just for the sake of doing so.
How to Navigate This
Navigating sizing and fit for training shoes can be fairly nuanced and complicated especially when looking at different options online. However, that's not to say it's impossible to find shoes online that will likely fit your foot really well.
If you're shopping online, here are three of my favorite steps and tips for assessing different training shoes' sizing and fits.
First, go get properly sized at your local running/shoe store. This way you have an idea of what your true-to-size is and how wide your foot is. If you've never done this, then I highly recommend starting here to take the guesswork out of understanding what your true-to-size is.
Second, identify how a company describes the fit of its shoes. Generally, companies will have a sizing scale or use terms like neutral/regular or wide fit. You may have to click through the specs tab or scroll down the page.
Third, cross-reference your true-to-size with a company's descriptions, then look at what reviewers and other on-page product reviews have said. This can help provide you wider a wider lens for a shoe's fit based on the feedback from the company, other athletes, and what you know about your foot size.
4. Curate Options Based On Your Budget
Now that you've identified how you plan to use your shoes, the construction features that will support your performance, and how you like your shoes to fit, it's now time to narrow options down further per your budget.
This is the easiest step to figure out because there's no nuance to it and it's only based on one variable — how much you have budgeted for your training shoes.
Generally, training shoes will cost anywhere from $100 USD-$150 USD and as you get more niche with your training, generally, prices will tend to increase slightly. For example, hyper-focused training shoes for CrossFit will typically be more expensive than a general pair of training shoes.
In the context of this article, it really helps to identify the what and why with your training shoes to make the best choice financially. This way you're not investing in a pair of shoes only to have them break down a couple of months later due to them not aligning with your goals.
Frequently Asked Questions (FAQ)
Q:
What is a training shoe meant for?
A:
Training shoes are shoes designed to accommodate the demands of different forms of training. Whether you're lifting, jumping, or doing short runs, a good pair of training shoes should be able to work well for all of these tasks.
Q:
Is it OK to run in training shoes?
A:
That depends. Some training shoes will work better than others for running. For example, training shoes with more plush midsoles will often be more comfortable for short and mid-range runs. Training shoes will not be the best for long-distance runs.
Takeaway Thoughts
There are a lot of factors to think about when it comes to finding the right training shoes. The right pair of training shoes will help you perform your best and ensure that your investment is going to last.
It can seem overwhelming sifting through the endless options of training, but if you're equipped with the right knowledge per the context of your training needs, then it gets a lot easier to narrow down the endless shoe options available.
If you have any questions on training shoes and which pair to go with, drop a comment below or reach out to me personally via Instagram (@jake_boly).