The Bearfoot Ursus is an interesting take on minimalist shoes and this company is interesting. As a minimalist shoe company that somewhat started exclusively in the lifting world with Co-Founder Chris Duffin, Bearfoot has since expanded.
I'm always looking for the best minimalist/barefoot for lifting, so I was super excited to try out the Bearfoot Ursus. I was intrigued to see how this model would perform for lifting and daily wear.
Overall, I like the Bearfoot Ursus and I think it has a unique fit regarding some of the best barefoot shoes on the market as a comfortable slipper-like model that you can also train hard in. However, I do have a few cons with this model and I'll discuss those below.
In this Bearfoot Ursus review, I'll cover all of the details that you should know about these minimalist shoes before investing in them.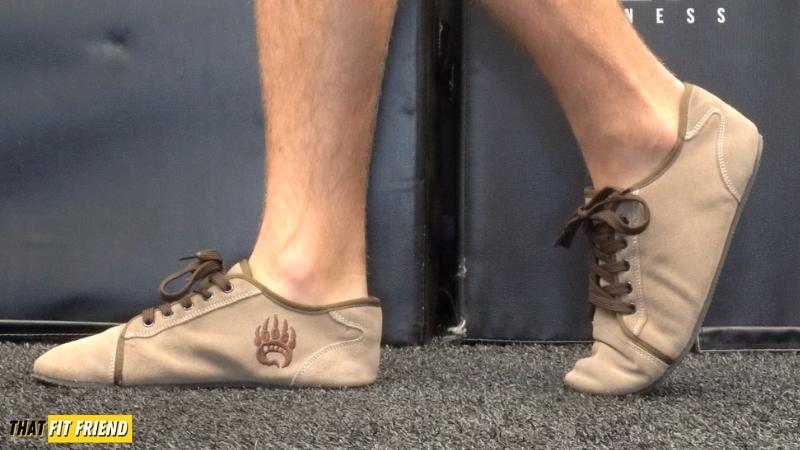 Who Should Invest In the Bearfoot Ursus?
The Bearfoot Ursus can be a good minimalist shoe to invest in if you want a model that feels similar to a slipper that you can also lift in. This shoe is interesting and it has a few niche performance contexts that I really enjoy this model.
For example, this shoe's internal suede construction is super comfortable and it's pretty warm, so I've thoroughly enjoyed wearing this shoe casually around the house and working from coffee shops. If you prioritize "cozy" shoes, you'll also like this.
I also enjoy that this shoe can work for recreational lifting and deadlifting. If you're wanting a minimalist shoe for training that has a simplistic construction, then I think you'll enjoy the Bearfoot Ursus. Plus, it helps that lifting legend Chris Duffin is involved with Bearfoot.
My gripes with this model revolve around the fact that this shoe isn't the best for daily wear in inclement weather. The suede absorbs pretty easily so that's a knock on this shoe's versatility. Plus, the appearance of this model isn't the best, especially for more formal contexts.
Best For
Casual Wear In Dry Climates
Short to Mid-Range Walks
Recreational Lifting
Powerlifting/Deadlifts
Falls Short
For Inclemant Weather
For Appearance
For Long-Distance Walks
Bearfoot Ursus Pros
These shoes have grown on me over the course of my review process with the Bearfoot Ursus, below are a few pros that I have with this model.
Comfortable for Sockless Wear
Good for Lifting and Casual Wear
Wide Toe Box and Thin Sole
The first thing to like about the Bearfoot Ursus is their general comfort for sockless use. In most minimalist shoes, I'll typically go barefoot or wear super thing no-show socks.
In my opinion, some minimalist shoes can be a little uncomfortable for sockless use due to the internal construction being a bit more rigid at times like the Vivobarefoot Geo Court Knit. With that in mind, I like the comfortable internal construction of the Bearfoot Ursus.
This model rivals some slippers that I've worn when it comes to all-day comfort when wearing these without socks. I really like this because if I'm doing something like walking the dogs to grab a coffee, I don't want to wear slippers out, so these are a solid alternative.
Another aspect to like which adds to my first pro is the fact that these shoes can work for both lifting and more casual wear. This model was originally made to be used for lifting, so when it comes to general strength work and deadlifting, these shoes work well.
The stack height is super minimal with this shoe's sole for deadlifting and the sole's herringbone tread patterning grips the floor well. When I was deadlifting conventional or sumo, I never had slip issues in this model on wooden platforms and rubber gym floors.
I also like the ground feedback that you get these shoes. This model's sole is mobile and articulates really well, so for leg day exercises and general strength training, this model performed pretty well. Plus, they're easy to stash in a gym bag.
The final pro and thing to like about the Bearfoot Ursus is the width of this shoe. This model's toe box provides plenty of width for most foot anatomies and the toe box has a nice anatomical build to it.
I also like that the midfoot is consistent with the toe box and there's no aggressive taper. I could see this being a positive for anyone with flatter feet that need a wide shoe throughout for general use purposes.
Bearfoot Ursus Cons
Despite liking the Bearfoot Ursus for the most part and the company's mission, there are a few cons that I have with this model.
Not Great for Daily Wear Versatility
Appearance Could Be Better
A Little Expensive for What They Are
The first drawback with the Bearfoot Ursus is that it's going to lack versatility for day-to-day in certain contexts. While this model is marketed as a shoe for most activities, I would say to pass on this model for a couple of settings.
First, if you're someone who's wanting a shoe for daily wear in wet and damp settings, you'll want to avoid wearing this model. The suede construction absorbs water pretty easily, and if it's cold outside, your feet will likely run cold as well.
Second, for daily wear contexts outside of casual settings, I think this model will fall short. While I like their slipper-like feel, they don't deliver an appearance that makes them go well with contexts where you'll be more dressed.
For a daily wear minimalist shoe that looks good for more formal and business casual settings, I'd suggest looking into models like the Feelgrounds Highrise Knit or Vivobarefoot Primus Asana.
The second drawback, which somewhat piggybacks off my first drawback, is the overall appearance of the Bearfoot Ursus. This shoe almost looks so slipper-like that it can be tough to wear out and about.
I've now had a few comments about wearing slippers to run errands, only for me to have to explain that these are actually minimalist shoes, and not true slippers. To be honest, it would be nice to see the suede upper updated to have a more formal appearance.
While I understand the utilization of the suede, it somewhat gives this shoe a clunky and dated look similar to the Xero Shoes Prio old school huarache-inspired design. I know beauty is in the eye of the beholder, though, so you may completely disagree with this con, which is okay.
My final drawback with the Bearfoot Ursus is its price point. This model comes in at $99 USD and for what they are, I find that price to be a little high.
For example, this shoe is super simplistic in nature and with their lack of day-to-day versatility, this price can be a miss for some, in my opinion. Outside of casual wear and lifting, the price for this model may not align with some minimalist shoe lovers' asks.
Performance
To discuss the performance of the Bearfoot Ursus, I'll cover how this minimalist shoe performs in different contexts. I'll talk about this shoe's performance for lifting, versatile training, and daily wear.
This shoe is interesting and different from other minimalist shoes. If you're looking into this shoe hopefully the following helps you with your buying decision.

Testing the Bearfoot Ursus for Lifting
The Bearfoot Ursus did a pretty good job for my lifting tests. This model worked really well for sessions where I was more static in nature and doing things like deadlifts, hack squats, and split squats.
The sole of this shoe articulates well and with the width of the forefoot and midfoot, it's really easy to ground the feet with this shoe and get a nice level of ground feedback when training.
If you're looking at this shoe for deadlifts, this shoe's sole gripped the floor well and I don't think you'll experience slip issues with these pulling conventional or sumo. It has a super minimal stack height, so it could be a good model to compete in, in my opinion.
My only gripe with this shoe for lifting and I'll also discuss this below in my versatile training section, is its upper construction. The upper in this model is a little too relaxed at times and I worry about its longevity when stretched constantly due to lifting.
Testing the Bearfoot Ursus for Versatile Training
When it comes to versatile training, this was not my favorite barefoot shoe on the market. I've seen some athletes wear these for things like strongman workouts and accessories, so I was interested to see how these would fair.
For things like plyometrics and multi-directional exercises, the upper is a little too loose to provide nice security. For example, I found myself swimming the forefoot and boot of this shoe at times.
Additionally, I think you'll get more out of these shoes if you pass on them for versatile training. Shoes like an Inov-8 Bare-XF 210 V3 or Xero Shoes 360 would work well if that's your goal and you're looking for a minimalist shoe for versatile training.
So while you can technically rock these for dynamic exercises and workouts, I don't think you'll get the best performance out of these shoes. I would keep your training a bit more static in nature if you're buying these to work out in.
Testing the Bearfoot Ursus for Daily Wear
For daily wear, I thought the Bearfoot Ursus performance was really interesting. There were things that I appreciated with this shoe for daily wear and others that I found to be a knock against this shoe's overall performance.
The two biggest pros that I have with this shoe for daily wear are its comfort and width. I mentioned this above, but I like the internal construction of these shoes and they give me a slipper vibe regarding their comfort and warmth.
So, if you're lounging, walking the dogs, or going for a casual coffee shop run, I think this model can be a good pick. I also like how wide this shoe is for promoting toe splay. The toe box and midfoot in these shoes are plenty and wide and should work for flat feet.
My complaints with this model are that they're not going to be your best shoe for "any" activity and that you'll be capped with their use, in my opinion. For example regarding use, this model does not work great in formal settings due to its lacking a formal look.
Also, if you wear these for everything, then their durability starts to fall off faster. I put these to the test for a weekend in Moab, Utah, and they did okay — but the suede is pretty stretched from a shorter hike and it stained pretty easily. They got the job done but definitely took some damage.
Bearfoot Ursus Sizing
For the Bearfoot Ursus, most individuals should be safe going true to size in this model. The shoe's length runs pretty true and they have a nice width to them so they can accommodate wider feet.
When you first put this model on, you'll likely feel that they feel a bit snug regarding their length. However, after a few wears the suede stretches out a bit they feel a lot more comfortable.
The only context that would warrant sizing up a half-size is if you plan to wear thicker socks with these shoes. While wearing thicker socks is not always ideal in minimalist shoes, it can help give this model a warmer feel in the fall and winter.
Bearfoot Ursus Sizing Thoughts: Go true to size.
If you have additional sizing and fit questions about the Bearfoot Ursus, drop a comment below.
Price Breakdown
For the Bearfoot Ursus, you can expect to pay $99 USD. This price point is right in the middle of the road in the context of minimalist shoes that can be worn for lifting and daily wear.
Personally, this price point can be hit or miss depending on what you want out of these shoes. I think the price makes sense if you're investing in these for more casual wear and for lifting, specifically.
This model's slipper-like feel makes them an easy pick for casual settings and when you want comfort while wearing a shoe sockless. The misses of this model include their versatility for everyday wear and their overall appearance.
These are not the most aesthetic minimalist shoes on the market, so they likely won't be a pair you can wear to business casual work settings like the Vivobarefoot Geo Court III.
Additionally, the suede upper in this model doesn't do the best in wet settings, so you'll want to pass on this shoe for daily wear when it is raining or snowy, which is a knock against this shoe's overall versatility.
Best For
Casual Wear In Dry Climates
Short to Mid-Range Walks
Recreational Lifting
Powerlifting/Deadlifts
Falls Short
For Inclemant Weather
For Appearance
For Long-Distance Walks
Construction Details
The construction of the Bearfoot Ursus is relatively simple in nature and this is one of this shoe's strongest assets. Below are some of the key construction details to note about this simplistic minimalist shoe.
Heel-to-Toe Drop: 0mm
Weight: 7.8 oz (for my size 10 model)
Removable Insole: No Insole
Suede Upper
Full Rubber Sole
Herringbone Tread Patterning
5 Core Metal Eyelets
If you have additional construction-related questions on the Bearfoot Ursus, drop a comment below.
Frequently Asked Questions (FAQ)
Q:
Do the Bearfoot Ursus fit true to size?
A:
The Bearfoot Ursus should fit true to size for most. This model may feel short when first putting them on, but their suede construction breaks in well after a few wears.
Q:
Can you lift weights in the Bearfoot Ursus?
A:
The Bearfoot Ursus can be a viable minimalist shoe for working out. The toe box promotes toe splay and this shoe's minimal sole gives a good level of ground feedback and decreases the stack height for deadlifts.
Takeaway Thoughts
The Bearfoot Ursus can be a good minimalist shoe to explore if you're wanting a model for wearing casually and to the gym. This shoe works well in dry climates and it's a good model for deadlifting and recreational lifting.
The internal suede construction is also soft and slipper-like, so this shoe is easy to wear lounging and on cooler days.
My gripes with this model are its appearance and that it won't be the most versatile for daily wear contexts where inclemant weather is a factor.
If you have additional questions on the Bearfoot Ursus, drop a comment below or reach out to me personally via Instagram (@jake_boly or @that_fit_friend).
I buy and test the products featured on That Fit Friend using a regimen of training tests that I've developed over years of testing training shoes and gear. I may earn commissions on sales made through the links on my site.