Vuori and Ten Thousand have both created strong brands and names in the apparel world. Vuori is a brand known for their high-quality comfortable apparel that you can wear on a day-to-day basis and for training. Ten Thousand is a brand most known for their men's apparel that is designed to function in high-performance settings.
The topic of Vuori versus Ten Thousand is a really fun debate to have, so I wanted to put together an article comparing shorts from each company. The Vuori Kore Short is arguably Vuori's most popular men's workout short and the Ten Thousand Interval Short takes the number one spot for Ten Thousand.
In this men's workout short comparison article, I'm going to be pitting the Vuori Kore Short against the Ten Thousand Interval Short. If you've been on the fence about either of these men's workout shorts, hopefully, this article helps to contextualize which short is best for your training and workout needs.
Must Read: 10 Best Men's Workout Shorts | Picks for Big Thighs, CrossFit, and More!
Ten Thousand Interval Short Performance
The Ten Thousand Interval Short has been one of my go-to shorts for pretty much every style of training over the last three years. They're consistent and their shell and liner very rarely run into durability issues caused directly by training. When it comes to training in this short, there are three major callouts and pros that I like with the Ten Thousand Interval Short.
First, the 4-way stretch shell on the Interval Short does a great job at accommodating mobility and different demands you'll be placing on these shorts in your training sessions. I have yet to run into issues with the durability in my Interval Short's shell and while I have multiple pairs that I train, my original pair from three years ago is still running strong and I keep it in my normal short rotation.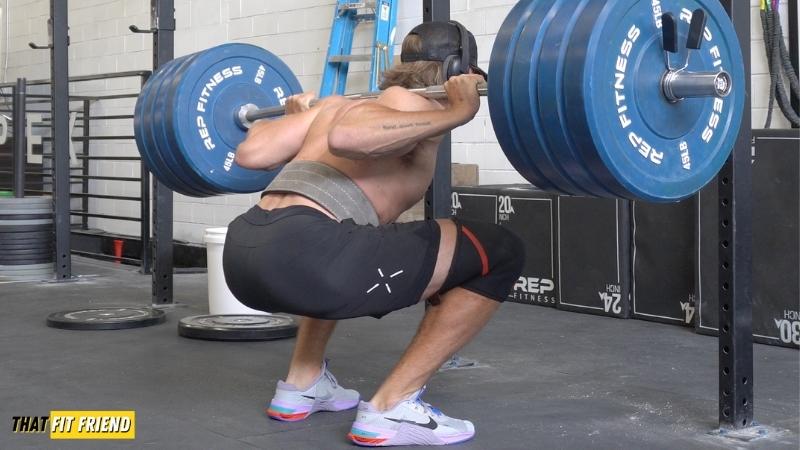 The shell and its durability bring us to the second thing to like about the Interval Short, and that is their overall durability. As a whole, this short shouldn't break down on you quickly and your investment should go the distance. I personally always opt for the liner version and just like the shell and the liner is built to last.
I have yet to blow out the liner in one of my Interval Shorts during a deep squat, which is something that's happened now in a few Lululemon Pace Breaker Shorts of mine. In addition to the liner and shell, I also like that the drawstring faces internally and that the Interval's pockets stay intact really well and never run into issues with ripping.
The final perk and thing to like about the Interval Short is the Perfect Pocket System. In the Interval Short, you get traditional left and right pockets which are deep and big enough for phones, wallets, cards, and keys. On the right side, you also get a zipper pocket which is awesome for stashing your phone during runs and other outdoor training sessions.
Some popular men's workout shorts lack pockets that are big enough to support larger phones (basically every single newer phone these days), so having a big enough zipper pocket is a big deal for me who runs with their phone and keys want to keep them secure.
Ten Thousand Interval Short
Best For
Shorter/Mid-Range Runs
Recreational Lifting
Agility Workouts
Classes
CrossFit
Vuori Kore Short Performance
The Vuori Kore Short is a strong performer, but for slightly different reasons. This model is not my go-to for more serious training and I'll dive into why below. Outside of serious sessions, I do like the Kore Short for more casual training sessions and I'll rock this short because it's comfortable and lightweight.
When it comes to training there are three things to like about the Kore Short and two things to keep in mind. First, for most casual sessions I like that this short has an internal boxer brief that is super lightweight and breathable. This is a good pair of shorts to rock on a daily basis, then to the gym for some light and moderate-intensity work.
The second thing to like about the Kore Short is their more casual pocket system. This short does not feature a zip pocket but instead, it has a rear pocket which the Interval Short does not. This makes the Kore Short a great option for daily wear as it has a much more "laid back" fit and feel to it.
The last perk of this short is that the shell is pretty durable and I have yet to run into any glaring durability issues with my Kore Short. Do I think this short's shell is the best for abrasion against barbells? No, but for casual training, daily wear, and general use, the shell has a solid level of durability to it.
The only caveats with the Kore Short for training include its boxer brief and drawstring. I like the brief for casual wear and training purposes, but I think it falls short if you really want to go hard in this short. The material could be thicker and a bit more support for more serious training sessions and it tends to ride up if you have bigger thighs for deep squats and ballistic movements.
The drawstring also faces out which is not great for things like burpees or other activities where there may be friction on the front of the body which can cause the drawstring to loosen and come undone. Basically, the Kore Short is not going to be your best pick for CrossFit and barbell training, but for casual training, they're good and comfortable.
Best For
Casual Training
Day-to-Day Wear
Recreational Lifting
All Day Comfort
Falls Short
For Maximal Durability
For Sprints and Plyometrics
Interval Short Vs Kore Short Sizing
For the purpose of consistency, I have similar sizes for the Interval Short and Kore Short to more accurately assess how they fit. For this Vuori Vs Ten Thousand review, I went with a medium 7″ liner short for the Interval and Kore Short.
Below, I'm going to provide a breakdown of my sizing and highlight how each short fits on me so then you can hopefully contextualize how the shorts would fit on you. Plus, if there are any major differences this way it's easier to call them out and see them.
My Dimensions
Waist: 32-33″
Hip (Circumference around butt): 40″
Mid-Thigh: 23.5″-24″
Height: 6′ 0″
Weight: 183 lbs
Kore Short Inseam Options: 5″ and 7″
Interval Short Inseam Options: 5″, 7″ and 9″
For both shorts, my preferred size is medium. I can get away with wearing a large in both the Interval and Kore, but I'm not the biggest fan of how the waistband feels and how baggy the legs are.
Between these two medium shorts, the Interval Short has a much more snug fit around the waist and throughout the liner. The Kore Short has a looser and more casual fit. It feels like a pair of shorts that you'd rock to the beach with how lightweight the breathable they are especially through the boxer brief.
Another thing to note is about these shorts is their inseam options and liner options. In the Kore Short, you have fewer inseam options and every Kore Short comes with a boxer brief built-in whereas the Interval Short has a liner and linerless option with more inseam options.
Interval Short Vs Kore Short Durability
The Ten Thousand Interval Short and Vuori Kore Short both have good durability, but they're certainly not equal in every single activity. I think each short's durability will ebb and flow based on how you plan to use them.
For example, the Vuori Kore Short's durability is going to fall off much faster if you're tackling tough CrossFit workouts and doing a ton of barbell work. Since they have the light boxer brief, they can be a bit more prone to experiencing breakdown here compared to the Interval Short which has a much more athletic compression liner.
If you want your Vuori Kore Short to last longer, then I'd suggest limiting their exposure to abrasion, and in most cases, really tough training sessions and outdoor workouts.
The Ten Thousand Interval Short has really durability across the board and I have yet to have a shell or compression liner rip in my shorts. The only area where the Interval Short can fall short for durability is their waistband. If you're washing your shorts a ton, then you may notice that the waistband starts to bunch up.
I've noticed this happen in a couple of my older pairs of Interval Shorts that I've had for 2+ years. It's not the biggest deal and it doesn't impact performance, but it is worth noting if we're getting into the granular details of long-term durability for these shorts.
Interval Short Vs Kore Short Price
For the Interval Short and Kore, you can expect to pay similar prices. For the Interval Short, the price ranges from $64-$68 USD depending on if you go with a liner or linerless option. In the Kore Short, you can expect to pay $68 USD.
Ten Thousand Interval Short: $64 USD (linerless) and $68 USD (liner)
Vuori Kore Short: $68 USD
Compared to other high-end apparel companies, the prices of these shorts are right in line with the industry norm. Personally, I think if you go into each of these pairs knowing their strength and limitations, then their price points are pretty fair.
Liner Vs Linerless
When it comes to deciding between a liner and a linerless short there is a lot of personal preference that comes into play. For example, I like liner options because it saves me the trouble of packing additional items of clothing and it saves me from issues with compression briefs that don't mesh well with workout shorts.
Between the Interval Short and Kore Short, it's a bit easy to select liner and linerless options. The Kore Short only comes with a boxer brief so you don't really get a choice in this model. Also, it's important to note that this brief is not a compression liner so it doesn't hug nearly as tight as other shorts or offer the same level of support.
In the Interval Short, I always recommend going for the liner option. This makes the short feel a lot more seamless and you'll have fewer issues with waistbands sliding around in the event your compression shorts don't align well with the waistband of the Interval Short.
That being said, I do like the linerless Interval Short, but I'll save wearing it for times when I'm lounging, running errands, and walking the dogs. The linerless option is super comfortable and they're heavy enough to where you can go commando in them without a ton of "visibility" issues.
Ten Thousand Interval Short
Best For
Shorter/Mid-Range Runs
Recreational Lifting
Agility Workouts
Classes
CrossFit
Frequently Asked Questions (FAQ)
Q:
How should I wash Vuori and Ten Thousand shorts?
A:
Since Vuori and Ten Thousand apparel are a bit more expensive I always recommend washing them on cold and delicate with similar colors. Once they're done, take them out and let them air dry. You can also put them in the dryer, but I'd suggest running that on delicate as well. I personally prefer air drying my shorts to prolong their durability.
Q:
Can you do CrossFit workouts in Vuori shorts?
A:
Yes, you can absolutely do CrossFit workouts in Vuori shorts. However, they're not my favorite due to their external-facing drawstring and their boxer brief liner not providing the best support and compression.
Takeaway Thoughts
Vuori versus Ten Thousand is a popular question amongst guys searching for the best workout apparel for their needs. Both companies make great gear and there are areas where their apparel excels and areas where they fall short.
If you're debating between the Ten Thousand Interval Short and Vuori Kore Short, then I'd suggest going with the Interval Short if you plan to train hard often. For those looking for a more casual and comfortable short, then it's hard to fault the Vuori Kore Short.
If you have any questions about the Interval Short or Kore Short, drop a comment below or reach out to me personally via Instagram (@jake_boly)!
I buy and test the products featured on That Fit Friend using a regimen of training tests that I've developed over years of testing training shoes and gear. I may earn commissions on sales made through the links on my site.