When you think of Vans, what comes to mind? More than likely it's an artistic-style brand that makes shoes for extreme sports and daily wear. If you're a strength athlete, then lifting might come to mind when asked this question, however, I really doubt many folks are thinking "cross-training" when asked about Vans shoes.
Incomes the Vans UltraRange EXO shoes, which are a nod to a Vans' classic, but with a slightly more functional feel. The Vans UltraRange EXO shoes are designed for daily wear with a focus on comfort. In my world of training, these have actually become one of my favorite shoes for casual workouts. Never would I have thought I'd be saying that I like to cross-train in a pair of Vans.
In this Vans UltraRange EXO review, we're going to break down all of the key details that go into this model to help you decide if it's a good fit for you.
On the market for a new pair of cross-training shoes? Try the That Fit Friend cross-training shoe finder to be matched with your best fits — all of which I've reviewed!
Who Should Buy the Vans UltraRange EXO Shoes?
The Vans UltraRange EXO shoes are a great choice for the lifter and athlete that trains recreationally and wants a pair of shoes that also work for day-to-day wear. I think one of the beauties of this shoe is that it's comfortable for daily wear, looks fantastic, and can hold its own with recreational training.
It's not going to be the most niche when it comes to aspects like maximal stability, but for someone who's training up to 315 lbs, I think this model will be a good bet for providing them with enough stability to excel. Overall, this is an aesthetic and comfortable shoe for daily wear and casual training.
Best For
Daily Wear
Casual Training
Lighter Lifting
Falls Short
For Long-Term Durability
For Niche Training
For Heavy Lifting
Vans UltraRange EXO Pros
Over the course of my training sessions and daily wear in the Vans Ultrarange EXO shoes, I've found three key pros that I really enjoy about them.
Comfort and Responsiveness
Great for Daily Wear
Lightweight and Durable
I think the biggest pro with this model is their overall comfort. This model utilizes Vans' co-molded UltraCush® Lite Midsole which provides this shoe with a responsive surface to walk, jump, and train on. Whether you're walking longer distances or cross-training casually, this model does a great job at providing you with a lightweight responsive midsole.
Another pro that comes with this shoe that you don't always get with normal cross-training shoes is the overall aesthetic. For daily wear, this model looks great and you can rock them with gym shorts, jeans, and really whatever you want and they look pretty solid. This is a low-key nice perk for those that love the streetwear appeal of Vans and also like to train.
The final aspect that I've enjoyed about the Vans UltraRange EXO shoe has been their overall lightweight construction and durable upper. Their upper doesn't have stitching and the toe box is reinforced with a synthetic material to prevent quick toe box breakdown.
Additionally, the lightweight mesh on the medial and lateral sides with the UltraCush tongue does a good job of providing the foot with some breathability.
Vans UltraRange EXO Cons
While I do enjoy this shoe for training and daily wear, there are two potential cons I could see others having with this model.
Lacking Maximal Stability
Long-Term Durability
The first drawback with the Vans UltraRange EXO shoes is their overall stability for the gym-focused individual. This shoe is marketed as an all-terrain style shoe, so it's important to contextually note where they're going to excel most. In the gym, they work, but when it comes to heavy loading their UltraCush midsole is not going to be your best for stability.
If you plan to train in these shoes, then I'd recommend capping loading to about 315 lbs. I've worked a tad heavier than that weight in them and I initially started to notice compression once I passed around 285 lbs, so I'd say make 315 lbs the upper limit.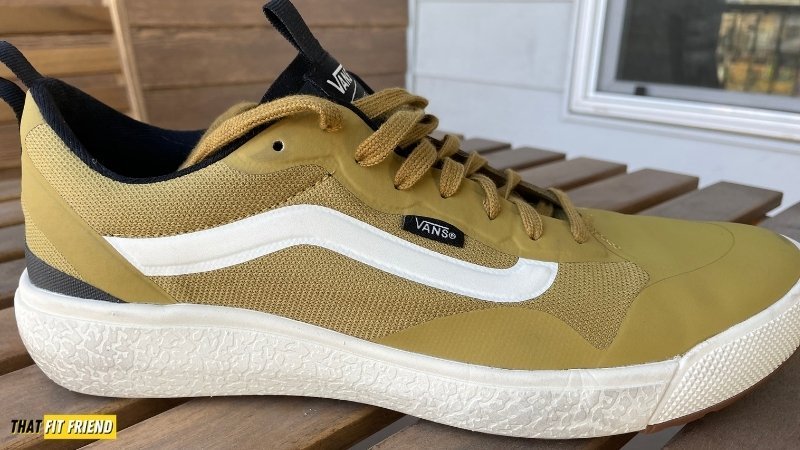 The second potential drawback with this model is the midsole and upper long-term durability. After a week and while wearing these shoes ONCE while casually skating, I had the upper in this model rip. I know it's not a skate shoe, but for one wear, I was a little disappointed in this model's upper durability.
I could also see the UltraCush midsole having some durability issues and the lighter upper could have some issues with friction in some contexts. If you're wearing them on a daily basis and casually training in them, then I think you should be fine with durability. However, I would highly suggest limiting friction from external surfaces and grip tape.
Vans UltraRange EXO Performance
For the Vans UltraRange EXO shoes, I kept my performance testing consistent with other cross-training shoe reviews I do, but also added a mini section below for skating.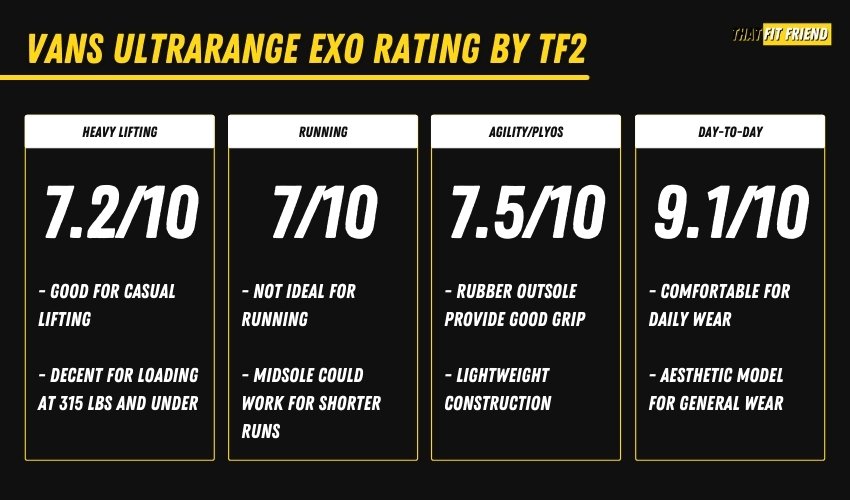 Lifting
As for lifting in this model, I mentioned the stability aspect above, but I think this model does a fairly good job at handling loading up to about 315 lbs. The UltraCush Lite Midsole isn't exactly designed for heavy training, so it makes sense that the stability in this shoe isn't something like a true cross-trainer or Vans Authentic.
For the recreational lifter that wants a shoe for more casual training, I think this model's stability will work though. I enjoy this shoe for lighter training and unilateral lower body training.
Agility and Plyometrics
This model works for some casual agility and plyometrics. When I say casual, I'm more so referencing the athlete and lifter that hits things like box jumps and other bounding activities throughout a workout, but they're not their main focus.
Basically, if you're an athlete or super-niche in your training with a heavy focus on maximal performance output in these activities, then you'll want to explore other options. The flatter outsole in this shoe could be a turnoff for the athlete that has a primary focus on agility and plyometrics.
Daily Wear and Running
For daily wear, I really like the Vans UltraRange EXO. The midsole is super responsive and comfortable so you can wear it all day with ease. Plus, the lightweight construction and rubber outsole make this a viable option for things like traveling, running errands, and wearing to work.
If you want to run in this model, I would say you might want to explore other options. You can get away with running shorter distances in this shoe if you have to, but it might not be the best option or most comfortable due to its flatter outsole.
Skating
For casual skating, this model is not the best. I'm by no means an expert skater and I tried this model out for casual skating and I'd highly suggest limiting any skating in this shoe. The upper durability is prone to ripping on the lateral side by the pinky toe, so if you want these shoes to last — skip skating in them.
Vans UltraRange EXO Sizing
For sizing, you should be safe going true to size in the Vans UltraRange EXO. This model's length fits true and its toe box has a more neutral width to it so I think it will fit a variety of feet well.
Price
For a pair of new Vans UltraRange EXO shoes, you can expect to pay around $90 USD. Overall, this is a fairly cost-efficient price for a shoe that can be used for a wide range of activities.
Personally, I think this price point is worth it especially if you plan to wear these on a daily basis and to train in casually. They're a nice hybrid shoe for tackling a wide range of activities and looking good for daily wear.
Construction Details
For those interested in the construction of the Vans UltraRange EXO I've provided some key features below. I think the biggest points to note are this model's midsole and EXO skeleton construction.
UltraCush Lite Midsole
Rubber Outsole for Traction
Lightweight Mesh Upper
UltraCush Tongue
EXO Skeleton Construction
Best For
Daily Wear
Casual Training
Lighter Lifting
Falls Short
For Long-Term Durability
For Niche Training
For Heavy Lifting
Takeaway Thoughts
Overall, I enjoy the Vans UltraRange EXO shoes. They're a great day-to-day model that you can casually train in, so if you are someone looking for a "best of all worlds" style of shoe, then I think this model is worth exploring.
If you have any questions about the Vans UltraRange EXO shoes, drop a comment below or reach out via Instagram (@jake_boly)!