If you're on the market for new training shoes, then you've likely considered or have at least seen the On Cloud X and Nike Metcon 7. Both the On Cloud X and Nike Metcon 7 are relatively newer to the training shoe scene and each of these models performs very differently. It can be crucial to identify the differences between the On Cloud X and Nike Metcon to better support your goals.
Personally, I enjoy the On Cloud X and Nike Metcon 7, but for different reasons which I'll discuss below. These models are not equal whatsoever in the gym in regard to performance especially for things like CrossFit, lifting, and versatile training. That being said, it's a good idea to understand their best uses before investing especially since each of these shoes has higher price points.
In this On Cloud X Vs Nike Metcon comparison, I'm going to break down a variety of topics to help you decide which cross-training shoe is best for your training needs.
On the market for new cross-training shoes? Read my 7 Best Cross-Training Shoes article to see which models perform the best for CrossFit, lifting, flat feet, and much more.
On Cloud X Vs Nike Metcon 7 Performance
To break down the performance between the On Cloud X and Nike Metcon 7, I'm going to discuss how each shoe does for lifting, CrossFit, versatile training, running, and daily wear.
Stability With Lifting and CrossFit
When it comes to lifting and CrossFit, the On Cloud X and the Nike Metcon 7 are not really comparable. While both of these shoes are technically cross-training shoes, they are not equal when it comes to their stability when lifting and CrossFit performance. The clear winner here is going to be the Nike Metcon 7 for three key reasons.
For starters, the Nike Metcon 7 is specifically built to support lifting and CrossFit performance so it has multiple construction aspects designed for this style of training. I've trained up to 505 lbs in the Nike Metcon 7 are didn't have a ton of issues with compression, so overall, the Metcon 7 is a fairly stable cross-training shoe for lifting.
In the context of CrossFit, the Nike Metcon 7 has additional midfoot wraps for supporting rope climbs and prolonging the overall shoe's durability. On top of the rope climb support, this model also features upper layers that cover the toe box for durability during toe dragging exercises and they have a built-in Hyperlift insert for additional stability when lifting and CrossFit support.
The On Cloud X has a lightweight mesh upper which doesn't really have much going for it when it comes to abrasion resistance. This model falls short for long-term durability with workouts that involve friction on the upper construction. Additionally, the CloudTec® outsole and Helion™ superfoam fall short for stability.
In the On Cloud X, I'd suggest limiting your lifting to around 255 lbs as anything more will cause compression and could potentially limit your overall stability when training in this model.
Winner: Nike Metcon 7
Best For
Heavy Training
CrossFit Workouts
Rope Climbs
Plyos and Agility Workouts
Short Runs
Falls Short
For Long-Distance Runs
For Wider Feet
Versatile Training
For versatile training that includes HIIT, athletic-focused work, and plyometrics these models are somewhat more comparable to one another. The Nike Metcon 7 features Nike React Foam as its primary midsole material, which gives this model more responsiveness and versatility compared to its previous iteration the Nike Metcon 6.
The Nike Metcon 6 was pretty uncomfortable for most forms of versatile training, but you can actually use the Nike Metcon 7 for plyometrics and athletic-focused work and it works fairly well. The forefoot has pretty maneuverability and this model fits fairly athletically in regard to its profile and last.
The forefoot grooves in the Nike Metcon 7 help it break in fast and the full rubber outsole grips different surfaces well. This shoe also provides a bit more midfoot support compared to the On Cloud X and you can see how the midfoot contours slightly above.
The On Cloud X's redeeming qualities for versatile training include its weight and responsiveness when training sagitally (front to back). My size 10 On Cloud X weighs 8.8 oz which is incredibly lightweight for a cross-training shoe and it has an athletic fit to it.
The CloudTec outsole also does a good job with plyometrics and athletic work when you're training forwards and backwards. In these training settings the CloudTec helps provide a nice level of propulsion when really digging into the ground and I think many will find this construction feature fairly comfortable.
The only caveat to the On Cloud X when training in a versatile manner is that it's not the best model for lateral work and it doesn't offer a ton of midfoot support. To be honest, the On Cloud X are not my go-to when I'm training hard in a variety of directions for this reason. Additionally, if you have a wider or flatter foot, then the lack of support could be something worth considering.
Winner: Nike Metcon 7 if you want a model that works better for more serious omin-directional work. Go with the On Cloud X if you want a shoe for more casual versatile training.
Shorters Runs and Daily Wear
For shorter runs and daily wear, both of these models will work, but each has a threshold that I would suggest adhering to. With the Nike Metcon 7, you can generally run up to about one mile in them before they get uncomfortable. Some lifters may be able to use them for slightly longer runs, but for many, I think a realistic cap to stick to would be shorter bouts of running.
The Nike Metcon 7 works for things like 800-meter runs that will often be programmed in CrossFit workouts and that's due to its new Nike React Foam midsole. If you're a forefoot or midfoot striker, then this will also make the Metcon 7 more comfortable for shorter runs as heel strikers will likely not enjoy this model at all for runs.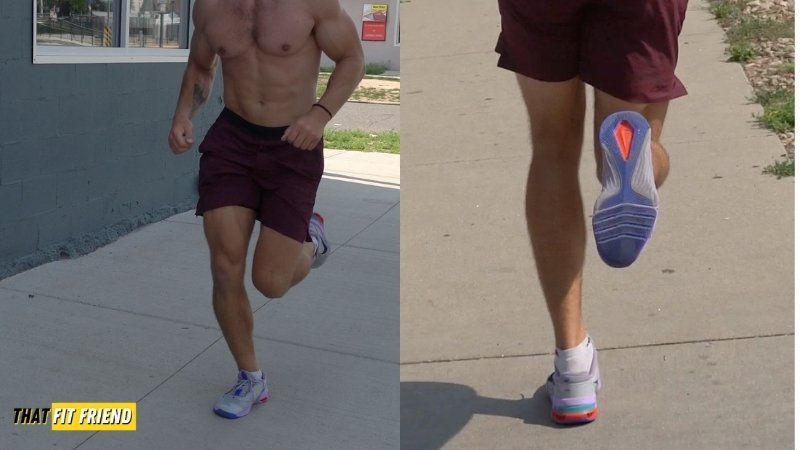 On a day-to-day basis, the Nike Metcon 7 works fairly well. It's more comfortable than other Nike CrossFit shoes and the forefoot construction provides a level of cushion when standing for long periods.
The On Cloud X has a slightly higher running threshold and this model is fairly comfortable for runs up to about 3-miles. Anything more and you may want a shoe with more support for a more comfortable ride. The Cloud X is lightweight and the Helion superfoam is a pretty good material for very casual runs.
Where I think the On Cloud X excels the most is for daily wear. Personally, I keep finding myself using the On Cloud X most for day-to-day wear due to its comfort and lightweight nature. While it's not my favorite model for training, it's one of my go-to's for running errands and being on my feet for long periods.
Winner: On Cloud X
Best For
Plyometrics
Short/Mid-Range Runs
HIIT Training
Agility Workouts
Falls Short
For Cost-Efficiency
For Heavy Lifting
For Long-Term Durability
On Cloud X Vs Nike Metcon 7 Construction
To make this section concise and digestible, I'm going to discuss the Nike Metcon 7 and On Cloud X's individual construction characteristics below.
Outsole
The Nike Metcon 7 features a full rubber outsole that has ridges for traction. The forefoot has grooves where the Nike React Foam is exposed. This is a good thing for maneuverability, but I have noticed that my pair of Metcon 7's are starting to have the outsole lip and breakdown around the base of the pinky toe where the midsole groove is.
The Metcon 7's midfoot contours and the heel has a slip in the middle where you can see the Hyperlift insert. This heel construction gives the model's outsole a weightlifting shoe feel and look to it.
The On Cloud X features On's proprietary CloudTec outsole. The Cloud X's outsole is covered in rubber for additional grip and this model features a split down the middle of the shoe that divides the CloudTec construction. One thing I have noticed with most On shoes is that the divisions between the tread are prone to picking up rocks and other small objects when wearing them.
Midsole
The Nike Metcon 7's main midsole material is Nike React Foam. This foam provides a blend of cushion and stability. In the midfoot, there's a rubber outsole wrap that protects the shoe from rope climbs, then in the heel, you can see the React Foam and the Hyerlift Insert.
The On Cloud X's midsole is composed of Helion superfoam. This is a material that provides adequate cushion and compresses fairly easily. For many, you'll notice this compression even when walking in this model. And for this reason, that's why I also recommend passing on this model if you plan to lift in them.
Upper
The Nike Metcon 7 features a chain-link mesh upper construction throughout the entirety of the shoe. The toe box has additional overlays for durability and the heel also features additional layers for heel structure and stability.
On the medial side of the midfoot, the Nike Metcon 7 has a rubber overlay that extends from the outsole up the shoe for protection from rope climbs. On the lateral side, we have prominent Nike branding.
The On Cloud X utilizes a lightweight and breathable mesh throughout its upper. This model has additional layers surrounding the boot for structure and stability. The toe box and base of the forefoot also feature a highly breathable mesh.
Laces and Tongue
The Nike Metcon 7 has five primary eyelets and the three lateral eyelets feature Nike Flywire construction. I like the midfoot construction in the Nike Metcon 7 and never really run into midfoot stability issues in this model.
The tongue features a lace-lock tab for securing the laces when training and doing CrossFit. Personally, I think this lace-lock tab is a bit excessive and overkill. Outside of my testing of this model I haven't used this feature once.
The On Cloud X features six primary eyelets and has a seventh for lace-lock. While the On Cloud X's lacing system provides a nice level of midfoot security, it does bunch up slightly at the toe box if you have a narrow or neutral fit and like your shoes to fit slightly tighter.
The tongue is lightweight in this model and stays fairly secure when training. The mid-tongue loop helps to lock down the tongue and prevents it from sliding despite its lightweight construction.
Insole
Both of these models feature thin foam removable insoles. The Nike Metcon 7's insole is pretty simplistic in nature and that's very different from the Nike Metcon 6's dual-density insole and the Nike React Metcon Turbo's React Foam insole. The On Cloud X's insole is similar in nature and provides a thin foam layer.
On Cloud X Vs Nike Metcon 7 Sizing
For most lifters and athletes, you should be safe going true-to-size in the Nike Metcon 7 and the On Cloud X. The length fits true in these models and their last will work for those that have narrow and neutral feet.
The only caveat to both of these models is that they're both somewhat slim and narrow in nature. The On Cloud X can be pretty offputting for those with flat and wide feet and the Nike Metcon 7's midfoot can also feel a bit limiting. Additionally, both of these models have low-profile designs so they may not work for those with thicker custom orthotics.
Nike Metcon 7: True-to-size.
On Cloud X: True-to-size, but this model may feel a bit too tight through the midfoot for those with flatter and wider feet.
If you have any additional questions about the Nike Metcon 7 and On Cloud X's sizing, feel free to drop a comment below.
On Cloud X Vs Nike Metcon 7 Durability
One of the drawbacks to both the Nike Metcon 7 and the On Cloud X is their long-term durability. Both of these models will last a while if you take good care of them and limit their use for daily wear, but if you're going hard in them every week, then you may experience some durability issues.
In the Nike Metcon 7, pay attention to the outsole and midsole construction in the forefoot. In my model, the outsole is starting to lip slightly at where the exposed midsole sits. I think this is due to training outside on concrete and the friction causing the midsole to break down, so food for thought if you like to train in the Nike Metcon 7 and like to train outdoors.
For the On Cloud X, pay attention to the shoe's midsole and upper construction. If you're cutting left to right or training outdoors, then I have noticed that the midsole and outsole break down fairly fast in this model. In addition, the upper is not the best for abrasion resistance so keep that in mind when going hard in the On Cloud X if you invest in them.
Note, I don't write this section to make you scared to train hard in the Nike Metcon 7 and On Cloud X, more so, I just want to be transparent in regard to what you should keep an eye on with each model's long-term durability.
Price Comparison
For the Nike Metcon 7, you can expect to pay $130 USD which is fairly consistent with other Nike Metcon models and newer cross-training shoes. The On Cloud X's price point starts at $139.99 USD which is a bit more on the pricey end for training shoes.
I think both price points are fair if you're using the shoe for what it's intended to be used for. The On Cloud X is a great daily driver and the Nike Metcon 7 provides a nice blend of construction features for tackling lifting and CrossFit.
Frequently Asked Questions (FAQ)
Q:
Are Cloud X shoes good for running?
A:
The On Cloud X is an okay training shoe for tackling shorter runs. The CloudTec outsole and Helion superfoam midsole do a fairly good job at providing a comfortable ride for runs up to about 3-miles in length.
Q:
Are On Clouds good for CrossFit?
A:
No. The On Cloud X is not a great shoe for CrossFit whatsoever. This shoe lacks adequate stability when lifting and its upper construction does not do a great job for abrasion resistance when doing things like rope climbs.
Q:
Can I run in Nike Metcon 7?
A:
The Nike Metcon 7 will work for shorter runs that are about a mile in distance or shorter. This model features Nike React Foam throughout its midsole which gives this shoe a more comfortable ride compared to its prior Nike Metcon models like the 4, 5, and 6.
Takeaway Thoughts
The Nike Metcon 7 and On Cloud X are both very different training shoes. If you're looking into these two models and deciding to go with, then I'd highly suggest going for the Nike Metcon 7 if you want a model for lifting and training hard in. Conversely, if you want a shoe for very casual training and daily wear, then go with the On Cloud X.
If you have any questions about either of these models, drop a comment below or reach out to me personally via Instagram (@jake_boly)!
I buy and test the products featured on That Fit Friend using a regimen of training tests that I've developed over years of testing training shoes and gear. I may earn commissions on sales made through the links on my site.