The HYLETE Circuit II is the second cross-training shoe that HYLETE has produced in their Circuit shoe line. After hearing mixed reviews on the HYLETE Circuit II I was super interested in giving them a try and putting them to the test. Unlike other cross-training shoes, the Circuit II provides its versatility through the use of three different rotatable insoles.
Over the course of my testing, I've found multiple aspects to like about the HYLETE Circuit II and I think HYLETE is onto something with some of its construction components. That being said though, there were a few glaring issues I had with the HYLETE Circuit II's construction and I'll discuss these aspects below.
In this HYLETE Circuit II review, I'm going to cover all of the essential details that you need to know about this shoe before investing.
On the market for new cross-training shoes? Make sure you check out my TF2 Cross-Training Shoe Calculator. This calculator matches you with the best models that I've reviewed for your training needs.
Who Should Invest In the HYLETE Circuit II?
The HYLETE Circuit II is an interesting cross-training shoe. Unlike other cross-training shoes, this model comes with three different insoles to give you three different fits and feels for a variety of performance settings. The different insoles this model comes with are 0mm, 4mm, and 6mm.
This model will be best for those who plan to use them for classes, casual training, and HIIT workouts. The Vibram outsole grips the floor well and the different insoles provide a nice variance of responsiveness and versatility. The shoe as a whole is also lightweight and breathable so it's easy to wear in a variety of settings.
The drawback to this model is that it falls short for heavy lifting and CrossFit workouts. Plus, there are definitely some long-term durability issues to be aware of, so if you are looking for a shoe for serious CrossFit or cross-training, then you may want to look into other shoes.
Best For
Recreational Lifting
HIIT Workouts
Classes
Casual Training
Falls Short
For Heavy Lifting
For Longer Runs
For CrossFit-Specific Athletes
HYLETE Circuit II Pros
Throughout the course of my testing, I've found a few pros and things that I really enjoy with the HYLETE Circuit II.
Lightweight and Breathable
Toe Box Is Fairly Wide
Insoles Are Interesting
The first aspect to like about this model is its lightweight and breathable construction. For my size 10 model, the Circuit II comes in at a weight of 10.1 ounces which is fairly light compared to other cross-training shoes. If you're going through longer sessions, then I think you'll enjoy how lightweight this shoe feels.
Additionally, I like the breathability of this model's upper construction and tongue. If you're in a hot gym, training outside in hot temperatures, or wearing these all day they should remain relatively cool on your feet.
The second aspect to like about this model is that the toe box doesn't have a ton of taper. HYLETE purposely made the toe box slightly wider which I really enjoyed because I had ample width to splay my toes and grip the floor in this model when lifting and tracking my training sessions. I have a more neutral foot width and I have plenty of room in this shoe.
If you're worried about toe splay, then I don't think you'll have to worry too much about this model. I also think this is a good shoe for anyone with their own insoles since their width is fairly wide. The toe box and midfoot volume are a tad tight with thicker insoles, but if you use a standard insole then you should be fine.
The last aspect to like is the effort and idea behind the implementation of the three insoles that come with this model. This shoe comes with three different insoles that all provide a slightly different fit and feel. The insoles have a 0mm, 4mm, and 6mm heel-to-toe drop and essentially they're designed to excel in different settings.
I like the idea of these and think if you're someone who likes to rotate your insoles for different performance aspects, then you'll enjoy them as a whole. I do think these insoles could fall short for some athletes and lifters, but we'll discuss that below.
HYLETE Circuit II Cons
While the HYLETE Circuit II has a few construction features going for it, I do think there are a couple of areas where this shoe can improve.
Thick Boot Construction
Tongue Durability
Insoles May Not Work for Everyone
The first con to this model is how thick the boot construction and the heel counter are for this model. HYLETE mentions on their product page that they listened to the community and reworked the boot, but to be honest, I think they went a bit too far with the thickness of the Circuit II's boot construction.
On the product page, it's hard to tell that the boot is as thick as it is so when I started testing and wearing these models it was somewhat surprising. The thicker boot construction doesn't necessarily hinder performance, but it does take away from this shoe's overall appearance.
The second drawback is the shoe's tongue durability. This model features a super lightweight and breathable tongue which is great for those performance traits, however, it falls short for durability. In one of my first sessions, I had my Circuit IIs tied fairly tight and pulled the tongue over on one side, and had it rip.
This tongue reminds me a lot of the Nike Romaleos 3 tongue which had similar durability issues. The tongue is a lightweight mesh and has cuts on the left and right sides which make it prone to ripping. If you get this model, use two hands and pull on each side of the tongue equally.
The last potential drawback is the different insoles. While I appreciate that HYLETE is trying to innovate and give this shoe a more dynamic fit and feel I do think the insoles could be offputting for some athletes and lifters. Each insole has different dimensions which makes them all feel different.
For example, the 6mm insole has a fairly high arch and I think if you don't have the foot anatomy that aligns with this shoe's insole, then you may find that midfoot material jarring in some respects.
Performance
To discuss the performance in the HYLETE Circuit II, I'm going to break this section into multiple parts. I'll talk about how this shoe does for heavy lifting, CrossFit, versatile training, running, and day-to-day wear.
HYLETE Circuit II for Stability When Lifting and Doing CrossFit
When it comes to heavy lifting and CrossFit, the Circuit II will work for many, but it has its limitations. HYLETE includes the three different insoles for different lifting contexts and while I like this idea in theory I found that regardless of using the 0, 4, or 6mm insole I still had some compression when lifting over 350 lbs.
Must Read: 8 Best CrossFit Shoes | Picks for Rope Climbs, Flat Feet, and More
For example, in my 365 lb squat sets, I noticed the heel of 4mm insole compressing as I walked the weight back and that's due to the insole being fairly thick and foam in nature. On HYLETE's site, they point out that each insole is designed for certain things and note that the 0mm insole is made for lifting. Personally, I don't like this because not everyone wants to train and lift on a 0mm offset.
Offset doesn't really have a ton to do with lifting unless we're getting super-specific and talking about shoes for deadlifts or something like the sport of weightlifting where offset can matter for specific exercises.
That being said, if you do like lifting with an offset of 4mm or 6mm, then you'll likely feel limited in how heavy you can train in these shoes due to insole compression. For CrossFit, these shoes are okay and will work for the more casual CrossFit athlete, but like with lifting, their capabilities will be capped.
HYLETE Circuit II for Versatile Training
For HIIT workouts, agility sessions, and classes, I think the HYLETE Circuit II will excel especially if you like how the 4mm and 6mm insoles fit and feel. These insoles give this model a nice blend of versatility and responsiveness while the outsole helps to increase stability and balance with its flatter construction.
I like the Vibram outsole for training on different surfaces and with the overall lightweight build and breathability of this shoe, I think most will enjoy wearing them in warmer gyms, class settings, and for outdoor sessions.
HYLETE Circuit II for Running and Daily Wear
Despite coming with the thicker 6mm insole I'm still not sold on the Circuit II being a great trainer for tackling runs especially if they're longer in distance. Personally, I'd say cap your running to about one mile in length with this shoe if you're using the 4mm or 6mm insole. For short runs, these work, but for longer runs, I think you'll find them somewhat uncomfortable.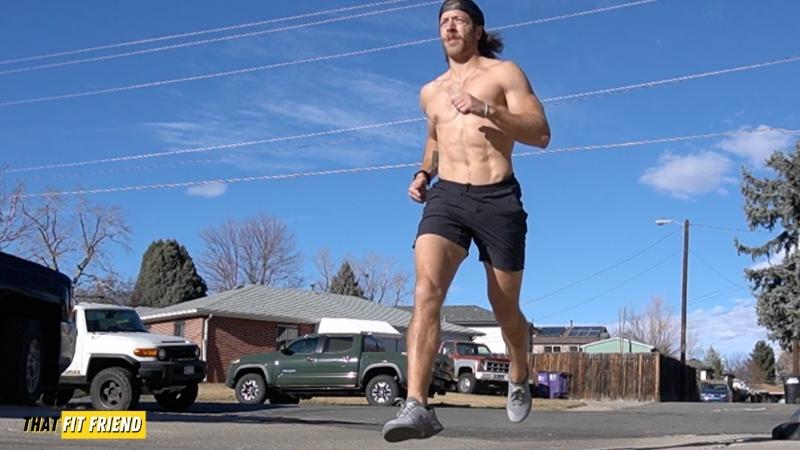 On a daily wear basis, you can rock these and I think the Vibram outsole adds a nice level of durability. However, with the thicker boot construction and tongue durability, I'm actually not the biggest fan of this model. The heel looks a bit odd and while these work for daily wear, I'm not the biggest fan of their appearance.
HYLETE Circuit II Sizing
Most athletes and lifters should be safe going true-to-size in the HYLETE Circuit II. This model's length and width both fit true and I think most will enjoy their overall dimensions in regard to fitting a variety of foot sizes.
Personally, I like the dimensions of this shoe as a whole and enjoy the fact that HYLETE didn't taper the toe a ton which gives this model adequate toe box room.
The one interesting thing about the sizing in this model is that the different insoles do shift the overall volume of the midfoot and toe box slightly. If you have high arches or thicker feet, then you may actually not enjoy how the 6mm insole feels, which could be something to consider if you plan to invest in this model.
For this population, you may be limited to using the 0mm insole and maybe the 4mm if you don't feel too cramped with this model's overall fit.
Price Breakdown
For the HYLETE Circuit II, you can expect to pay $130 USD for a new pair. This price is right in line with other top cross-training shoes, and I think if you're buying this model for the right context and you're careful with the tongue construction, then the price is fair.
If you're not exactly sold on the construction and performance of this shoe, then you could definitely find more budget-friendly training shoe options that will offer similar levels of performance as this model.
Best For
Recreational Lifting
HIIT Workouts
Classes
Casual Training
Falls Short
For Heavy Lifting
For Longer Runs
For CrossFit-Specific Athletes
Construction Details
If you're interested in the construction of HYLETE Circuit II, I've provided what I think are the biggest and most relevant construction callouts for this model below.
If you want a visual breakdown of this shoe's construction, then skip to 9:21 in the video above.
Heel-to-Toe Drop: 0-6mm
Weight: 10.1 oz (for my size 10 model)
Removable Insole: Yes
Mesh Upper Construction
Vibram Rubber Outsole
6 Eyelets
If you have additional questions on the HYLETE Circuit II, drop a comment below and I'll answer accordingly.
Frequently Asked Questions (FAQ)
Q:
Are HYLETE Trainers good for CrossFit?
A:
The HYLETE Circuit II is an okay shoe for CrossFit, but I think some will find its stability and overall durability lacking. If you're tackling a casual class, then this shoe works, but if you're a die-hard CrossFit athlete, then you may want something more specific.
Q:
Can you run in HYLETE Trainers?
A:
The HYLETE Circuit II 6mm insole is your best bet for tackling runs in this model. I think this shoe does a slightly better job than other cross-training shoes, but it's still not going to be a go-to for runs. I'd say cap your runs to about a mile in length in this shoe.
Takeaway Thoughts
While there are definitely a couple of areas where I think the HYLETE Circuit II excels, the construction as a whole was pretty lackluster. With the overly thick heel counter and tongue durability, I think if HYLETE could improve on these areas, then this model would be a better performer.
For casual training and classes, this shoe works well, just be careful with its durability to ensure your money goes the distance.
If you have any questions on the HYLETE Circuit II, drop a comment below or reach out to me via Instagram (@jake_boly).
I buy and test the products featured on That Fit Friend using a regimen of training tests that I've developed over years of testing training shoes and gear. I may earn commissions on sales made through the links on my site.