High-intensity interval training (HIIT) is a popular way for athletes and lifters from all walks of life to train. This style of training is highly demanding on the body and the shoes that you choose to wear. This is why it's a good idea to have a great pair of shoes for HIIT workouts because they'll help you perform better and they'll have better durability.
Since HIIT workouts can be dynamic with explosive and high-intensity exercises, it's a good idea to have a pair of shoes that provide a nice blend of responsiveness and stability. This way if you're jumping, running, or doing things like single-leg work you'll have shoes designed to accommodate these tasks.
In this HIIT shoes guide, I'm going to discuss what to look for in your HIIT shoes, why their construction matters, and some great HIIT shoe options. I've reviewed countless cross-training shoes and there are a few that stand out from the pack for HIIT workouts.
On the market for new cross-training shoes? Make sure you check out my TF2 Cross-Training Shoe Finder. This calculator matches you with the best shoes that I've reviewed for your training needs.
What Are HIIT Workouts?
Before we dive into the HIIT shoe content, it's a good idea to first define what HIIT training and HIIT workouts are. This way you can better assess the shoes that you need for your HIIT training. For example, this way you don't end buying a shoe that is specific for HIIT training even though you're primarily tackling CrossFit workouts.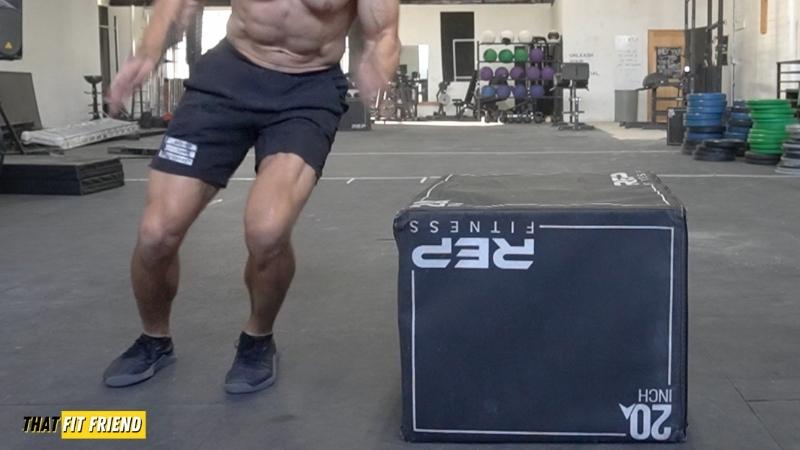 HIIT workouts are a style of training that incorporate short bouts of high-intensity exercise mixed with short rest intervals. HIIT workouts are performed to increase work capacity and aerobic and anaerobic training capabilities. When tackling HIIT workouts, you can perform a variety of exercises like plyometrics, sprints, lifting, agility work, and power-based exercises.
That's why there is no "one-size-fits-all" workout when it comes to HIIT training as we can curate HIIT workouts with a variety of exercises per a variety of goals and needs based on the expertise of the clientele tackling the workout. HIIT training can be performed in a variety of settings including general workout classes, CrossFit classes, and you can self-program HIIT workouts.
What Shoes Should You Wear for HIIT Workouts?
Shoes that are great for HIIT workouts fall under the cross-training shoe category. Cross-training shoes are a style shoe constructed to handle a wide variety of training tasks and needs. This means that cross-training shoes will have construction features designed to promote versatility, stability, durability, and responsiveness.
If we look at the different types of cross-training shoes and the construction that comes along with them, then we can start to pick out and filter which models will be best for tackling HIIT workouts.
This is why in my cross-training shoes reviews I always include a "versatile training" section because cross-training shoes can all technically work for HIIT training, but not every shoe is created equal with their construction. For example, you wouldn't want something like a Nike Metcon 6 purely for HIIT training because that model's stability would likely get uncomfortable over time.
That being said, I define HIIT shoes as a sub-category of training shoes that fall under the cross-training shoe umbrella. These are shoes that are versatile in nature that walk a fine line between versatility and stability. I then identify which shoes have the best features and construction for assisting with HIIT workouts, classes, and training.
What to Look for In Shoes for HIIT Workouts
If you're on the market for HIIT shoes, then there are a few key construction characteristics to explore when looking into various models. Every company will design their more HIIT-focused shoes with different technologies and materials, however, there are some commonalities across the board to keep in mind.
Below are three construction aspects that every great HIIT shoe should have.
Responsive Midsole
Breathable Upper
Outsole With Good Traction
If you're completely lost about what to look for in HIIT shoes, if you use these three construction characteristics below, then I'm confident you'll be in a pretty good spot.
1. Responsive Midsole
Shoes with a responsive midsole are a must for tackling HIIT workouts. If you're doing HIIT training with a super stable training shoe, then you'll likely find them uncomfortable over time especially if you're tackling longer sessions with a lot of plyometrics. Every company's HIIT-focused shoes will use different technologies to provide their shoe's midsole with responsiveness.
For example and to provide some context here as to what these materials will read as for certain companies. Reebok uses a foam they call Floatride Energy Foam, Nike has Nike React Foam, and Under Armour has their HOVR midsole technology.
All of these midsoles are essentially each company's take on providing a foam construction in their shoes to provide various levels of responsiveness and stability.
What to Look For: Look at the shoe's midsole and note how the company languages that midsole and its performance. Most HIIT shoes will have slightly thicker midsoles and companies will discuss their "reactive" nature when training.
2. Breathable Upper Construction
Another important aspect to explore for HIIT shoes is their upper construction. Ideally, you'll want shoes with a breathable upper construction to keep your foot cool when training. Since most HIIT workouts take part in class settings or warm gym settings this aspect can be huge.
Also, more breathable upper constructions typically lead to lighter-weight shoes as well which is also nice to have for HIIT shoes. Note, breathable upper constructions are not technically a must, but I prioritize this feature due to the context in which most will be using their HIIT shoes.
What to Look For: Look for shoes that have mesh and knit uppers or a blend of these materials. Typically, if a shoe uses a mesh or knit upper construction then it'll breathe fairly well and be lightweight.
3. Outsole With Good Traction
Outsole traction is another aspect to explore when looking into HIIT shoes. This construction characteristic can influence based on where you plan to use your shoes. For most HIIT workouts, you'll likely be on a wooden gym floor in a class, on rubber mats, or outdoors.
That being said, it's a good idea to explore what types of outsoles companies use for their HIIT shoes. The last thing you want is to be doing something like a lateral hop in a HIIT workout and have your shoe slip because there isn't adequate traction to help promote your balance and stability.
What to Look For: Look for outsoles and shoes that have adequate rubber traction around the forefoot and heel. Some shoes lack this and I'd say steer away from those if you plan on going hard for your HIIT workouts. More rubber will equate to more traction.
Best Shoes for HIIT Workouts
Now that's we've discussed what to look for in HIIT shoes, I'm going to talk about some of my favorite shoes HIIT workouts. These shoes have all been tested and reviewed by me and they check all of the boxes for the construction characteristics that we discussed above.
1. Nike Free Metcon 4
The Nike Free Metcon4 is one of my favorite HIIT shoes for a few key reasons. First, I like the Nike Free tech utilized in this training shoe. This construction feature creates the midsole in this model and the Nike Free technology gives this shoe a highly maneuverable feel which is awesome because it takes little to no time to break this shoe in fully.
Plus, the midsole provides enough stability to support some lighter lifting, but also enough responsiveness to feel comfortable doing plyometrics. Second, I enjoy this shoe's reworked upper construction that features a chain-link mesh that both breathes well and provides a nice level of durability.
The last aspect to like is that the Nike Free Metcon 4 provides a relatively lightweight construction and has rubber traction throughout the entirety of the outsole covering the Nike Free midsole. Whether you're doing HIIT classes, your own workouts, or wanting this shoe to be a hybrid HIIT and shoe for light lifting, then I think you'll enjoy the overall performance of Nike Free Metcon 4.
Best For: HIIT Workouts, Light Lifting, Shorter Runs
Heel-to-Toe Drop: N/A
Weight: 10.6 oz
Removable Insole: Yes
Sizing: True to Size, but shallow instep so it may feel tight for wider feet.
Read My Review: Nike Free Metcon 4 Review
Best For
HIIT Workouts
Classes
Light Lifting
Shorter Runs
Falls Short
For Heavy Training
For Fitting Wide Feet
2. Reebok Nano X1
The Reebok Nano X1 is very different compared to the Reebok Nano X which some found to be offputting while others enjoy the new construction of the Nano X1. For HIIT workouts and training, the Reebok Nano X1 is a strong performer so while it may not be so focused on CrossFit like prior Reebok Nanos, it does do a good job for HIIT training.
The Reebok Nano X1 features Reebok's signature Floatride Energy Foam throughout its midsole and it provides a nice level of stability and responsiveness. I've trained trap bar deadlifts with over 500 lbs in this model and didn't have any glaring issues with stability and that's rare since the Floatride Energy Foam midsole in this shoe also performs well for plyometrics and other high-intensity exercises.
The upper construction in the Reebok Nano X1 is fairly breathable and durable overall while the outsole is composed of a full rubber lug patterning. Overall, the Reebok Nano X1 is a good shoe for HIIT, classes, and recreational lifting. Plus, if you train outside often, then you can opt for the Reebok Nano X1 Adventure which is also a solid model (and my favorite iteration!).
Best For: Recreational Lifting, HIIT, Agility, and Lighter Runs
Heel-to-Toe Drop: 7mm
Weight: 12.1 oz
Removable Insole: Yes
Sizing: True to Size
Read My Review: Reebok Nano X1 Review
Best For
Class Workouts
Shorter Runs
Plyometric Training
Casual Lifting
Falls Short
For Maximal Lifting
For Easy Break-In Periods
For Rope Climbs
3. Under Armour HOVR Rise 3
The UA HOVR Rise 3 is another solid HIIT shoe and is the latest HOVR Rise model to debut for Under Armour. For HIIT workouts, I enjoy the UA HOVR Rise 3 and even wear them for activities like pickleball. This shoe features Under Armour's signature HOVR midsole which provides a nice level of responsiveness and bounce.
To add to the HOVR midsole in this model, this shoe also features Under Armour's TriBase tech in its outsole. The TriBase outsole provides this shoe with a nice base to support balance and stability. If you're jumping, tackling lateral work, or lifting, then I think you'll like how the TriBase outsole interacts with the ground under you.
Outside of these two features, I like the bootie-style construction which features a mesh in the HOVR Rise 3. It fits snugly without limiting or squeezing the foot too tight and it breathes well overall.
Best For: Jump Rope, HIIT, and Classes
Heel-to-Toe Drop: 8mm
Weight: 11.2 oz
Removable Insole: No
Sizing: True to Size
Read My Review: UA HOVR Rise 3 Review
Best For
HIIT Training
Class Workouts
Recreational Lifting
Short/Mid-Range Runs
Falls Short
For Rope Climbs
For Maximal Lifting
Honorable Mentions
Frequently Asked Questions (FAQ)
Q:
What shoes should you wear for HIIT workouts?
A:
For HIIT workouts, you'll want to find a good pair of cross-training shoes that deliver adequate responsiveness, a breathable upper construction, and an outsole that has good traction. The blend of these construction features will help you better tackle all of the demands of high-intensity interval training.
Q:
Should you wear shoes for HIIT?
A:
You technically don't need to wear shoes for HIIT, however, most will want a good pair of shoes for this style of workout. HIIT workouts can be highly demanding on the feet and lower body and if you're not acclimated to the high impact that can come from these workouts, then you may find yourself very sore the day after doing HIIT without wearing some level of cushioned shoes.
Q:
What are HIIT class shoes?
A:
Shoes designed for HIIT classes will have cushioned midsoles to assist with impact absorption and rubber outsoles to provide traction for multidirectional exercises.
Takeaway Thoughts
If you're tackling HIIT workouts regularly, then it's a good idea to invest in a quality pair of HIIT shoes. Training shoes that are optimized for HIIT will allow you to perform your best in a variety of settings and they'll have a durable construction that should fair better for you in the long run.
If you have any questions on HIIT shoes or cross-training shoes that you'd like to use for HIIT workouts, drop a comment below or reach out to me personally via Instagram (@jake_boly).
I buy and test the products featured on That Fit Friend using a regimen of training tests that I've developed over years of testing training shoes and gear. I may earn commissions on sales made through the links on my site.