I buy and test the products featured on That Fit Friend using a regimen of training tests that I've developed over years of testing training shoes and gear. I may earn commissions on sales made through the links on my site.
As the old gym shoe-focused saying goes, "Look good, feel good, lift good." Okay, so maybe that saying wasn't intended for workout shoes, but that's how I'm using it for this article.
There's no denying the power of a good-looking pair of gym shoes. While obviously "looks" isn't going to make or break a shoe's appearance, they can influence how excited we are about the shoe and the contexts in which we wear them.
In this article, I'm going to share five of my favorite best-looking gym shoes and I'll discuss how and why I like them for working out. Whether you want a pair of gym shoes for traveling or daily wear, hopefully, this article can give you some ideas.
For Those In a Rush: The STR/KE MVMNT Haze Trainer is my favorite gym shoe regarding a good-looking appearance. This shoe can look formal enough for casual wear and it has a really well-rounded performance in the gym for lifting, CrossFit, and cross-training, so it's a good "best of all worlds" style training shoe.
My Top Picks of the Best Looking Gym Shoes
Author's Note: I know appearance with shoe reviews is a variable that is highly subjective and this list is not intended to come off as "these are the only good-looking gym shoes" on the market.
If you have gym shoes that you love for working out and look great that weren't included in this list, drop them in the comments below and share why you like them. I would love to hear about what you like wearing.
Top Overall Pick: STR/KE MVMNT Haze Trainer
The STR/KE MVMNT Haze Trainer is taking my top pick overall pick for the best-looking gym shoes. The Haze Trainer is a shoe that I constantly bring on my trips when I have limited packing space.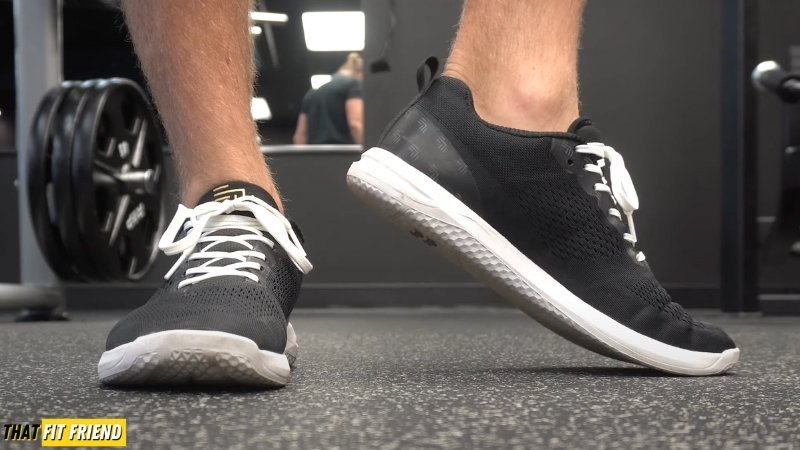 In the context of daily wear, I like the Haze Trainer's simple and clean jacquard knit upper and how it can pair well with different outfits. For example, the Haze Trainer look good with shorts and jeans which is great for dressing them up and down.
On top of this, the Haze Trainer delivers a nice level of comfort for daily wear and walking so if you're going to be on your feet all day and hit a workout throughout the day, they can be a good option to explore.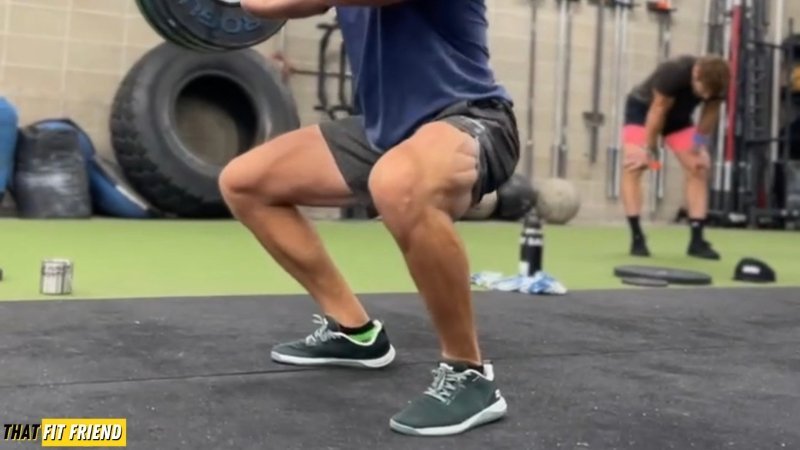 Another thing to like about the Haze Trainer is that their sole has a more "minimalist" vibe to it. Plus, I like that you can do things like deadlift over 500 lbs in this shoe, tackle a CrossFit WOD, then hit a versatile workout in the Haze Trainer.
STRIKE MVMNT Haze Trainer
Best For
Heavy Lifting
Cross-Training Workouts
Athletic-Focused Sessions
Shorter Runs (<3 miles)
Falls Short
For Cost-Efficiency
For Custom Orthotics
Pick for CrossFit-Focused Lifters: RAD ONE
The RAD ONE is taking my top pick as the best-looking gym shoe for the CrossFit-focused athlete. I like the RAD ONE for this context because they're a shoe built for CrossFit but with a street-style inspiration.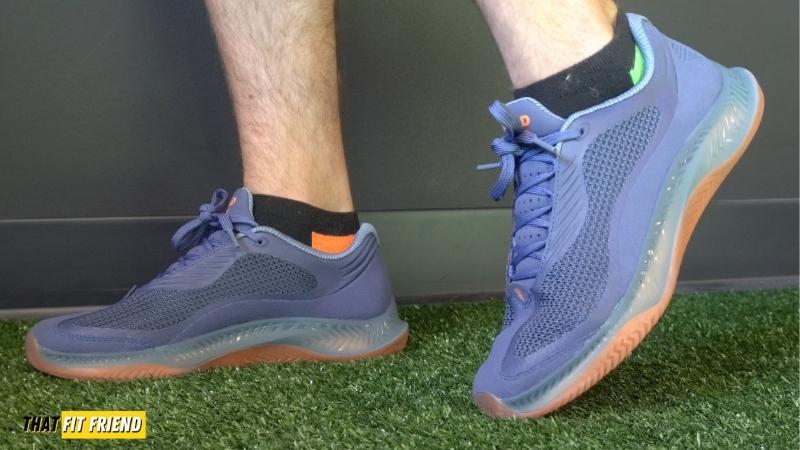 The RAD ONE's mesh upper with suede overlays gives them a low-key and refined appearance which is great for rocking these shoes outside of the gym for casual contexts and to your CrossFit WODs.
The SwellFoam midsole in this model gives the RAD ONE a responsive feel for things like double-unders, box jumps, and short runs, and it's also comfortable for daily wear use which is another reason why I like this model for day-to-day wear.
Despite really liking the RAD ONE and ranking them as my top pick on my best CrossFit shoe list, this model can run a little narrow and if you want a bit more width you'll want to explore the Haze Trainer or Reebok Nano X3.
Best For
Heavy Lifting
CrossFit Workouts
Recreational Lifting
HIIT Training
Athletic-Focused Training
Falls Short
For Cost-Efficiency
For Wider Feet
Pick for Versatile Workouts: Reebok Nano X3
The Reebok Nano X3 is taking my top pick as the best-looking gym shoe for versatile workouts. The Reebok Nano X3 delivers a well-rounded performance with multiple colorways that give them a clean appearance.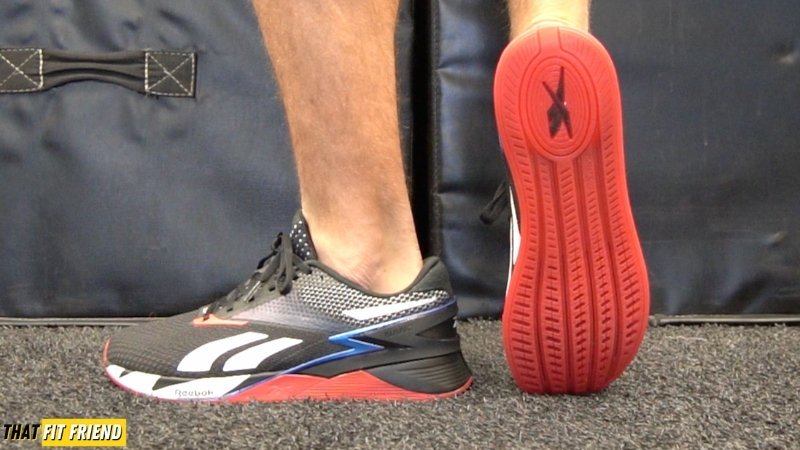 Unlike the RAD ONE and Haze Trainer which have more casual vibes, the Reebok Nano X3 still has a "gym-esque" appearance to them, but they're a training shoe that I think has some colorways that can transcend into daily wear use.
In the context of working out, the Reebok Nano X3 can hold its own across multiple training verticals, and it's a much stronger shoe compared to its two predecessors the Reebok Nano X2 and Nano X1, in my opinion.
The Reebok Nano X3 is stable enough for heavy lifts and responsive enough for short runs, so it can be a good hybrid-focused training shoe. Plus, this shoe's durability has been improved so it's a much stronger model for CrossFit compared to the Nano X2.
Best For
Recreational Weight Training
Functional Fitness and CrossFit
Athletic-Style Training
Short Runs/Sprints
Casual HIIT
Falls Short
For Minimalist Lovers
For Long-Distance Running
Pick for Strength and Running Workouts: On Cloud X 3
The On Cloud X 3 is taking my top pick as the best-looking gym shoes for strength and running-focused workouts. On shoes are definitely an acquired taste regarding their appearance with some individuals loving their CloudTec midsole appearance.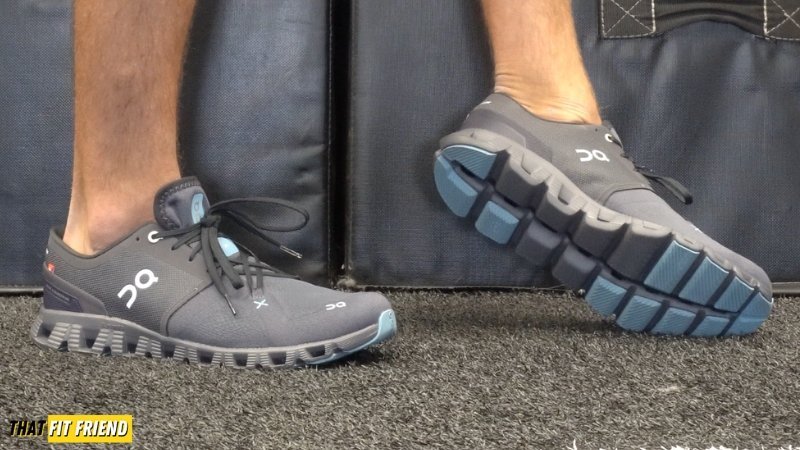 Personally, I enjoy the look of On shoes and wear models like the On Cloud 5 for casual use and traveling, then shoes like the On Cloud X 3 for hybrid-focused training days.
If you're wanting a training shoe for some light strength workouts and running, then the Cloud X 3 will be a good option to explore. The Cloud X 3 is comfortable for runs up to 4-5 miles in length which is great for anyone tacking on some pre or post-workout miles.
For casual strength workouts, short to mid-distance runs, HIIT, and classes, the On Cloud X 3 works pretty well. It's also comfortable for long walks and daily wear so it can be a viable option for traveling and commuting.
Pick for Class-Focused Workouts: York Athletics Frank Trainer
My top pick for the best-looking gym shoes for class-focused workouts and HIIT is the York Athletic Frank Trainer. In my opinion, York Athletics is a pretty slept-on workout shoe brand and the Frank Trainer has a lot to offer.
The Frank Trainer has a nice casual appearance to it and its leather midfoot construction helps add to this shoe's more "formal" appearance. I've worn the Frank Trainer in more casual contexts and I like that it pairs well with different outfits.
When it comes to training, the Frank Trainer does a pretty good job for most workout contexts. This shoe works great for HIIT and class-style workouts and it can be a good option for someone who likes to take classes and then do some strength and running work.
I like that the medium-density foam midsole provides enough stability for recreational lifting and that it's comfortable enough for all-day wear, long walks, and short runs. For class and casual wear biases, the Frank Trainer does a good job.
YORK Athletics Mfg. The Frank Trainer
Best For
Boxing/Class-Style Workouts
Recreational Lifting
Boxing/Class-Style Workouts
Light Runs and Jumping
Falls Short
For CrossFit-Style Workouts
For Wider Feet
For Cost-Efficiency
Pick for Travel and Casual Workouts: OluKai Mio Li
My top pick for the best-looking gym shoe for travel and casual workouts is the OluKai Mio Li. OluKai is a company that's most known for its sandals and beach-focused footwear and the Mio Li adds to their footwear range.
I originally picked up my pair of OluKai Mio Lis because of their appearance and I've thoroughly enjoyed their performance for travel. This shoe features a refined and clean appearance and it has a drop-in heel construction.
The drop-in heel feature is great because it turns this shoe into a slip-on style model without ruining the boot of the shoe. I've enjoyed this feature when traveling for things like hitting a hotel gym workout and then going for a walk afterward.
The Mio Li is not going to be your best training shoe for high-intensity workouts, but for casual use and travel-focused contexts, I think the Mio Li is worth looking into especially if you like slip-on-style shoes.
Best For
Recreational Lifting
Cross-Training Sessions
Light and Short Runs
Daily Wear
High Arches
Falls Short
For CrossFit
For Heavy Barbell Training
How I Tested the Shoes for This List
Every shoe featured in this round-up has been hand tested by me over the course of multiple workouts and weeks of wear. Every shoe that I review receives a standard testing protocol with additional performance tests based on its construction.
For example, I'll test the shoes above like the RAD ONE, Haze Trainer, and Reebok Nano X3 for heavier strength workouts, CrossFit WODs, and HIIT sessions since they're designed for CrossFit and doing it all.
Whereas, shoes like the Mio Li and On Cloud X 3 will receive additional testing for casual wear and running, respectively, since they're models designed with these performance biases.
When testing shoes, I'm most concerned with a shoe's performance capabilities, shortcomings, and long-term durability. These three factors then influence how I assess a shoe's construction and quality which then translates to my rating of each model.
If you want additional information on any of the workout shoes featured in this list, I'd highly suggest checking out my individual reviews on these models as they provide a lot more depth and context. Also, feel free to reach out with additional questions.
Frequently Asked Questions (FAQ)
Q:
Which type of shoes are best for gym?
A:
The best types of shoes for the gym will be workout shoes that deliver a blend of stability and responsiveness through the midsole, a good level of outsole traction, and upper breathability.
Q:
What defines a gym shoe?
A:
A gym shoe is defined as any shoe whose construction features are purposely used to promote performance in the gym. Features like grippy outsoles, denser midsoles, and durable uppers are commonly used in gym shoes.
Final Remarks
There are a lot of good-looking gym shoes on the market. As more of us reach for shoes for both working out and daily wear, it becomes increasingly important to grab a pair of shoes that look great outside of the gym.
While appearance is highly subjective, these are six good options that can work in different training and day-to-day contexts based on what you're looking for.
If you have additional questions about the shoes featured in my best-looking gym shoes list, drop a comment below or reach out to me personally via Instagram (@jake_boly or @that_fit_friend)!