There is a lot that goes into building and having a great squat. Whether you're back squatting, front squatting, or tackling other squat variations like safety bar squats, it's a good idea to have the right training shoes for the job. A lot of athletes and lifters opt for cross-training shoes to tackle their lifting and squat sessions and often want to know which shoes they should go for.
I've written an article before on the best cross-training shoes for deadlifts and I thought it was time to build one for squats. If you're someone who likes to regularly train in cross-training shoes and you're trying to build a bigger squat, then the shoes below will be great picks for your needs.
All of the cross-training shoes below will have characteristics that help them excel for squats. Whether you're a CrossFit athlete, recreational lifter, or true beginner this article will help you find the best cross-training shoes for squats.
On the market for new cross-training shoes? Make sure you check out TF2 Cross-Training Shoe Finder. This calculator matches you with the best cross-training shoes that I've reviewed based on your training wants and needs.
Top Pick: Nike Metcon 6
The Nike Metcon 6 is an awesome cross-training shoe for squats for three key reasons. The first reason is that this model comes with Nike's Hyperlift inset. Essentially, this is an insert that helps add another 8mm of height to the heel of the Nike Metcon 6. This changes the heel-to-toe drop from 4mm to 12mm which can be beneficial for those that prefer to squat with an elevated heel.
The Nike Metcon 6 somewhat plays the role of a pseudo-weightlifting shoe in this context if you don't feel like buying two pairs of shoes and like an elevated heel for squats.
The second reason is that this shoe is super stable and the midsole and outsole don't compress under heavier loads. This makes the Metcon 6 an awesome option for varied amounts of strength across different skill and strength levels. The versatility that you get in this model is in its dual-foam insole, so the midsole and outsole are designed to be stable.
The final reason is that the full rubber outsole on the Nike Metcon 6 provides a nice level of traction on a variety of surfaces. This is perfect for those lifting on things like rubber gym floors, wooden platforms, and other surfaces.
Best For
Lifting Heavy
Functional Fitness Workouts
Casual Agility Workouts
Falls Short
Daily Comfort
Longer Runs
Budget-Friendliness
Second Pick: FOOST Trainer HD210
Another great cross-training shoe for squats that don't receive enough attention is the FOOST Trainer HD210. The FOOST Trainer HD210 delivers a strong construction and reminds me somewhat of the Nike Metcon 5 (in a good way). Similar to the Metcon 5 and 6, the Trainer HD210 comes with a separate heel insert to manipulate your heel height.
The FOOST Trainer HD210 has a 5mm heel-to-toe drop and the inserts add another 13mm. This then changes this shoe's heel-to-toe drop to 18mm which is comparable to some weightlifting shoes that offer lower heel elevations.
Outside of coming with a separate heel insert, the Trainer HD210 also has a full rubber outsole construction and double-density EVA foam midsole. This gives this model a nice level of responsiveness without compromising stability as a whole and whether you're back squatting, front squatting, or catching cleans in the hole the blend of these elements gives the shoe a nice feel.
For recreational lifters and CrossFit athletes, I also like this shoe's upper construction and the internal neoprene that makes up the internal portion of this shoe. It fits like a sock and has a snug fit to it.
Best For
CrossFit-Style Training
Heavy Lifting
Weightlifting Training
Versatile-Focused Workouts
Shorter Runs
Falls Short
For Outdoor Training On Concrete
For Longer Runs
Third Pick: STR/KE MVMNT Haze Trainer
The STR/KE MVMNT Haze Trainer is my third pick for cross-training shoes that excel for squats. This model does not have an additional heel insert, but as a whole and especially for those that don't want or use an insert, these perform exceptionally well across the board.
This model features a medium-density midsole that walks a really good line between being stable, but also versatile. I've squatted up to 405 lbs in this shoe and have had no issues with midsole compression. For most lifters, this midsole will provide plenty of stability.
Must Read: 8 Best CrossFit Shoes In 2022 | Picks for Rope Climbs, Flat Feet, and More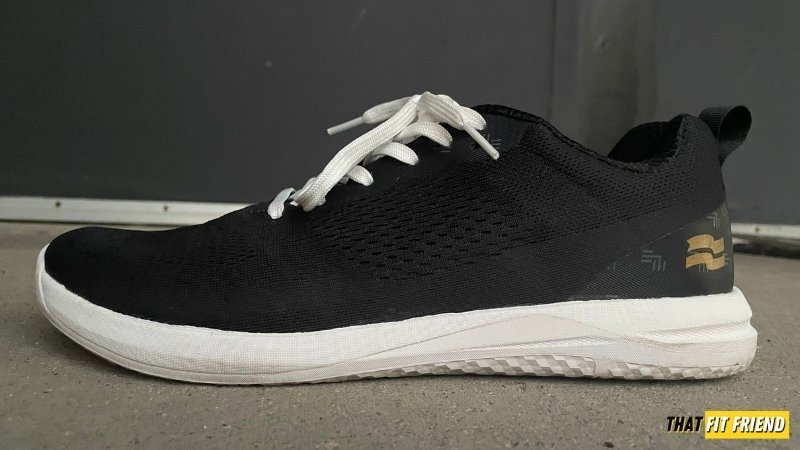 Another perk of the Haze Trainer is the outsole and its last construction. This model's outsole is highly maneuverable which is nice because you get a lot of feedback from the ground when training in these. The midsole and outsole don't feel overly thick to where you lose some of the proprioceptive benefits of engaging the feet with the floor.
The wider toe box in this shoe is also a nice perk as this model's last rivals a similar width to the Altra Escalante which is known for its wider toe box construction. Note, this shoe's volume does feel a tad snug when first breaking them in, but they break in pretty quickly. If you have a thicker foot, however, then you may want to pass on this shoe.
STRIKE MVMNT Haze Trainer
Best For
Heavy Lifting
Cross-Training Workouts
Athletic-Focused Sessions
Shorter Runs (<3 miles)
Falls Short
For Cost-Efficiency
For Custom Orthotics
Fourth Pick: Reebok Nano X
The Reebok Nano X is another tried and true cross-training shoe that holds its own under heavy squats. As opposed to opting for the newer model the Reebok Nano X1, I'd suggest instead going for the X if your goal is lifting heavyweight. The Reebok Nano X has a few key perks for squatting big weight.
First, the medium-density midsole in this model provides a nice stable base to squat on. This shoe features a forefoot that has a slightly more responsive midsole while the heel is designed to be a bit more firm. I like this for squats because it gives you a nice level of ground feedback.
The full rubber outsole in this is also a nice touch for traction and it features a split construction to give this model a bit more maneuverability. If you're catching clean or tackling other squat variations, then you should be plenty set in this shoe.
The final aspect to like about the Reebok Nano X for squats and general training is its overall durability. This shoe's upper construction features layers that prevent breakdown from abrasion and other external things that can tear up the shoe. If you're using these primarily for squatting and lifting, then they'll last you a while.
Best For
Heavy Lifting
Functional Fitness Workouts
Casual Agility Training
Falls Short
For Day-to-Day Comfort
Being Budget-Friendly (depending on sales!)
Fifth Pick: NOBULL High-Top Trainer
If you like high-top shoes, then you can't fault the NOBULL High-Top Trainer and their performance for squats. The NOBULL High-Top Trainer is pretty well-known for its stability and I've competed in powerlifting with this model before with no stability issues whatsoever.
My heaviest squats to date n the NOBULL High-Top Trainer have been 440 lbs. This shoe features a full high-density foam midsole and a 4mm heel-to-toe drop and the entirety of the base of this shoe is stable with no areas of compression.
Outside of their stability for squats, I also really like how this shoe looks and fits. It has a neutral width and the high-top construction help this look good on a casual wear basis. Very rarely do I find shoes that I can squat over 400 lbs in and rock with jeans out for dinner, but this model ticks that box well.
For cross-training and other forms of lifting, the NOULL High-Top Trainer works well, but if you're not into high-top shoes, then you may want to look into the NOBULL Trainer as it provides a similar midsole, outsole, and heel-to-toe drop as the High-Top Trainer.
Best For
Heavy Lifting
Day-to-Day Wear
Long-Term Durability
Falls Short
For Versatile Training
For Running
For Cost-Efficiency
Sixth Pick: GORUCK Ballistic Trainers
The GORUCK Ballistic Trainers deliver a strong performance for squats and recreational lifting. The Ballistic Trainers feature a dual-density midsole that provides a nice stable base to lift on. Plus, this shoe features a full rubber outsole for additional traction and stability.
Compared to other cross-training shoes that feature slightly lower heel-to-toe drops, the Ballistic Trainers have a drop of 8mm. This gives this model a slightly "beefier" feeling at the heel and if you like having a higher drop to train with, then the Ballistic Trainers are a really good contender to look into for squats.
Another perk of this shoe for some lifters is that it has a bit of midfoot support so if you want or need a tad more support through the medial side of your foot, then you'll get that in this shoe. The Ballistic Trainers come with two different insoles one features more arch support and the other is flatter.
The only caveat to the Ballistic Trainers is that they are a slightly heavier model and for cross-training and CrossFit this can be a turnoff for some lifters and athletes.
GORUCK Ballistic Trainers
Best For
Heavier Training
Versatile Workouts
Day-to-Day Wear
Shorter Runs
Falls Short
For Longer Runs
For Agility Training
Seventh Pick: Nike Metcon 7
The Nike Metcon 7 can hold its own as being a solid cross-training shoe for squats. This model received some pushback to Nike changing this shoe's midsole to feature Nike React Foam. Truthfully, I don't think the slight increase in responsiveness in this model will be problematic for most lifters and athletes.
The Nike Metcon features a 4mm heel-to-toe drop and has a built-in Hyperlift Insert in the heel. As opposed to this model coming with a separate insert, Nike built the TPU insert into this shoe's heel to provide posterior shoe stability in this model.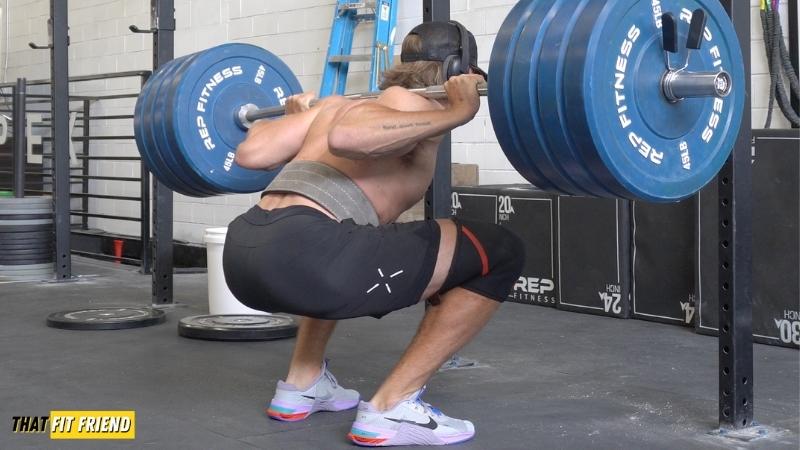 Thus far, I've squatted up to 405 lbs in this shoe and had little to no issues with compression. I think for most lifters that want a shoe for recreational lifting, HIIT, and CrossFit the Nike Metcon 7 is a good option to look into.
As a whole, this shoe's upper construction is pretty durable and they have a lot of features tailored specifically towards CrossFit. The only caveat and drawback to this shoe is their outsole construction at the forefoot as they do have layers of exposed midsole that can break down from outdoor training.
Best For
Heavy Training
CrossFit Workouts
Rope Climbs
Plyos and Agility Workouts
Short Runs
Falls Short
For Long-Distance Runs
For Wider Feet
What I Consider When Cross-Training Shoes for Squats
When considering cross-training shoes for niche performance aspects like excelling for squats, I try to take a curated approach that rates cross-training shoes based on specific construction aspects.
For example, I zero in on specific areas of the shoe that can influence squats versus considering the shoe's performance as a whole like do for my standard cross-training shoe tests and reviews. Below are three characteristics that I consider when ranking the best cross-training shoes for squats.
1. Heel-to-Toe Drop
A shoe's heel-to-toe drop is one of the first things I acknowledge when considering which cross-training shoes excel for squats. Also referred to as offset, different heel-to-toe drops will influence squat mechanics slightly.
Shoe heel-to-toe drop is a matter of preference and there isn't a perfect drop for every athlete. For example, some lifters enjoy squatting on a higher drop while others enjoy having a lower and more minimalist drop. A shoe's heel-to-toe drop can play a role in lower body mechanics when squatting.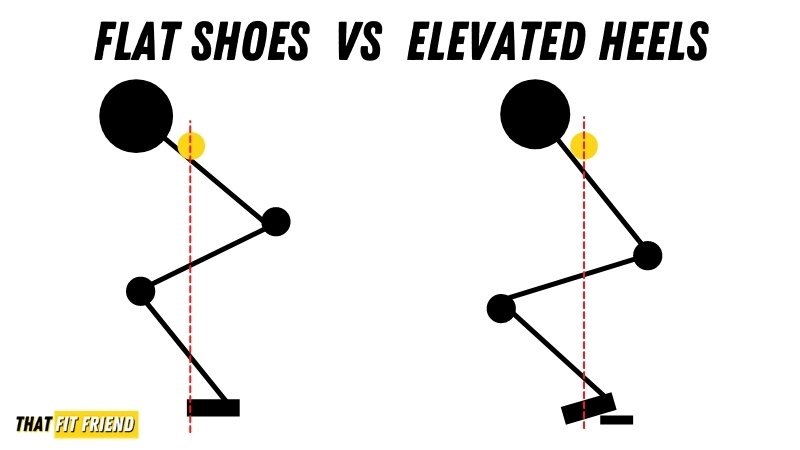 A higher heel-to-toe drop will better assist with dorsiflexion and support more forward knee translation (knee tracking over the toes) when squatting. While a lower drop can be beneficial for those that have adequate ankle mobility, to begin with, and like squatting with a flatter foot position.
Author's Note: This is why I also consider cross-training shoes with inserts as my first picks because they have the capabilities of providing a larger range of heel-to-toe drops to match a greater scope of squat preferences.
2. Midsole Stability
The second characteristic that I could consider is a shoe's midsole construction. Most cross-training shoe midsoles are built with some form of foam. Generally, you're going to want medium or high-density foam midsoles if you're biasing a lot of your training towards squats.
These types of midsoles will provide you with more stability and will be less prone to compressing under different weights. For example, this is why squatting heavily in running shoes is likely not the best idea.
This type of midsole will be also useful if you happen to rock forward on a squat or shift your weight in a means that could potentially cause you to lose balance.
3. Outsole Material and Traction
The last construction characteristic I look at is the shoe's outsole. In most cases, you'll want cross-training shoes that have full rubber outsoles or close to full rubber outsoles.
Rubber outsoles will provide more traction on different surfaces and will assist with the stability that the midsole is providing. Plus, rubber outsoles will increase the durability of your shoes so grabbing cross-training shoes with rubber outsole is a win-win for performance and getting your monies worth.
Frequently Asked Questions (FAQ)
Q:
Which cross-training shoes are best for squats?
A:
Five cross-training shoes that are fantastic for squats include the Nike Metcon 6, FOOST Trainer, HD210, STRKE MVMNT Haze Trainer, R.A.D ONE, and Nike Metcon 7. These are five of my favorite for tackling heavy squats.
Q:
Can I squat heavy in cross-training shoes?
A:
Most cross-training shoes, especially those designed for CrossFit, are built to withstand a variety of training loads. Look for cross-training shoes with rubber outsoles and medium or high-density foam midsoles as these construction features will help with squat performance.
Takeaway Thoughts
If you're looking into cross-training shoes that are great for squat performance, then the above shoes are fantastic options to look into. In all of the models featured, I've squatted around 400 lbs in each of them and have done extensive testing on them.
I tried to include a variety of shoes that offer different construction characteristics and fits so you can find models that fit and match your needs best.
If you have any questions on this article or any of these cross-training shoes, drop a comment below or reach out to me personally via Instagram (@jake_boly).
I buy and test the products featured on That Fit Friend using a regimen of training tests that I've developed over years of testing training shoes and gear. I may earn commissions on sales made through the links on my site.