I buy and test the products featured on That Fit Friend using a regimen of training tests that I've developed over years of testing training shoes and gear. I may earn commissions on sales made through the links on my site.
Weightlifting shoes can be a fantastic piece of supportive strength gear to add to your lifting toolbox. Whether you're new to weightlifting shoes or you're navigating budget constraints, you might not want to drop a ton of money on your first pair.
Premium weightlifting shoes can have price points between $200-$350 USD, however, there are a lot of great weightlifting shoe options on the market that have price points that are far lower.
For example, some of the best cheap weightlifting shoes have price points that sit around $100 USD. And note, this doesn't necessarily mean they're built "cheaply", they're just cheaper financially compared to some of their premium peers.
In many cases, a good pair of budget-friendly weightlifting shoes can take you really far with your lifting. For my best budget weightlifting shoes round-up, I'll share some of my favorite weightlifting shoes that cost around $100 USD.
Are you new to weightlifting shoes? Make sure you check out my weightlifting shoes guide to learn more about how weightlifting shoes can be useful and the "why" behind this style of footwear.
Best Budget Weightlifting Shoes
All of the weightlifting shoes below will have price points of around $90-110 USD. I tried to include five picks that are all high-performers for a good and fair price.
Pro-tip, outside of the picks below, I'd also highly suggest looking into older iterations of more premium weightlifting shoes because you can sometimes find them marked down for big discounts.
1. Reebok Lifter PR 2
The Reebok Lifter PR 2 is taking my top pick as the best budget weightlifting shoe. This weightlifting shoe is what I would call the gold standard when it comes to getting a good shoe for a fair price.
The Reebok Lifter PR 2 features a high-density EVA foam midsole that does a really good job at resisting compression in heavy squats and clean & jerks. When squatting over 385 lbs in this shoe, I had no issues with stability whatsoever.
In addition, this model has a thicker rubber outsole with a rigid construction and ribbed tread pattern. On wooden platforms and rubber gym floors, this shoe's outsole provides a nice level of grip, and as a bonus, it's also pretty durable.
The last aspect to like about the Reebok Lifter PR 2 is that its midfoot security is pretty good. When catching cleans and jerks, this shoe does a good job at locking down the foot and providing good stability, and preventing spillover.
Best For
Recreational Lifting
Weightlifting
Cross-Training
Cost-Efficiency
Falls Short
For Lifters That Want a Higher Heel
For Construction Quality Control
2. Adidas Powerlift 5
The Adidas Powerlift 5 is taking my second pick as a really great cheap weightlifting shoe. To be honest, I've been a fan of all of the Adidas Powerlift weightlifting shoes as they've been consistent budget options over the last five years.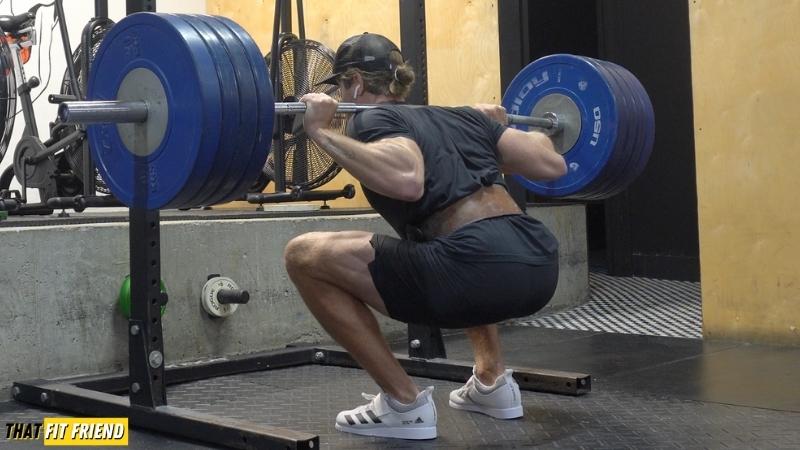 Like the Reebok Lifter PR 2, the Adidas Powerlift 5 is built with a high-density EVA foam midsole that has a good level of stability. When squatting up to 405 lbs and cleaning 285 lbs in this shoe, I didn't have compression issues whatsoever.
This model's rubber outsole also provides a good level of traction on most surfaces. Plus, this model's outsole tends to get grippier as you break them in more and the rubber starts to get a little worn.
I also like this shoe's upper and midfoot security as they promote this shoe's overall durability and security when training. Now that being said, if you can find the Adidas Powerlift 3 or 4 on sale in your size, you may want to also consider those as they are strong performers as well and have a bit more upper volume through their toe boxes compared to the 5.
Best For
Beginner Powerlifters
Recreational Lifters
Budget-Conscious Shoppers
3. Do-Win Weightlifting Shoes
The Do-Win Weightlifting Shoes are another great budget-friendly option that is consistent. Over the last few years, the Do-Win Weightlifting Shoes have established a fairly strong following for their price point and performance.
The Do-Win Weightlifting Shoes feature a stable TPU midsole and heel construction and do a good job with heavier lifters. When squatting 365 lbs and heavier, this model provided an ample amount of stability which is why a lot of weightlifting and strongman athletes also like this shoe.
This shoe's double midfoot strap comes with a nice level of security and the leather upper also promotes a locked-down feeling when training while also preventing spillover when catching cleans.
While I like the Do-Win Weightlifting Shoes for the most part, I do think their toe box runs a little on the snugger side and they can feel like they rock a little at times due to their forefoot's midsole having an awkward construction.
Do-Win Weightlifting Shoes
Best For
Squats (All Strength Levels)
Weightlifting
Weightlifting Shoe Beginners
Accessory Exercises Where You Want a Wedge
Falls Short
For Breathability
For Sizing and Fit (Per Rogue's Recommendations)
4. Nike Savaleos
The Nike Savaleos are taking my fourth pick for the best budget weightlifting shoes. This model is what I describe as a more budget-friendly Nike Romaleos spin-off shoe that has steadily grown in popularity for all types of lifters.
The Nike Savaleos features a stable midsole and heel construction for heavy lifts and I view this model as a good entry-level and beginner-friendly weightlifting shoe. When squatting over 365 lbs and cleaning 275 lbs, this shoe didn't have compression issues whatsoever.
The full rubber outsole does a good job of promoting traction on different surfaces and I don't think you'll experience slip issues in this shoe at all. I also like the thicker upper construction and how it limits spillover when catching weight.
My issues with the Nike Savaleos are that they run a little narrow and the midfoot strap could be slightly better regarding its velcro and long-term ability to provide security for serious athletes.
Best For
Recreational Lifting
Beginner Weightlifters
Versatile-Style Training
Falls Short
For Maximal Training
For Long-Term Durability
5. Nordic Lifting Powerlifting Shoes
The Nordic Lifting Powerlifting Shoes are taking my final pick for the best budget weightlifting shoes. This model has grown in popularity due to it being a consistent sub $100 USD weightlifting shoe on Amazon.
The Nordic Lifting Powerlifting Shoes deliver a fair amount of stability with their EVA foam midsole and they should work for most beginner and intermediate lifters needing a shoe for squats.
This shoe's upper construction and midfoot strap are also pretty well-built regarding their overall security. Another perk of this model is if you need a higher heel elevation for squats and want something that comfortably costs less than $100 USD.
Outside of squats and more beginner-focused contexts, I would actually suggest passing on this model if you want a shoe for weightlifting or accessories. This model's outsole isn't the best regarding and its forefoot's midsole can be a little lackluster for lifters training heavily.
Nordic Lifting Powerlifting Shoes
Best For
Recreational Lifting and Squats
Machine Work (when wanting a heel wedge)
Cost-Efficiency
Falls Short
For Serious Weightlifting
For Wide Feet
Can Beginners Wear Weightlifting Shoes?
Absolutely. There is no set rule for when you can wear weightlifting shoes for training and a beginner can absolutely wear weightlifting shoes to promote their performance with squats, clean & jerks, and snatches.
In my coaching opinion, weightlifting shoes can be great tools to have on hand so you can rotate your footwear based on your training needs. For example, if you like squatting with an elevated heel versus in flat shoes, then they can be a great supportive tool for your training.
Plus, you can then rotate your shoes based on what you find helps you perform the best based on the workout you're doing. This is a strategy that I and a lot of lifters use when chasing specific performance and lift-focused goals.
On top of this, if you find yourself wanting heel elevation for your squats, then a weightlifting shoe is a much better option than using a plate under the heel as a weightlifting shoe's sole will give your foot more surface area which can then, in turn, can increase your stability and balance.
The takeaway point here is that beginners can certainly wear weightlifting shoes and I think it can be counterproductive to "wait for the right time" to invest in a good pair. Think of weightlifting shoes as tools, and you want the right tools for certain types of jobs.
Coaching Tip: If you're brand new to weightlifting shoes, I'd suggest wearing them for training sessions where you're working on sub-maximal loads to get used to this style of footwear as opposed to going super heavy right away. Using a tempo can also be great to help you "feel" the difference when wearing these shoes compared to your normal workout shoes.
Will Weightlifting Shoes Help My Squat?
Weightlifting shoes can be useful tools for promoting stronger squat performance. If you're investing in your first pair of weightlifting shoes and you've been training in flat shoes like Vans, then I'd suggest acclimating to this style of footwear slowly.
For example, when you go from a flat shoe to a heel-elevated shoe it's normal to see your form also change in certain lifts. A weightlifting shoe's elevated heel will change your foot's position, which will then shift your ankle, knee, hip, and torso mechanics.
In simplistic terms, a shoe's elevated heel will typically allow you to feel like you can more comfortably track the knees over the toes while achieving more squat depth and maintaining an upright torso.
Weightlifting shoes can help promote better squat mechanics because they can help you better balance the barbell over the midfoot when squatting and promote overall stability which can help with power production, in addition to the aforementioned balance benefit.
What to Look for In Weightlifting Shoes
When it comes to investing in your first pair of weightlifting shoes or a new pair, there are a couple of key construction features that you'll want to keep an eye on and research when investing in new shoes.
Below are four construction features that every good weightlifting shoe should have,
Grippy and Strong Outsoles: A well-built rubber outsole with adequate tread patterning can support traction for different exercises on different surfaces. Avoid weightlifting shoes that don't utilize rubber outsoles if you plan to be more dynamic with your shoes.
Stable and Non-Compressive Midsoles: For budget-friendly weightlifting shoes, you'll typically see midsoles built out of high-density EVA foams and TPU. Both of these tend to do a good job of promoting stability when training. TPU will be stronger when comparing these two.
Good Midfoot Security: Weightlifting shoes will properly designed midfoot support can also be incredibly important for adding security when training and doing different types of exercises.
Reinforced Upper Constructions: Upper constructions that featured layered or heavier materials will typically be best as they'll often be more durable and better at preventing spillover when training.
Outside of these four construction features, it's also a good idea to read about a shoe's sizing, which you can find in my reviews and on product page reviews from other lifters and athletes. This can help ensure you're buying a shoe that actually fits your foot anatomy.
Frequently Asked Questions (FAQ)
Q:
Are weight lifting shoes worth it?
A:
Weightlifting shoes can be great tools for supporting strong lifting performance in the gym. They have stable midsole constructions, additional midfoot security, and grippy rubber outsoles for traction support.
Q:
What is the point of weightlifting shoes?
A:
Weightlifting shoes are designed to elevate your heel and promote your stability when training. This can then translate to improved squat performance by promoting better balance, stability, and squat mechanics, for example.
Q:
Do I need lifting shoes to squat?
A:
Not necessarily. However, if you find that you have trouble achieving squat depth or your torso keeps collapsing forward, then a weightlifting shoe can be a viable tool to explore as it can help support better squat depth with less butt wink and assist with maintaining an upright torso.
Takeaway Thoughts
If you're wanting to save money or you're working with a budget and want new weightlifting shoes there are multiple budget-friendly options to explore and look into.
What's also important to remember with weightlifting shoes is that they can be a useful investment for your training that should last a while, especially if you take good care of them.
Most weightlifting shoes will last 1-3 years depending on their construction and how you use them. For example, if you're only using them for squats once or twice a week, then you can expect to get a couple of good years out of your shoes.
If you have additional questions on any of the budget-friendly weightlifting shoes featured that I've reviewed, drop a comment below or reach out to me personally via Instagram (@jake_boly or @that_fit_friend).